8 Best Online Tutoring Companies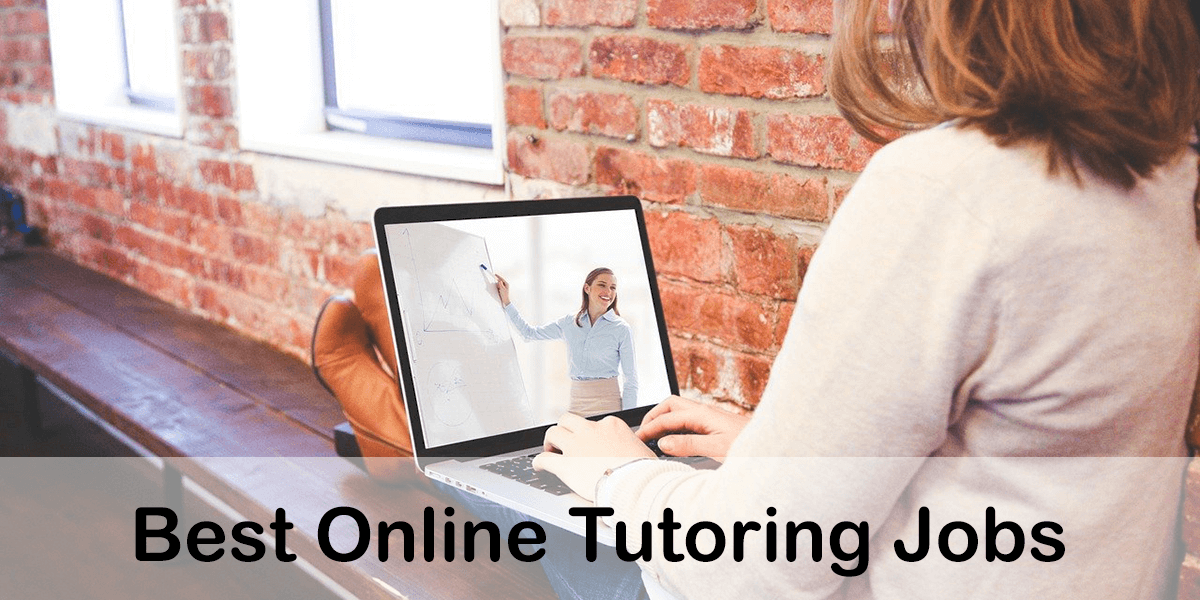 If you have a penchant for teaching, a slew of online tutoring companies has opened up plenty of new ways to supplement your income by assisting students in learning a variety of subjects ranging from arithmetic and English to political science, physics, foreign languages, and much more.
Tutoring online may be a lucrative side employment for active and retired teachers, as well as college students with strong topic knowledge and teaching abilities.
Unlike conventional tutoring, which requires meeting with local students post school or during the weekends, online tutoring enables you to educate students globally right from your home. There are options for working from home and tutoring kids whenever you find it to be the most convenient.
8 Best Online Tutoring Companies
The following is a list of online platforms that provide some of the top online tutoring opportunities available.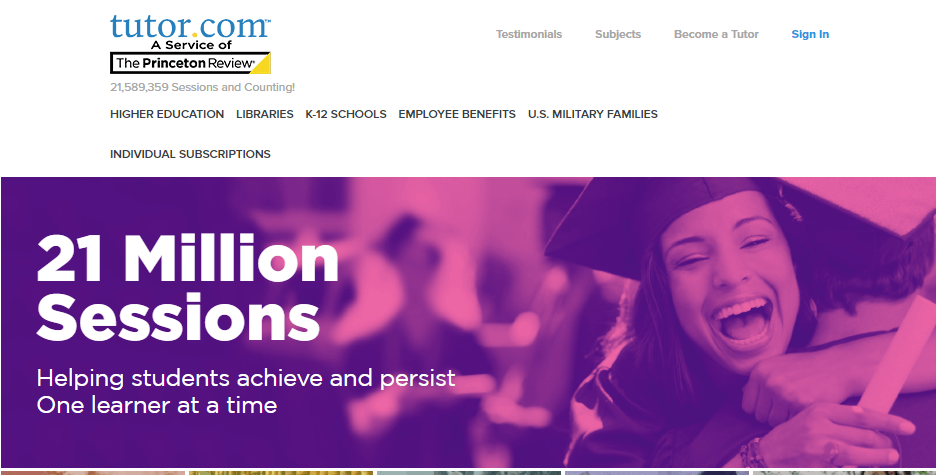 Tutor.com, which was founded in 1998 and is linked with The Princeton Review, assists college students, K-12 students, and adult learners. It provides help in a variety of areas, ranging from arithmetic, English, art, history, and finance. Tutor.com also offers SAT and other exam preparation.
Tutoring services are provided by this tutoring corporation in collaboration with schools, the military, libraries, colleges, and private-sector enterprises. Individuals may also register for academic help.
You may choose your own schedule or accept unplanned sessions as a Tutor.com tutor. Tutoring services are offered 24 hours a day, seven days a week.
You don't need to be a seasoned instructor. You don't even need any teaching certificate, but you will need to pass an exam to demonstrate your subject-matter knowledge. Teachers, math specialists, graduate students, science specialists, and experts in computer science are among the professionals employed as part-time tutors, according to the business.
One important requirement is that you must be able to instruct at least five hours per week, however most tutors on the platform work roughly ten hours per week. Your logged hours are automatically monitored. To get paid, invoice submission is not required.
Important Information
Earnings: Tutors get paid hourly depending on the topics they instruct, with incentives available. Tutor.com, on the other hand, does not publish compensation rates. The majority of the compensation information is derived from Glassdoor and reported to be between $12 and $14 per hour.
Requirements: To be eligible, you must be a sophomore in college studying a 4-year degree or possess a 4-year degree or hold a higher degree. You must be a US citizen, competent in English, and knowledgeable in the topic you want to teach. You must be available to instruct for a minimum of 5 hours every week, and the computer and internet service you use should be at par with the company's standards.
Subjects: Tutor.com provides instruction in over 100 disciplines, including social studies, English, earth science, geometry, biology, algebra, and many more.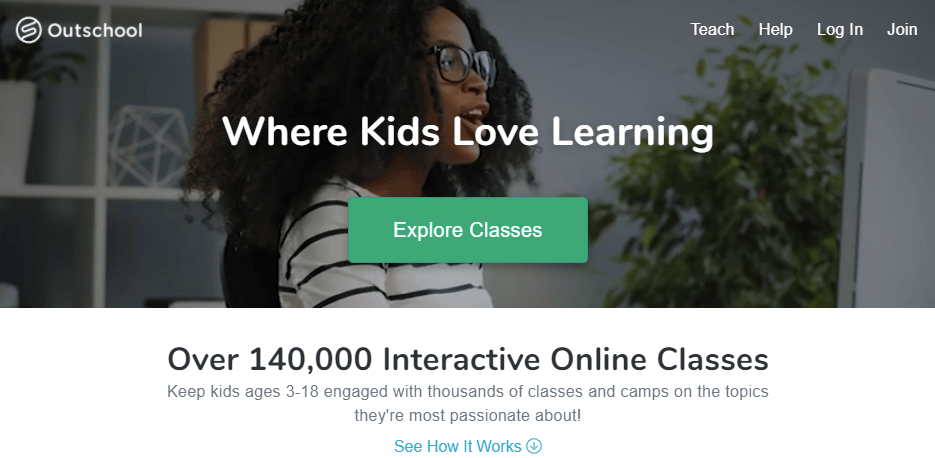 Outschool is another famous learning platform allowing you to hold live online classrooms for kids aged 3 years to 18 years in any topic.
Outschool encompasses more than typical academic courses. You may earn money by teaching students how to play the bass guitar or even by teaching the fundamentals of origami.
Tutors are responsible for creating a class listing and decide the fee. Learners may join up for lessons and attend them via live video calls and messaging, and Outschool maintains a 30% registration fee.
You have complete control over your working hours and curriculum. You'll educate youngsters in small groups instead of teaching them one-on-one, unlike other online tutoring services.
There is no need for formal schooling or certifications.
Important Information
Earnings: Outschool takes 30% of your earnings once you choose your own pricing. Teachers may make anywhere between $40 an hour and $100 an hour. Outschool states that the average hourly wage is $50.
Requirements: You don't need official teaching certifications; all you need is knowledge or expertise in a certain area. You must, however, be a resident or a citizen of Australia, Canada, New Zealand, the United States, or the United Kingdom. Additionally, you should not have any criminal background.
Subjects: Almost every topic is possible to teach. Classes in Fortnite and Minecraft, as well as more conventional topics like fractions and poetry, are available on this platform.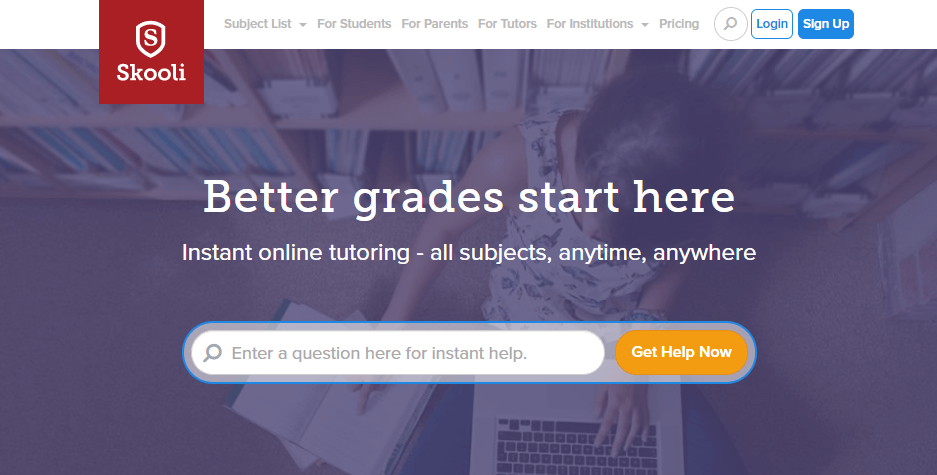 Skooli provides instruction for both K-12 and college-level subjects. Students use this site to get tutoring in a range of areas, including business, math, humanities, science, and language.
Tutors who want to work with Skooli must possess a college diploma or teaching certification. Prospective instructors must also pass a criminal background check on this site.
Skooli allows you to arrange sessions with students ahead of time or go online and setup sessions with kids who need assistance right now. Take advantage of the freedom to choose your own schedule.
Important Information
Earnings: Skooli pays instructors an hourly fee depending on their expertise and certifications. Skooli instructors' income from current online tutoring positions ranges from $14 to $27 per hour. This information, however, comes from Glassdoor.
Requirements: The bare minimum you should have is a bachelor's degree or a teaching license issued by the government, or specific instructor credentials. A criminal history check is also required of all Skooli teachers.
Subjects: Skooli can aid with writing, biology, mathematics, chemistry, and Spanish, among other subjects.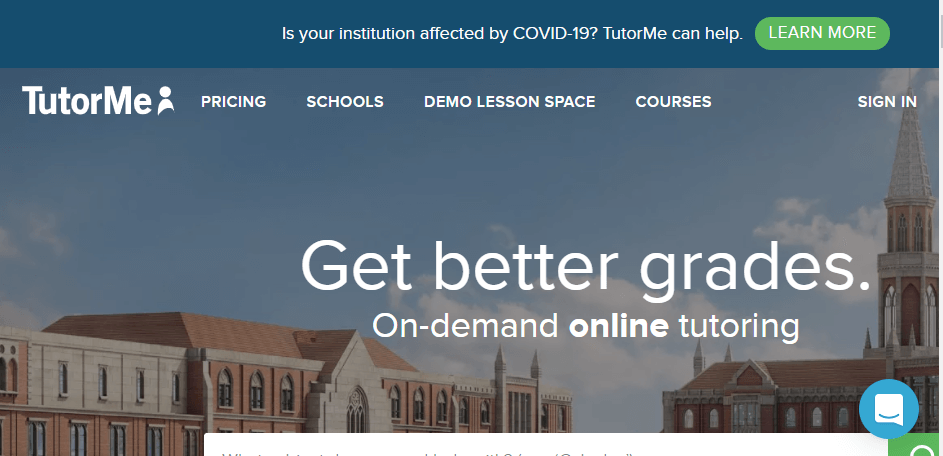 TutorMe provides online instruction in over 300 disciplines as well as test preparation for examinations such as the ACT and GRE.
This program uses video communication and virtual whiteboards to provide live, one-on-one help to local community colleges, schools, and libraries, as well as individual people. After each session, tutors and students evaluate each other to guarantee high-quality instruction.
The company accepts only 4% of all those who apply for becoming an online tutor. TutorMe has a rigorous application process, so make sure you're fully qualified before accepting your application.
Important Information
Earnings: TutorMe pays its tutors $16 per hour. The firm pays through PayPal once a week.
Requirements: You must be enrolled in or have graduated from an authorized institution to be considered as an online tutor. You must also have prior teaching experience, as well as a thorough understanding of the topic you desire to teach.
Subjects: TutorMe provides academic assistance in over 300 areas, including computer science, engineering, history, and Mandarin Chinese. It also provides exam preparation.
Are you a math whiz? If you answered "Yup," this firm could be a good match for you.
Yup provides online instruction in math all the way up to calculus AB. The services are available 24 hours a day, 7 days a week. It also provides SAT test preparation.
To provide an adaptable learning experience, tutors help students of all ages with arithmetic problems using a mix of texting, picture sharing, and going through problems using a virtual whiteboard.
You may work on this great platform whenever you wish and respond to students' inquiries on demand.
Yup has a stringent application procedure in place to ensure that potential teachers are competent. Only around 5% of candidates are accepted by the firm.
Important Information
Earnings: According to Glassdoor, online teachers for Yup earn between $10 an hour and $15 per hour.
Requirements: Applicants are required to complete a written application and a math competence test. Once they pass the test, they need to take a teaching exam that is structured out like a simulated tutoring session. Only when a candidate passes this mock tutoring test, he or she is accepted as an online instructor.
Subjects: Early math, geometry, probability, algebra, trigonometry, pre-calculus, and calculus AB are all covered by Yup tutors.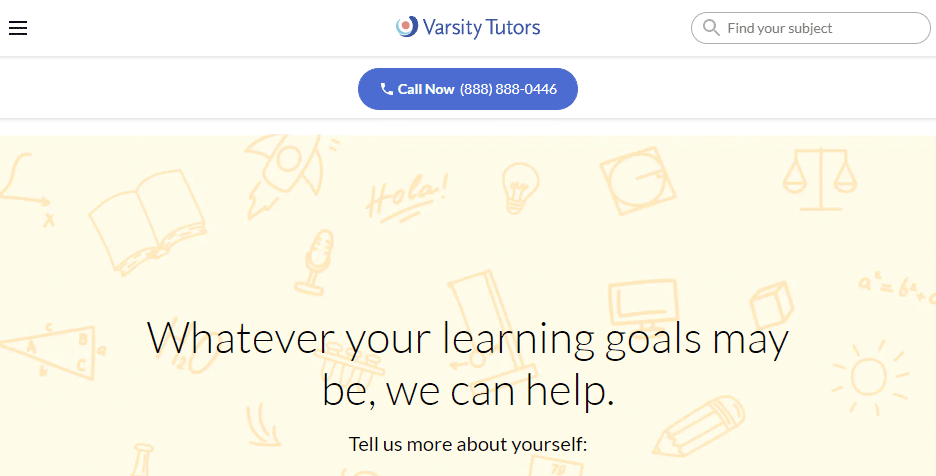 Varsity Tutors helps students learn online by providing one-on-one tutoring, live online courses, practice exams, and study materials. It also provides in-person tutoring services.
Tutors are available to help with a broad variety of academic disciplines. You may also assist high school students preparing for SAT and ACT exams.
Varsity Tutors has a rigorous application procedure, and only a tiny fraction of tutor candidates is accepted.
Important Information
Earnings: According to Glassdoor, tutors make between $14 and $24 per hour.
Requirements: Tutors must have past teaching experience as well as topic knowledge. You'll need to fill out an online application and attend an interview. You also need to participate in simulated tutoring sessions. Apart from that, they will also perform a background check.
Subjects: Thousands of disciplines are available via Varsity Tutors, including grammar, physics, mathematics, and French.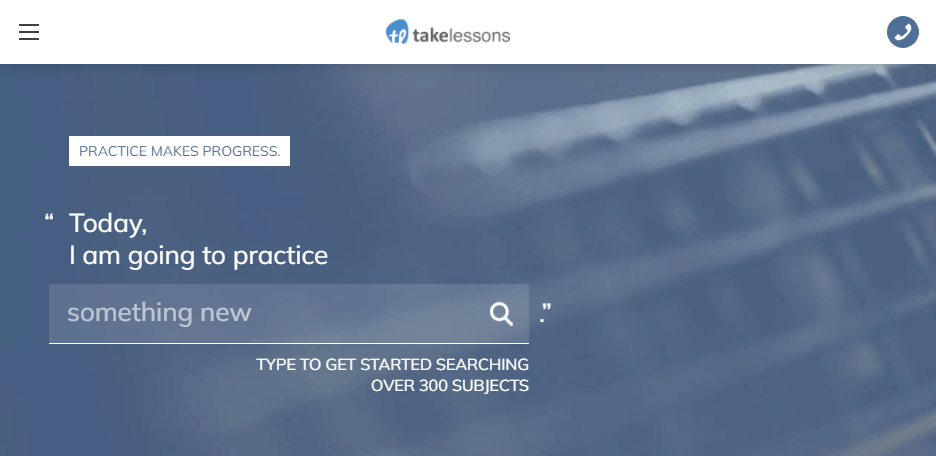 TakeLessons allows you to coach students in academic disciplines such as writing and chemistry, as well as teach talents such as sketching and playing an instrument. Over 300 topics are available on the platform.
Singing, different musical instruments, language courses, acting, dancing, and sketching are all popular disciplines.
TakeLessons allows students to schedule live online teaching in group settings or one-on-one setting. If the students live close to you and you're willing to take on a local tutoring job that option is also available.
Teachers may also choose their own fees and timetables on TakeLessons. Booking and payment are handled by TakeLessons.
Important Information
Earnings: Tutors are free to establish their own fees. TakeLessons takes a part of your earnings to fund payment processing and marketing, much as other sites where you establish your own pricing. According to the firm, instructors may keep up to 90 percent of their quoted class fee.
Requirements: You must complete an experience profile and also clear all the background checks.
Subjects: Tutors may teach a number of academic disciplines, such as arithmetic and reading, as well as arts-related courses.
Cambly is an adaptable online English teaching platform. You don't need a bachelor's degree, or you need not have previous tutoring experience, and there is no extensive onboarding procedure to follow.
English teachers must have native level of proficiency, a computer with a camera, and a high-speed internet.
You'll just establish a tutor profile, which will allow students — both adults and kids — to locate you and schedule sessions with you. You have the option of tutoring as much as you want or as little as you choose. There is no set number of hours that you must complete.
Important Information
Earnings: Cambly tutors are paid 17 cents per minute that translates into $10.20 per hour. Cambly Kids pays tutors 20 cents per minute that translates into $12 per hour. Tutors are paid on a weekly basis through PayPal.
Requirements: You must be a native speaker of English or speak English at a native level.
Frequently Asked Questions About Best Online Tutoring Jobs
After you've gone through our list of the best online tutoring jobs, here are some frequently asked questions regarding how to get started.
What is the Best Company to Work for if You Want to Tutor Online?
It depends on what you're searching for when it comes to finding the best online tutoring jobs for you.
Try Tutor.com, TutorMe, or Varsity Tutors if you want to give additional aid in conventional school topics or help youngsters with exam prep. TakeLessons is great and so is Outschool if you have a non-academic skill that you want to teach. Sign up with Cambly if you wish to use your tutoring talents to teach English to international speakers.
Tutoring possibilities are common at the companies on this list, enabling you to augment your income part-time. You may potentially work for a number of different companies at the same time.
How Much Money Can You Earn Tutoring Online?
Majority of the online tutoring jobs pay by the hour, so the longer you teach, the more money you'll earn.
Many of the businesses on this list provide salaries ranging from $10 to $27 per hour. A select number lets you establish your own rates, allowing you to make even more.

Most of the platforms that will need a bachelor's degree, previous tutoring experience, and a teaching certification or license usually pay more compared to the platforms with lower entrance hurdles. Incentives and bonuses based on referrals or performance are also offered by certain firms.
Is Online Tutoring a Lucrative Profession?
For active and retired teachers, or individuals with prior experience of tutoring in person, online tutoring might be a good way to supplement their income. It is quite easy to become an online instructor with that history and qualifications, as long as you have a nice computer at home and a dependable internet connection.

You could be motivated to transform your part time job into a full-time job and start your own tutoring company after you have worked for one of the platforms mentioned on this list. You have the option of providing online tutoring, or you can actually go for in-person tutoring. Because you won't have an existing internet platform giving you kids to instruct, maintaining a continuous supply of customers will be critical to your success when you start your own in-person tutoring profession or decide on open an online platform.
Is there a Demand for Online Tutoring Jobs?
Because of the coronavirus outbreak, online tutoring has become more popular. Over the previous one and a half years, online platforms have attracted a large number of new students. Tutoring is also a major discussion topic on Facebook groups.
Despite the fact that many youngsters will be attending private and/or public schools this academic year, many parents are looking for tutors to assist them recover from last year's learning loss. Traditional tutoring, as well as online education, are also options. There are several tutoring opportunities accessible. Thus, there is a rising demand for online tutoring jobs, and you can cash in if you have the necessary talent.