Article Forge 3.0 Review – Is It Worth Using?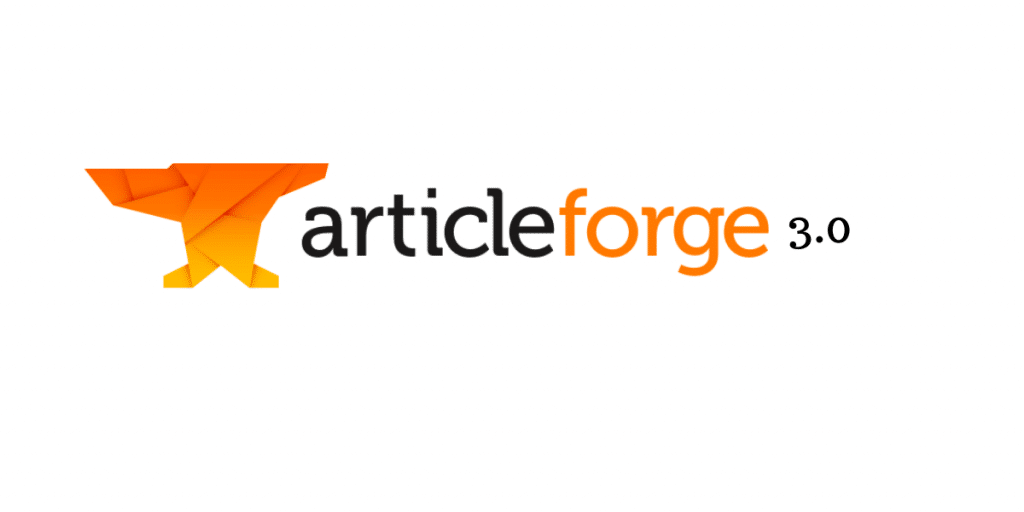 Content is King – we have all heard of this phrase. If you are getting into blogging, you will come across that phrase time and again.
Now, here is the dilemma – "Should you take that phrase seriously, or should you not?"
Well, that totally depends on your business model.
From what I can say after years of blogging, there are broadly three types of bloggers:
Those who focus on quality and not on volume – Type 1.
Those who focus on quantity and not on quality – Type 2.
Those who do not focus on anything. They just copy from others and post on their sites. It is a blatant infringement of copyright. This is Type 3.
For Type 1 bloggers, Article Forge doesn't make any sense. If you are one of those Type 1 bloggers who think that it is important to create original & high-quality content for readers, forget about this review. It is not for you.
For Type 3 bloggers, nothing makes sense. They don't like hard work. They just copy and paste. They don't even care about copyright violations. Sooner or later, karma gets them. So, don't be one of them.
Coming to Type 2 – Once you read this, you may take that leap of faith.
It is needless to say that Google's hegemony and its blatant disregard for quality and relevant content, has forced many to join the league of Type 2 bloggers.
These are the ones who believe in giving content bulk without thinking much about quality. They, however, ensure that the content they are providing remains unique, and that the content pieces do not infringe on others' copyrights.
While there are multiple benefits of going for bulk content publication, the major driving force is:
"Covering as many keywords as possible."
The benefit of this is that your website will eventually rank for some keywords, because your competitors and you will have a massive keyword gap.
In other words, since your competitors will not have as many keywords as you have, their websites will not rank for many keywords. If you have content for those keywords for which your competitors do not have content, your website will rank. People will find you on Google search, and they will visit your website.
That means?
Bling-Bling! Money, my dear, money.
Okay, now that I have let my little secret out, here is something more you need to know:
"Creating bulk content kills quality. Poor quality content is eventually demoted in search results. So, your website will take a hit at some point in time. It can be a month, a year, or a couple of years. But that's inevitable."
What happens when your website is spotted by Google and then punished for poor quality?
No more bling-bling! You lose money.
Way out?
Don't ask me! You are smart! You will figure it out!
Now that I have taken you through the awesome journey of reading through a lengthy and boring narrative, it is time to spill another secret.
How do you produce content in bulk?
The traditional way
Get a freaking article spinner, boys!
That's the traditional way.
What's that?
Article spinners are software applications that allow you to spin an existing content and create a unique one. It only takes minutes to create completely new articles from existing articles.
Here are the steps you must go through:
Copy content from another site.
Paste it in the article spinner.
Hit the spin button and wait.
Grab the spun content and paste it one your website.
Sounds cool, except that one big glitch – the spun articles are awful. They are unreadable.
Article spinners are well known for substituting words with synonyms.
They don't care about the content at all.
They don't care about the readability.
They will just replace words with their synonyms.
Such articles are always capable of passing Copyscape tests, but guess what?
Since they are not readable, people will just stop reading.
Unless…
…you have a bank financing a monthly subscription of WordAi, which happens to be the smartest article spinner out there. It can understand context and rewrite sentences (instead of using word-by-word synonyms) to make sense.
WordAi is expensive, but fast. Really fast.
If you cannot afford WordAi, you may settle for QuillBot – a much cheaper option. QuillBot performs a commendable job of paraphrasing articles, but there are some inherent flaws that include:
Inability to read HTML.
Inability to read ordered and unordered lists.
Inability to paraphrase in bulk.
Inability to differentiate between heading and paragraphs. It treats everything as paragraphs.
WordAi can do all that, making it the best out there. QuillBot obviously takes the second spot.
The inability of QuillBot to paraphrase articles in bulk defeats the very purpose of bulk content generation.
So, you get it, right?
You need an article spinner for bulk content creation.
The modern way
You may, however, switch to Article Forge.
Article Forge is a relatively new service that creates new content within minutes based on the keywords you feed.
It is not an article spinner or a paraphraser.
It uses machine learning algorithms to actually write content from scratch. The only thing you need to do is provide the keywords.
Since it does not scrape articles and it does not paraphrase or spin them, the content you get is absolutely free of plagiarism.
Sounds great?
Stop jumping right away.
There is much more that you must know.
This blurb on Article Forge review is going to tell you everything you must know.
Let's begin.
What is Article Forge 3. 0?
Article Forge 3.0 is a cloud-based application powered by deep learning model and artificial intelligence that enables the rapid generation of endless original and high-quality content. It was created in 2015 by the same firm that created the acclaimed program WordAi.
Just because the program comes from the creators of WordAi, it doesn't mean that it has the same high standards as WordAi. I will get to that later in this review.
To get started with the program, just enter some relevant keyword phrases, and Article Forge will convert them into an article in a matter of seconds.
If your information is available in various languages, this may be the perfect program for you. Apart from English, it supports seven more worldwide languages: Spanish, Portuguese, Dutch, German, Italian, and French.
Each language is powered by the same basic artificial intelligence (AI) writer that drives Article Forge. As a consequence, when you use Article Forge to produce content in other languages, you will get articles of greater quality than with any other similar program you can find today on the market.
What are the features of Article Forge 3. 0?
There are several interesting features that the program has to offer. They include:
It integrates with a variety of third-party apps, such as SEO Pilot, CyberSEO, WordAi, SEnuke TNG, GSA Search Engine Ranker, and RankerX.
Article Forge generates content via the use of natural language processing (NLP) and artificial intelligence.
Article Forge can create SEO material in seven different languages, including English, French, Dutch, German, Portuguese, Italian, and Spanish.
It automatically adds relevant headlines, videos, images, and links to help flesh out your stories and make them more than just a block of text. Along with creating highly relevant and engaging material, its AI content generator utilizes new LSI keywords to demonstrate to search engines such as Google, Yahoo, Bing, Yandex, etc., that your content is interesting and worthwhile.
It has a WordPress uploader that allows you to upload the content it creates directly to your WordPress site. You can even schedule posts for future uploads.
Article Forge has an affiliate program that allows you to earn money by promoting the program to other fellow bloggers.
How does Article Forge 3.0 work?
We'll explore how to utilize Article Forge to produce content for your blog in the thorough Article Forge review. To begin, you'll need to access the official Article Forge website in your favorite browser and establish an account.
When you first visit the site, you'll see "Try It Free" in the upper right corner. You will be taken to the price page after clicking the button. Following that, you must select a plan that meets your requirements.
After selecting a plan, you will be prompted to provide your email address, initial name, and password in order to register with the Article Forge.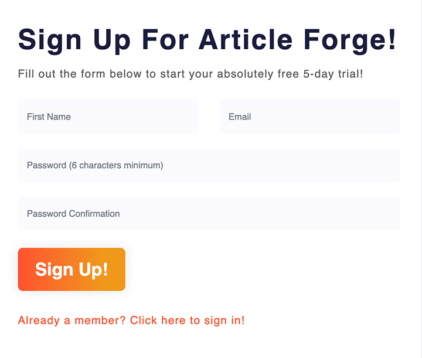 However, in order to use the software's free trial, you must provide your payment information. It's completely free throughout the trial period.
After completing the registration process, you will be led to the dashboard. It appears as follows: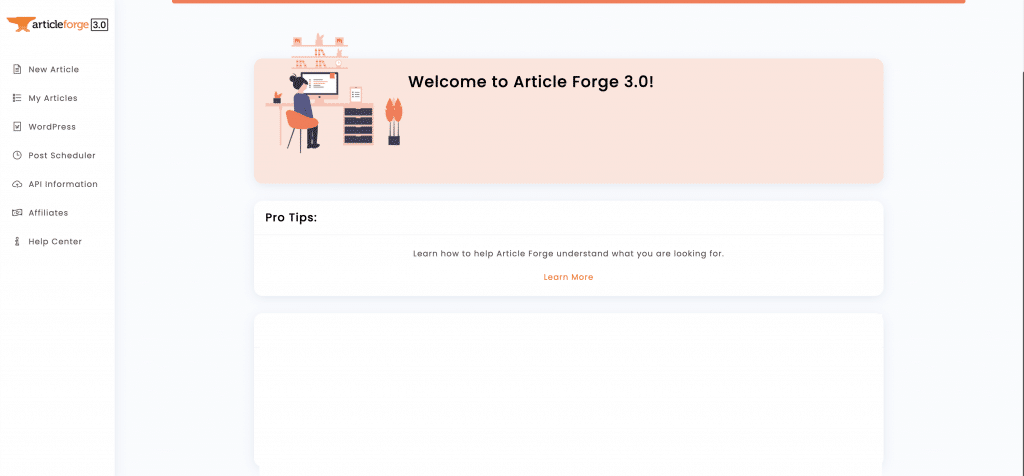 You will immediately notice that the user interface or the UI is meant to make navigation around the program easy and uncomplicated. In the dashboard, you'll see the following options in the exact same order:
New Article
My Articles
WordPress
Post Scheduler
AP Information
Affiliate Program
Help Center
Now, let us go through each option individually to find out what they do.
New Article
When you choose the "New Article" option, the following choices will appear under the option:
Create A New Article
Customize Your Article's Style
Create A New Article
To use Article Forge to produce content, you'll need to provide the subject and sub-keywords so that the application can better comprehend your requirements.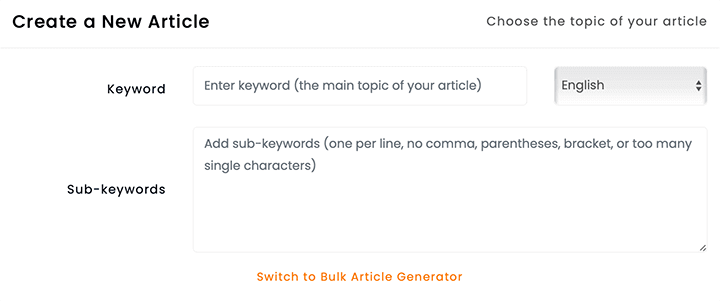 Here is something you need to keep in mind.
Keyword: Make sure it is a broad topic.
Sub-keywords: Make sure that these are more focused.
For instance, if the main keyword is 'acne,' the sub-keywords should be something like 'what causes acne,' 'how to treat acne,' 'home remedies for acne,' etc.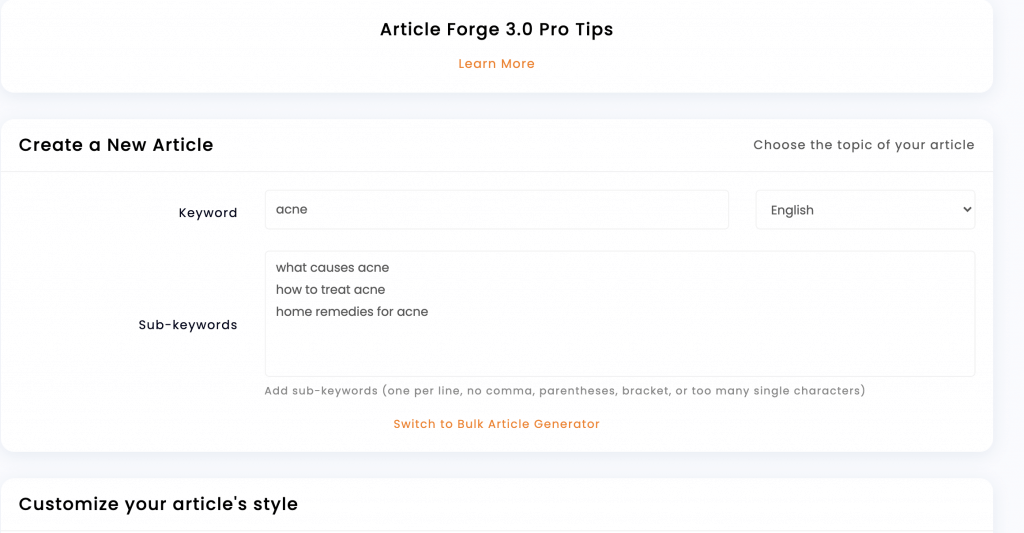 You can find pro tips right inside the application. So, if you are unable to figure out things, you can go through the tips.
Once you have added the keywords, move on to the next segment.
Customize Your Article's Style

This is where you will decide the number of words you want in your article. You will also define whether you need to have title, images, video, etc.
If you want keywords to be replaced with links, you can turn on that option, too. If you turn on that option, you will see this option: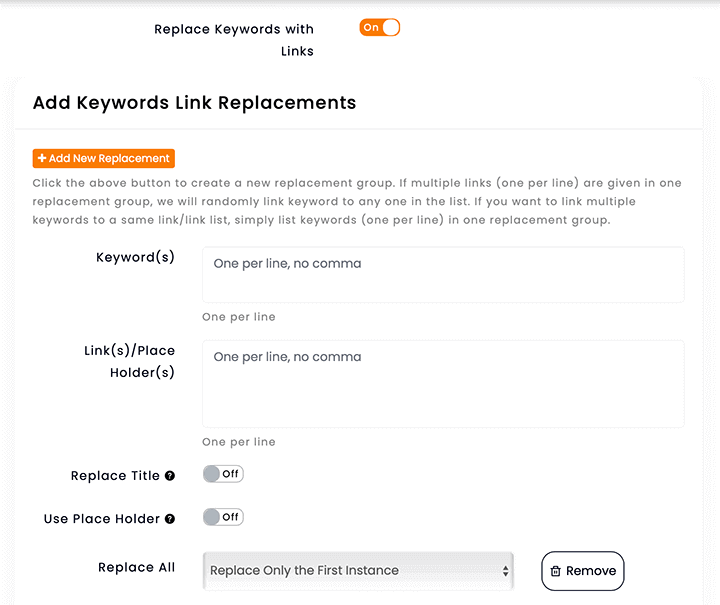 There is a clear explanation of how the feature works. So, go through it properly before you start implementing it.
I will usually not prefer doing this because I usually don't like random link placement. I prefer doing that manually.
You will also find the option of posting to your WordPress blog. If you turn on that option, you will be asked to provide the WordPress credentials.
Finally, you will have the ability to add article spinning features using WordAi. If you want to use that option, you will see this screen: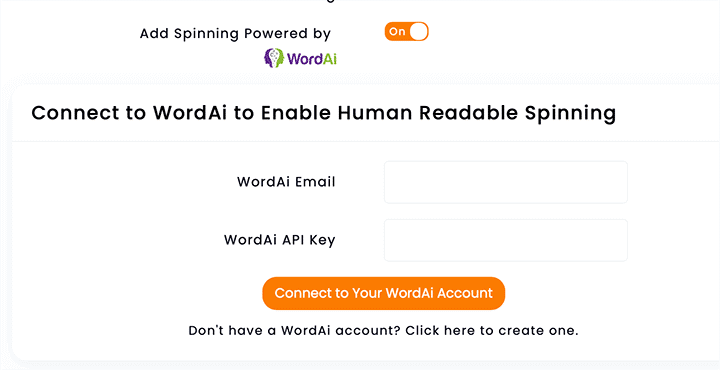 Once you are happy with the settings, you then need to hit the 'Create New Article' button and wait for the application to do its job.
Once you click on that button, you will see the job in progress. Depending on the word count you added in the settings, the time for creating an article will vary.
Once the job is done, you will see a link which reads: "Click here to see the result."

Once you click on the link, you will see the finished article.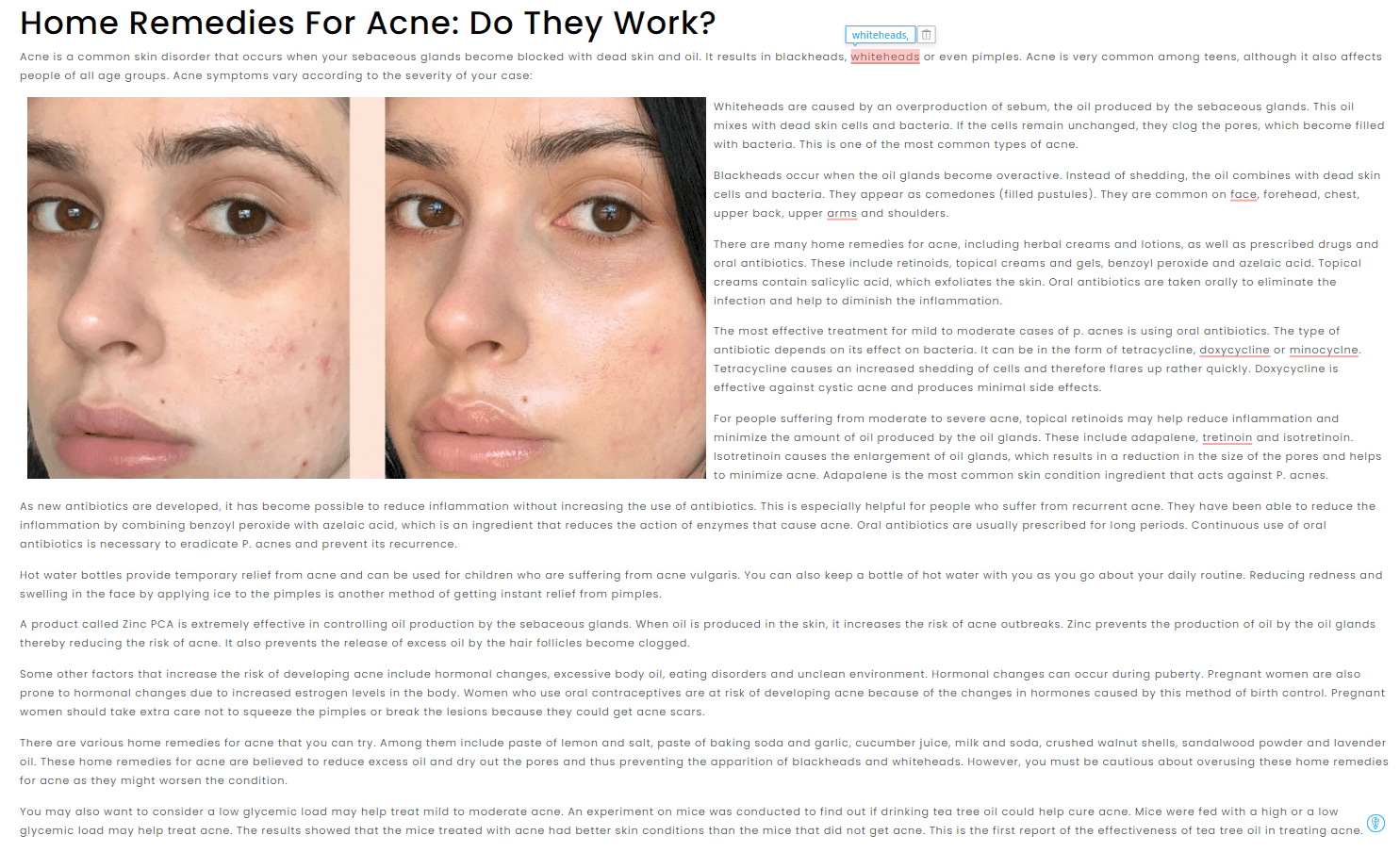 The image above shows the article it created.
I will get to the quality later. Before that, let me talk about the Bulk Article Creator option.
Bulk Article Creator
To switch to the bulk article generator, click on the "Switch To Bulk Article Generator" button. Once you click the switch link, a new box will appear in which you may input the themes in separate lines along with up to five sub-keywords. Additionally, if you supplied more than five sub keywords, it would choose five at random. Additionally, bear in mind that it will exclude sub-keywords that have 50+ words.
Once you've entered your keywords, the Bulk Generator will queue all of your articles for processing. After creating all articles, they will be kept in the "My Articles" area.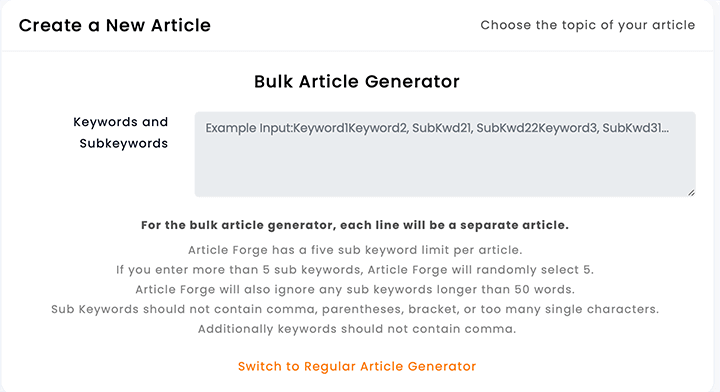 My Articles
This area stores all of the articles you've already created using the Article Forge. The article is available for download, deletion, and cloning from this page.
WordPress
This is the next item on the menu. So, what do you find here?
Here are the options you will find in this segment:
Add WordPress Blog
Bulk Import WordPress Blogs
Set Default Blog
Check Recent Posts Status
This is how it looks like:

Adding your WordPress blog
If you want Article Forge to upload articles directly to your WordPress site, you must add your blog. You need to provide the login credentials. If you have a custom path for XMLRPC, you need to provide that.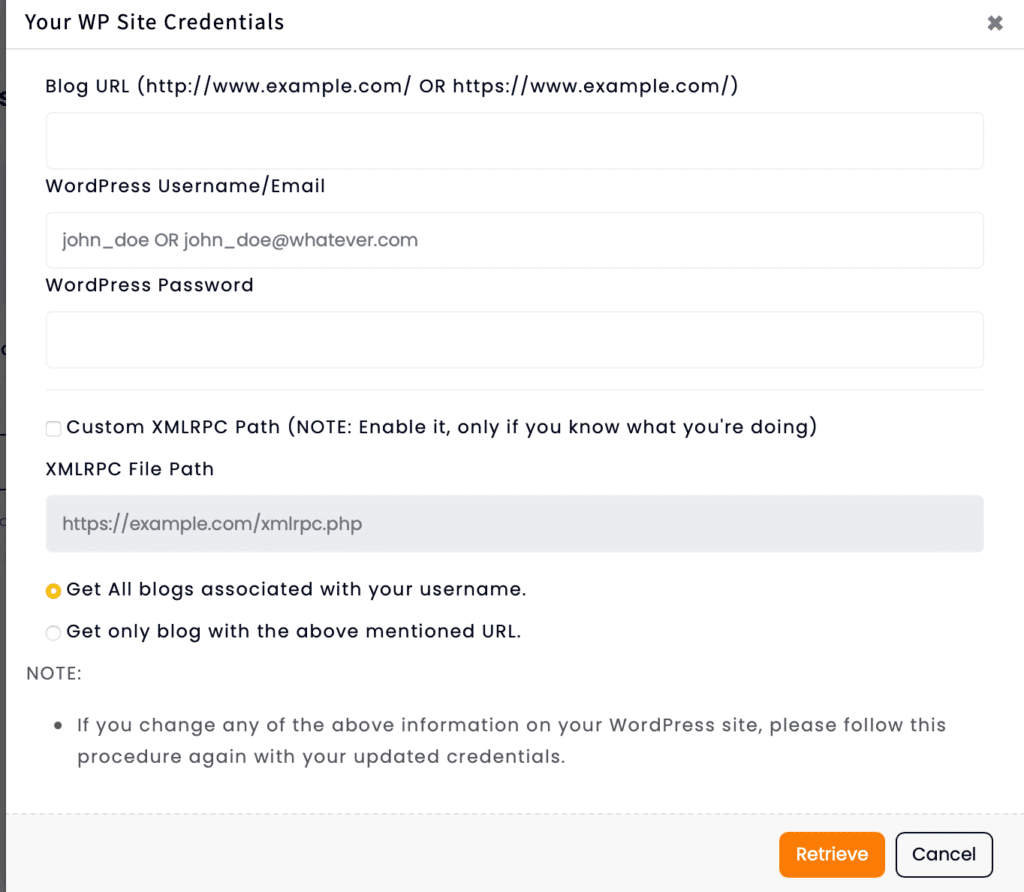 Now, here is something that I don't like – using XMLRPC for posting. This is a very vulnerable file that can be exploited by hackers to get access to your site. So, it is always wise to disable it completely.
In the case of Article Forge, uploading to WordPress will simply refuse to work if you disable XMLRPC. There is no alternative method provided by the program.
Now, do not come and say that it is the only method.
It is not!
There is a JSON method, but that requires installing a plugin you can find in GitHub. This method is far more secure than the XMLRPC method.
Post Scheduler
The Post Scheduler module allows you to schedule material for publication on your WordPress blogs. To begin configuring your Post Scheduler, you must first link your WordPress site to Article Forge (shown above).
Once the blogs are connected, configuring your Post scheduler is as simple as the following:
Enter the keyword phrases and sub-keywords phrases on which you would want Article Forge to write.
Article Forge will generate unique articles each time you enter a combination of a single keyword – sub keyword.
If you provide a large number of such combinations, the application will select one at random every time, but will not pick the same combination again once it has already been worked on.
Following that, you must decide how often you want to post.
For each Post Scheduler configuration, Article Forge can generate up to 24 articles every day.
Each day, the application will select a random time to post the articles.
That is it! You are now prepared to go.
API Information
You'll find your API key as well as other associated information in this section. Article Forge's API enables you to automate the creation of articles inside your processes.
Additionally, you may use your API key to connect to any of the prebuilt connectors. Additionally, they offer API documentation, which may be found on the API information website.
Here is how the interface looks like:

Affiliates
You may get your affiliate link here if you wish to market Article Forge to your viewers and subscribers. You may promote it by including it in forum entries and blog posts. You will receive a 25% affiliate commission on each sale made via your link.
Additionally, monthly earnings are paid on Net 30 basis. This means that commissions earned in February will be paid out on March 30th. To be eligible for payment, you need to have at least $100 in outstanding commissions. If you happen to be a high-volume affiliate, you must contact the company to request an increase in payment frequency.
This is how the affiliate segment looks like: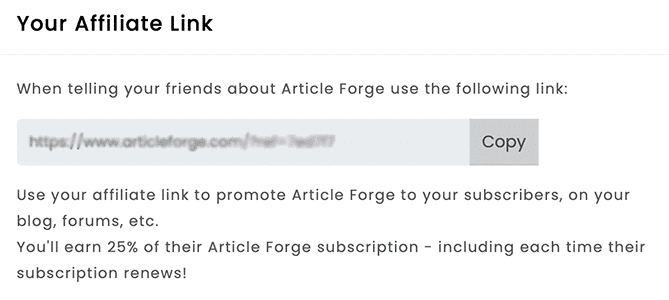 Help Center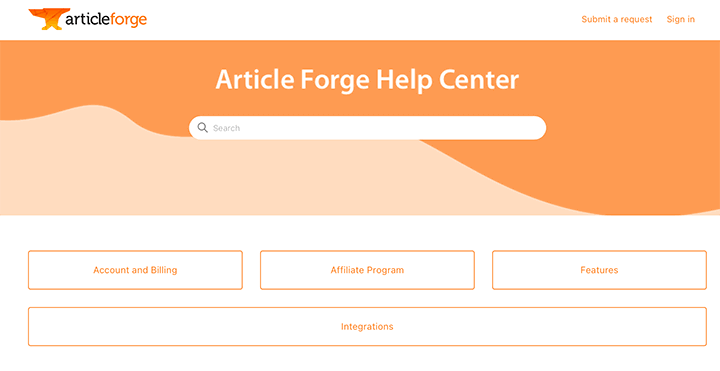 They attempted to address all commonly asked issues in the knowledge base articles pertaining to the billing, account, integration, features, and affiliate program, in order for you to get your answer. If you do not find the solution you are looking for here, you may contact their staff by filing a request.
Quality of articles created by Article Forge
Okay, this segment needs some explanation.
Please, do not expect high quality even when many of the affiliate bloggers out there keep saying that it generates super high-quality articles.
No! It doesn't.
That is a blatant lie.
Here is a sample:
This is a segment of the article on acne that I created for the purpose of this review. Notice how it says that blackheads are created when oil glands become overactive. The 'Black' appearance occurs when the skin over the clogged pore opens slightly and gets exposed to air to undergo oxidation.
So, the quality is absolutely pathetic because of the wrong information it provides.
Here is another sample:

Notice how it says that the home remedies include "herbal creams and lotions" and "prescribed drugs and oral antibiotics."
Really?
If that is a home remedy, then I am Joe Biden. I am sorry, I would prefer to be Donald Trump. My bad!
Honestly, when I went through the entire article, I found it to have at least 80% incorrect information.
INFORMATION WISE, THE ARTICLES CREATED BY ARTICLE FORGE ARE TOTAL CRAP.
What more?
I asked to add a heading in the article style settings.
Article Forge completely ignored that setting and created a bunch of paragraphs that doesn't give you any clear idea of what you find in the paragraphs.
However, I will give it Article Forge –
The articles are very readable even though the information is incorrect.
If you are looking for quality, Article Forge is an ABSOLUTE LET DOWN.
No matter how much it brags about deep learning, artificial intelligence, and natural language processing, the truth is, that Article Forge is subpar.
But yes, it can create articles in bulk, which may be a positive aspect for you to consider if you are not worried about quality.
Article Forge Pricing
Article Forge is fairly expensive in terms of cost. Article Forge provides just two premium options, both of which are available on a monthly or annual subscription basis.
Apart from that, all options provide comprehensive access to the program and a 5-day free trial, allowing you to evaluate Article Forge independently and make an educated choice.
Monthly Plan – Monthly plan for Article Forge cost $57 a month.
Yearly Plan – It will cost you $27 each month if you subscribe for a year and pay for the full year in advance.
Additionally, they provide a 30-day no-questions-asked refund policy. After becoming a paying member, if you use the application to produce less than ten articles and realize that it does not live up to your expectations, you may contact them to ask for a complete refund. They will pay you back without asking a question.
Pros & Cons of Article Forge
It is not a hidden fact. Everything has a set of advantages and disadvantages. Despite its many positive attributes, there are a few disadvantages that you should be aware of. Here are the positives and negatives of the application in my opinion:
The Advantages:
To begin, it is one of the most straightforward and uncomplicated pieces of software available.
They give a five-day free trial to assist you in getting started with the program.
It integrates smoothly with WordAI.
Article Forge allows creating an endless number of articles in just a few minutes.
Additionally, it is compatible with third-party tools such as GSA Search Engine Ranker, SEO Pilot, CyberSEO, WordAI, SEnuke TNG, and RankerX.
That's all about the advantages. Now let's take a look at the negative side:
The Disadvantages:
It requires adding a credit card for enjoying the free trial. That is insanely absurd, and it doesn't evoke trust.
Once the trial ends, you can navigate through the interface to access the articles you created during the trial period until you actually pay.
The maximum word count for the articles allowed is 750 words. So, if you need longer articles, you will be disappointed.
The articles created are always factually incorrect.
It uses XMLRPC for uploading to WordPress. Not a very safe thing to leave XMLRPC enabled.
API has a limit set. You cannot create more than 200,000 words using API – so much for unlimited content. To get unlimited content, you must use the web interface.
Sometimes, it will just ignore the article style settings and never provide headings!
Conclusion
So, is Article Forge worth your money?
NO! IT IS NOT!
If you are looking for bulk without any oversight on quality and accuracy of information, go for Article Forge. This might be a helpful technique if you are building churn and burn sites, or if you are building Tier-1 and Tier-2 sites for your PBN (private blog network) link-building efforts.
I will never recommend using Article Forge for a website that you intend to keep for a long term. The awful quality will drive away readers for good. They will never return, especially if they have even the slightest knowledge about the topic.