9 Best Laptops for Working Remotely (from home) in 2022
You know by now that technology is essential to your success in your work, especially with increasing demand for remote work post COVID. What this means is that the computer you se can be the difference between and efficient work system or a boring time at home.
Remote working is a growing trend as companies adapt to changing circumstances. Remote working has opened up a world of possibilities and freedom for many people, despite the fact that offices will remain closed in the near future. Are you ready for it? A good laptop is vital for productivity, whether you're working from home, at work, in a co-working space or at a coffee shop, or at the beach somewhere exotic.
What do you associate first with remote work? Of course, a laptop!
A laptop can do almost all digital work, including recording your voice, creating videos or music, drawing visualizations or buildings, programming, and even creating a presentation. A laptop can be expensive and should be chosen according to your professional and personal needs. It will be the foundation for all the work you do.
We gathered our knowledge to help you make informed decisions. This list contains the top laptops for remote working. It meets all our requirements. This blog post will help you make an informed decision, regardless of whether you're an Apple or Windows fan. It also gives you an overview of the price ranges.
Things to consider before buying your Laptop for Remote Working
1. Size and Weight
A lightweight laptop will make it easier to travel and move around between work locations if you are a remote worker.
Lisa and I use 13 inch laptops. We find that this is just right for remote work. The screen is large enough to work with images and documents. It's also compact enough to be easily carried on trips. Both laptops weigh around 1.3kg. We recommend a laptop that is less than 1.5kg if you intend to travel often.
Ever wonder how long it will take to get rid of your laptop, your food and drinks? I haven't. It can be nerve-wracking to have to deal with such a preventable problem.
If you live in a mobile environment or are commuting, the size of your laptop will be a major consideration. Make sure your laptop is small enough to fit in your bag or backpack, and light enough that it doesn't cause you pain by lifting heavier than necessary.
2. Battery Life
You don't want to be tied down to a cord at all times when you buy a laptop for remote working. You will see that battery life is very different between laptops. This should be something you consider.
When looking for the best laptops to use for remote work, battery life is an important consideration. Battery life is less important if you are always near a power source. It won't matter if you can plug in your computer at any time.
For someone working remotely, you need a computer that can be unplugged for extended periods of time. They might spend a lot of time at the beach or in airports, where it is difficult to find a charging station.
There are many laptops that offer battery life. This is why it may be the most important thing you should consider.
3. Abilities (Functionality and Speed)
It might prove to be beneficial to check if your laptop's keyboard is ergonomic for writing long posts. Video editors will be more concerned about whether the laptop can run their preferred software and if it dies faster when running multiple applications simultaneously.
When it comes to using a laptop at work, most people have different needs. Consider the essential functions that you require to do your job and ensure that the laptop you purchase can handle them. Do you do a lot with video conferencing? Are you a graphic designer, a video producer or a photographer? Do you use your laptop primarily for editing documents, analyzing data and sending email? These questions will determine the type of functionality you require in a laptop.
You will need a faster processor if you use design software or work with large files. A dual-core processor will suffice for simple tasks. However, a quad-core processor would be ideal for more complex work.
4. Price
When buying a laptop, it is important to take into account both the price and the capabilities of the computer. This list provides more information.
Computers come in a variety of prices. Although smaller laptops are possible to purchase for as low as $300 USD, they may not offer the same capabilities. Computers priced at around $2,000 USD will be found on the higher end.
A refurbished laptop is a great option if you aren't ready to spend the full price for a high-quality computer. They are highly reliable and sold by many companies.
5. Usability
A laptop that is simple to use and doesn't require too much faffing about will be a great help when you are always on the move. A laptop's quality is directly related to its ergonomics. You want a keyboard that is easy to use, with space between the keys and backlighting for when it gets dark.
A 2-in-1 laptop is a good choice depending on your needs and style. The touch screen displays can be used both as a tablet or laptop, and can even be rotated completely around. Lisa owns one of these and it is great for switching between tablet and laptop mode on a train journey or at home.
What is the purpose of your laptop's battery life?
A comfortable keyboard is essential for freelance writers working from home. To make sure that it is comfortable, you might try it in person at a shop before purchasing it.
A larger screen is better for editing video or graphic design. You might also need a keyboard with a solid, bright light source.
These are the options you should consider when buying a laptop for remote work.
Mac vs. PC
Without addressing the issue of Mac and PC computers, this article wouldn't be complete. It appears that consumers are divided into two distinct groups. One group is religiously committed to only buying Apple products. The other group swears by PCs.
Traditional Mac computers have been more expensive than regular PCs. This is why they are preferred by remote workers working with visuals such as architects, designers and others who need to be able to seamlessly move between their Apple devices. Airdropping is an example of how different devices can seamlessly interact with each other and allows you to easily send documents to another device.
Mac computers have another advantage: they are less likely to become infected or be attacked by malware, while PC computers are more susceptible and better protected.
Mac computers can be more expensive and less cost-friendly than PC computers. They are used for video games, but they last longer than Mac computers by at most a few years. If you plan on using your laptop for long periods of time, a computer with a larger memory might be safer.
It is up to you to decide whether you want a Mac or a PC. It is important that you choose a laptop that meets your professional and personal needs.
Best laptop for working from Home in 2022
Now that we have covered what you have to bear in mind when choosing a laptop that is best suited for remote working. Here is our 9 top best laptops for working remotely in 2022. Remember this is merely our professional choice. Ultimately you are the one going to spend your money and you are the one going to use it, the decision is yours to make.
Let's get started with Best Laptops to use.
1. Macbook Pro
16-inch screen
256 GB or 512 GB of storage
8 GB of memory
3 pounds (1.4 kg)
Two thunderbolt ports (no USB)
Touchscreen bar ability
20-hour battery life
Price point from $1,300 USD
Pros – Fast performance, elegant usability, versatile touch bar, keyboard, trackpad, high-resolution display
Cons The base model, which I use, has only two Thunderbolt ports. There is also no SD card slot. MacBooks can be quite expensive. However, you can find laptops with similar specifications for less.
The MacBook Pro is the laptop that I use for remote work. We start our compilation with it. This laptop is powerful and versatile, but it's also very user-friendly. MacBooks are a favorite among remote workers all over the globe – I think they account for about half of the laptops I see when I visit co-working spaces.
The MacBook Pro 13-inch is what I use. I recently upgraded from the 2017 model to the 2020 base model. It has a quad-core Intel processor of 1.4GHz, 8GB RAM and SSD 256GB storage. These newer models are more efficient. It can turbo-boost up to 3.9 GHz, which is a significant improvement over the 3.1 GHz clock speed on my 2017 model.
The 13-inch version is my favorite. It strikes the perfect balance between portability and usability, as we have already discussed. The touch bar, which is featured on MacBook Pro models from 2016, adds an additional layer of usability.
2. Macbook Air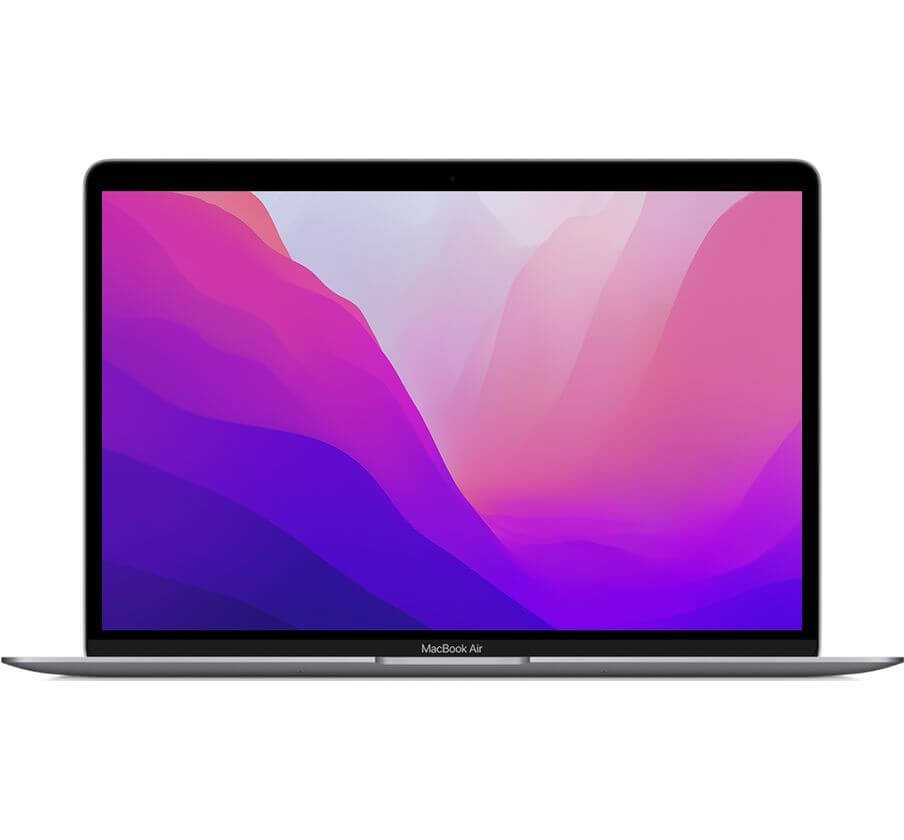 13.3-inch screen
256 or 512 GB of storage
8 GB of memory
2.8 pounds (1.29kg)
Two thunderbolt ports (no USB)
18 hours of battery life
Price point from $949.99 USD
Pros – Solid processor performance and long battery life, lightweight and low-cost Apple notebook
Cons – Similar to the MacBook Pro, similar specs Windows laptops can be purchased for a fraction of the price
The MacBook Air is Apple's lighter and more affordable laptop than the MacBook Pro. You get many of the same advantages, including the ability to use the iOS operating system and the new version comes with Apple's beautiful Retina Display.
Its hardware may not be as powerful as the MacBook Pro's, but it is lighter and easier to transport, making it a good option for those who don't require it for heavy-duty work.
The new Apple M1 chip processor was added to the latest MacBook Air in November 2020. It has an 8-core CPU with 7- or 8 core graphics, depending on the model. It is also compatible with WiFi 6.
Although this development was a bit too late for me, I just bought a new MacBook Pro. But it would have given me serious thought! The MacBook Air is a lightweight, all-purpose machine that packs a lot of power into a very affordable price.
3. Acer Aspire 5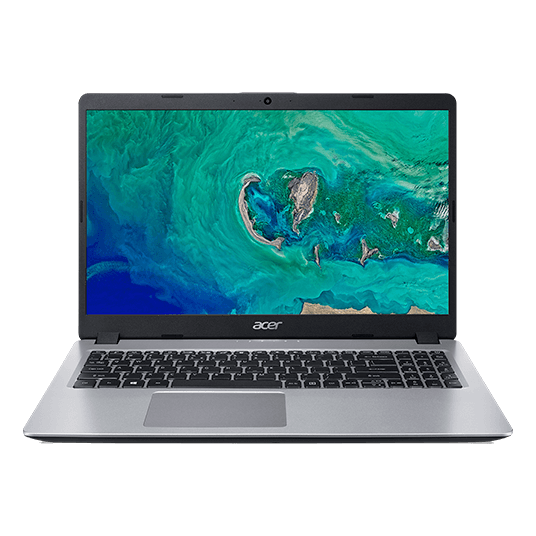 15.6-inch 16:9 display, 1920 x 1080
Intel Core i5-1035G1 (1.0 GHz with turbo boost up to 3.6 GHz)
8GB DDR4 memory
256GB PCIe NVMe SSD, one available hard disk drive bay
3.97 lbs (1.8 kg)
Ports: one USB 3.1 Type-C Gen 1, two USB 3.1 Gen 1 (one with power-off charging), one USB 2.0, one HDMI 2.0, one audio jack, one Ethernet (RJ-45), one DC-in jack
Windows Hello fingerprint reader
$549.99
"Pure silver" color option
Pro – Affordable, good port selection, great audio, comfortable backlit keyboard
Con – Bad battery life, off-center touchpad, feels like a budget laptop
If you are looking for something affordable and cheerful, the Acer Aspire 5 laptop is a great choice. Acer is known for making affordable laptops, with the Aspire range being the crown jewel of their portfolio. Although the Aspire 5 may not be their latest model, they are currently on the 7th iteration. However, it is reliable and affordable.
You get what you pay for, of course. The Acer Aspire 5 has a decent processing speed and can even do basic photo editing. The plastic cases are not durable and cheap. When you're out and about, you will need to be extra careful to protect your laptop. You'll also have to take extra care to protect your battery.
The Acer Aspire 5 is a great choice for anyone who needs a cheap way to do some work. While you will likely need to replace the Acer Aspire 5 every few years, it is a great piece of kit if you are just getting started with remote work. We recommend that you get one with an AMD processor if possible as they are faster.
4. Dell XPS 13
Processor: 10th Gen Intel Core i7-1065G7 (8MB cache, up to 3.9 GHz)
RAM: 16GB
Storage: 512GB
Weight: 2.8 lbs
Thickness: 0.58 inches
Battery: 52Wh
Display: 13.4-inch touchscreen (1920 x 1200)
Camera: 720p
Wi-Fi: Wi-Fi 6
Pros – Attractive, premium chassis, Powerful performance, No bezels whatsoever, Excellent battery life
Cons – Keyboard gets hot under load, Limited port selection, Bad webcam
Although Dell computers are often criticized, this laptop is great for remote workers. It also uses Windows, so even if you aren't a fan Apple's computer, you will love this laptop.
It has more memory storage than the other laptops in this list. If you have multiple tabs open or are using multiple programs simultaneously, the Dell XPS13 is a great choice.
It has a decent screen size and is comparable to other computers in this list. The battery life is also quite good.
Also, the display is 4K so the colours are very vibrant. This is especially noticeable if you are a designer who often uses colours and video in your work.
You can upgrade your hard drive to 1 TB if you feel you have more storage than 512 GB. This is an amazing amount of storage.
5. Acer Aspire 7
15.6-inch screen
512 GB of storage
8 GB of memory
4.85 pounds (2.2 kg)
7 hours of battery life
Price point from $1644.99 USD
Pros – Backlit keyboard, Good large screen, Thin bezel, Separate number keypad, Power-off USB charging
Cons – No optical drive, Plastic chassis, No touch or pen support, No SD card reader slot, No fingerprint reader
If you don't plan on working more often in different locations, the Acer Aspire 7 is recommended as a top laptop for remote work. Amazon acknowledged this fact and listed it in the "Amazon's Choice" category.
This laptop weighs 4.85 pounds and is heavier than other computers recommended for remote workers. This laptop is reliable and will last you a long time.
It is a great value for the capabilities it offers. Many reviewers agree that the computer boots up faster than other laptops they have used before and is fast. This could be a great device for those who value their time and want to work from home.
The computer does not include an SD slot. Photographers and videographers who want to be able to transfer photos directly from their camera to the laptop using an SD card might find this a problem.
The Acer Aspire 7, despite its many features, has a 7 hour battery life.
6. HP Envy X360
Processor AMD Ryzen 7 2700U at 2.2 GHz +
RAM 8GB
Weight 1.32kg
Battery Life: 13 Hours
Pros – Amazing processor performance, touchscreen and pen, great value,
Cons The cooling fan can be quite loud which can cause problems.
Lisa purchased her HPEnvy X360 in 2018. It has been a success and is durable, reliable, and easy to carry around with us on our travels. It was a cheaper option to the HP Spectre 360 or Microsoft Surface Pro at the time, but it's been an excellent purchase.
The HP Envy X360 2-in-1 laptop is a premium 2-in-1 laptop that offers superior processor and graphics performance. It's a great value at this price. The convertible design makes it ideal for work on the move. We have used it for more than three years and don't think we would spend any extra on the HP Spectre 360. It does everything that it is capable of.
Lisa is using the HP Envy X360 13-inch model. It is lighter than my MacBook Pro and has a slimmer and more elegant feel. Although I am not a fan of the keyboard ergonomics, many reviewers disagree with me. It's not a bad product, but I would not rate it too low for this.
7. ASUS Zenbook 13
Processor 3.9GHz Intel Core I5-8265U
RAM 8GB
Weight 1.14kg
Battery Life: 10 Hours
Pros – Super lightweight, reliable, solid performance and long battery life
Cons: The display quality is poor because of the cramped keyboard design.
The ASUS Zenbook13 premium laptop is our most affordable. If you don't have the budget for a MacBook, HP Envy, or Dell XPS, this is a great value-for-money choice. This model is not only reliable, but we have used ASUS laptops before and were always impressed with their reliability.
ASUS Zenbook 13's processing power is more than sufficient to multitask between various tasks. This laptop is also one of the most portable on our list. It can be used for work trips or to move around the office frequently.
The machine has a variety of USB 2.0 and 3.0 ports, an HDMI port, and a headphone jack. However, there are no Thunderbolt connections.
ASUS Zenbook 13 is an all-around laptop that can be used remotely. This is especially useful if you are open to changing up your work environment. It's compact and lightweight, has a long battery life, and does the job.
8. Microsoft Surface Book 3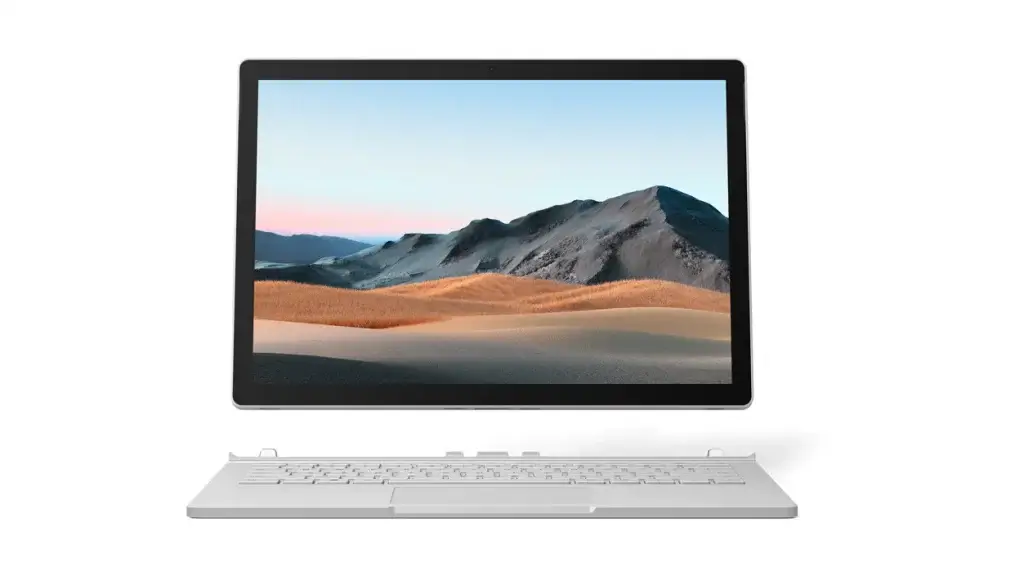 13.5-inch screen
512 GB of storage
32 GB storage
3.62 pounds (1.64 kg)
15 hours of battery life
Price point from $2400 USD
Pros – Great keyboard, trackpad, and display, Detachable screen with 3:2 aspect ratio, All-day battery life
Cons – Wobbly display, No Thunderbolt 3 support, Design is getting dated
The Microsoft Surface Book 3 computer is powerful with 15 hours of battery life and doubles as a tablet. It is a transformator in a single word!
It is 3.62 pounds in weight, so it is not the lightest. However, it is a great fit for travelers who travel long distances or take trains. This tablet can also be used to edit videos, photos, and images if you're an artist. Unfortunately, it is not available with a Surface Pen.
There are many areas that could be improved as a tablet for remote workers. The Surface Book 3 tablet will last for around two hours, which is less than an iPad Pro. It is too large to be comfortably used anywhere, at any time, at 13.5 inches. This problem is even more evident in the 15-inch model. Once you become used to its size and shape, it becomes easy to notice how amazing the screen looks while you read your morning news or reply to your colleagues.
This laptop is for those who value stability. Microsoft has maintained the same design language since 2015. This laptop is still a great choice for people who want to send emails, create spreadsheets, and stream Netflix.
The Surface Book 3 is a great choice if you want a 13-inch laptop that has the power normally reserved for machines 15-inches or higher, or if the OG Surface Book and its successors are your favorite and you have a special need for the additional power provided here, the Surface Book 3 will delight.
9. Samsung Galaxy Book S
13.3-inch screen
256 GB of storage
8 GB of memory
2.09 pounds (0.95 kg)
17 hours of battery life
Best lightweight laptop with a long battery life
Price point from $899
It took some time for the Galaxy Book S to appear, despite it being introduced last summer. It also features a Qualcomm Snapdragon8CX processor, which is a smartphone processor. It's lightweight because of this, although it may have had issues with certain Windows apps. It's fast, but the Galaxy Book's battery lasts a ridiculous amount of time.
Samsung claims it should last for 23 hours. This is crazy. There are no other options. $999 will get 256GB storage and LTE cellular wireless. This is great for when your home is not available.