13 Best Spelling Apps for Kids in 2021
These spelling games and apps are great for students, whether you're using an Android tablet or iPhone, and even middle school and high schools. Spelling skills can improve vocabulary and comprehension. English language learners will find it helpful to know how to spell words. It also helps them to understand grammar and the parts that make up words.
These apps will help students spell new words. They can be used to play games, experiment with word construction and take quizzes that use pre-made or custom lists.
How to Spell Apps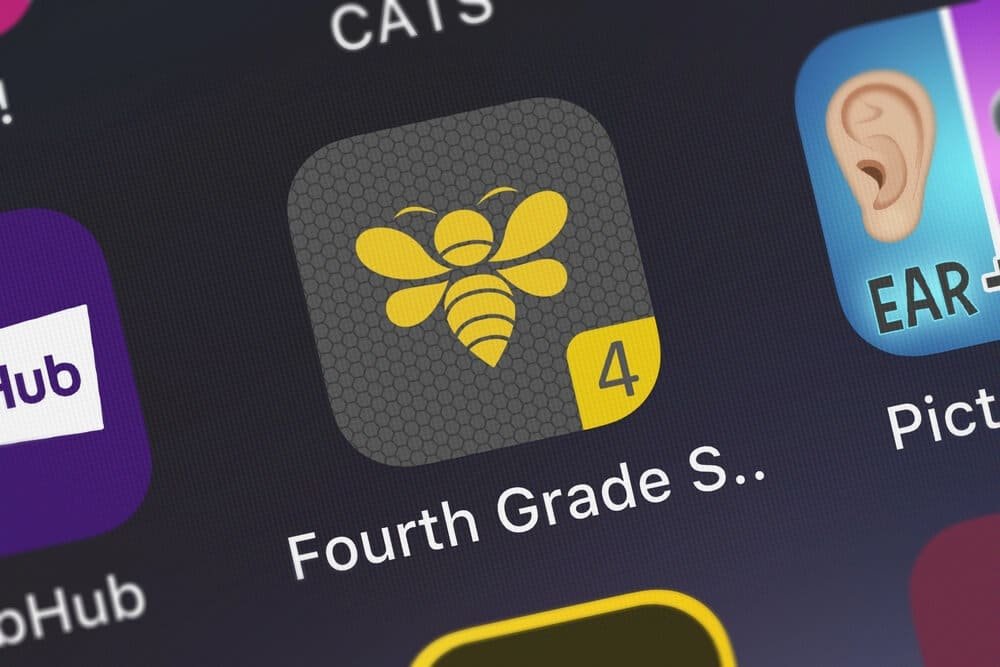 Spelling is an acquired skill that requires practice and formal/informal instruction. The oral part of a target language may be easy to pick up (depending on your cognitive capabilities, the linguistic environment and your level of dedication and motivation), but learning to spell, read, and write takes more effort and attention.
Language learning has been greatly facilitated by the widespread use of mobile applications and web technologies. It is now possible to learn foreign languages from the comfort of your own couch, and it's free. Today's post will focus on spelling.
This collection of apps has been carefully selected for your use as a teacher, student, or anyone who is interested in improving spelling.
These apps offer guided practice, interactive games and puzzles, as well as lessons, quizzes and puzzles. If you have any other suggestions, please let us know.
Best Spelling Apps for Kids
Our interactive and animated spelling apps make practicing spelling fun. There are many spelling apps that can challenge and excite young learners, from custom word lists to spelling tests.
Spelling apps can be used to teach children how to spell words and to improve spelling skills. For more practice with letters and words, visit our sight words apps. This spelling game makes learning spelling fun for children.
Spelling is an essential skill that children must master. However, it can also be difficult for some. This area of literacy is well-suited for apps. Many educational apps enhance a student's spelling experience by making spelling practice interactive, memorable, and fun.
The following spelling apps will help your child become a master speller in no time. These apps make spelling fun and easy. These apps can be used at home with students or in the classroom with more advanced spellers.
Check out these 13 top spelling apps for children to improve spelling.
1. Montessorium: Intro to Words
Montessorium: Introduction to Words helps children learn letter sounds and enables them to form words. There are four options for activities: the Montessori "I Spy", a traditional Montessori letter-sound game, and one that uses the Montessori movable alphabet.
The movable alphabet is used by children to create their own stories using stickers-like images and the artful sticker-like images. The sound of each letter is clearly heard by children as they move it to form words.
The storyboard feature does not have a spelling checker. Children can still spell phonetically. Two other activities require that the narrator pronounces the word next to a colorful illustration and then asks the children to select the letters or combinations of letters that spell the word.
2. Spellwizards
Spell Wizards is a fun spelling app that helps primary-aged children spell. Spell Wizards teaches spelling and helps children improve their spelling skills.
Spell Wizards encourages spelling fun and learning through play. This app allows you to create spelling tests using your choice words. It is great for practicing weekly spellings. This app is fun and easy to learn spellings.
Spell Wizards is easy to use and accessible for children aged 4-11 years old to improve spelling skills. Teachers can use the app to support classroom learning with curriculum and customized spelling lists.
Spell Wizards can be accessed online as a web application. It is a powerful support tool that parents, teachers, and schools can use to help their children improve their spelling skills through play.
3. Spelling Shed
Spelling Shed, a popular app for schools, is great for practicing spellings at home. The three stages of words are stage one, two, three, and four. Stage five and six are the last two.
After the word is displayed on screen, it is spoken. Once your child has read it, click OK. Then they can try to recall how to write it by clicking on the correct letters. Each correct word earns children points that they can add to their school leaderboard.
You can choose from three levels within each category: easy, medium, or hard. Medium includes only letters that are part of the word; easy features the simplest letters, while medium has a few more letters as decoys. Hard features offer more letters.
Medium and hard levels do not display the spelling word on screen. It is just spoken aloud.
The app is colorful and easy to use. It has over 2000 National Curriculum words as well as a dyslexia-friendly font. You can also create your own spelling lists.
4. Reading Eggs
Reading Eggs is an interactive spelling game that helps children spell. You can choose from a variety of interactive spelling games that will help your child learn how to spell.
Reading Eggs spelling apps are fun and motivating for children aged 6-12. Reading Eggs spelling apps can help boost your child's confidence in spelling. They will also expand their vocabulary and improve their literacy skills by helping them progress through a variety of challenging words, spelling activities and contexts. You can download the app for free, but you will need to make in-app purchases.
5. Word Wizard for Kids
Word Wizard offers three ways for children to learn spellings. Word Practice is where they can copy a word by dragging and dropping letters. Scrambled letters allows them to organize a bunch of letters into words. Spelling Quiz asks them to spell words they are reading aloud.
Talking Movable Alphabet allows kids to create their own sentences and words.
There are many built-in lists that cover everything, from common words to sports, food, nature and sport, but you can also add your own lists to help your child test their spellings.
6. DoodleSpell
This app is well-designed and allows children to practice spelling words using interactive mini games. DoodleSpell helps your 5–11 year-old with their spelling skills. It also offers a customized work program that focuses on their weaknesses and strengths. You can expect to see a progression in spelling with Proxima(tm), which is the same technology that powers DoodleMaths or DoodleEnglish.
Based on your strengths and weaknesses, the app will create a personalized spelling program for each child. You can also create specific word lists through the teacher dashboard. These will be available in the app so children can immerse themselves into learning them using a variety of question styles.
7. Phonics Spelling Dictionary
Phonics Spelling Dictionary can be used as a dictionary. It also allows users to check their spellings and create spelling lists. This will help children learn how to read synthetic phonics. The spelling test allows children to test their knowledge of phonics and can increase the difficulty as they improve.
The app allows users to choose between Dictionary, Spelling Tests, and My Words. The app organizes words according to sound and breaks them down into colored sections. It also features interactive audio feedback and fun illustrations that help users engage with the content.
This app is a great tool for helping young people develop their reading skills through synthetic phonics.
8. Word Wagon – by Duck Duck Moose
Word Wagon – by Duck Duck Moose – is a phonics & spelling app for emerging readers and pre-readers. Initially, letters within words are pronounced alphabetically.
Children can tap on any item, such as colors or vehicles, that passes by the bottom of the screen. They can also move letter boxes to spell the words.
The colorful app has four levels. Kids can see the letters' silhouettes or attempt to spell the word with no hint. Kids win animated stickers for every word they spell.
Correct spellings give them the chance to play a connect-the-stars-constellation game. Word Wagon doesn't keep track of your progress from one session to the next.
9. Spelling Hero Game
This simple spelling game will help your child remember how certain words are written. The Spelling Hero app allows children to spell different words using a combination of audio, visual, and phonics.
Children will be able to defeat the enemy by correctly spelling words. This app does more than just teach spelling. It also teaches pronunciation and etymology by using audio files.
The program is step-by-step and builds from sounds to single words, then sentences. Children make daily strides towards mastering spelling and reading. Spelling Hero is a faster program than any other for children who struggle with spelling and reading.
It improves spelling and reading confidence. Spelling Hero Game contains difficult words that can be used by teachers for English lessons or spelling competitions.
10. Avokiddo ABC Ride
Children help Beck and Bo with a series alphabetically-organized, letter-related challenges. Each challenge is introduced with an alliterative poem. Children are told to "acquire apricots" and to act with attention. Then they use a bucket and catch any apricots that fall from a tree. Next, they spell the target word (e.g. apricot) and then continue their journey.
You can have your child choose to see letters in alphabetical or specific order. They can also decide if Beck or Bo will ride the bike. Teachers can change the settings in the parent section (behind the "press for three seconds" lock) to make sure that children see the correct letters.
11. Spellwick – The Magical Spelling Game
An app that teaches spelling through games. It can be used by students and teachers to improve spelling skills. This app can help you spell nearly 300 words from the English language. It also improves your vocabulary.
Spellwick is a tool that helps children improve their spelling skills through word building and pre-made lists. Spellwick also improves spelling of high-frequency words.
12. Rocket Speller
Rocket Speller combines academics with fun to help children with spelling and letter recognition. It offers five levels, the option of using upper- or lowercase letters and allows you to choose a letter name or phonetic sounds as well as a word category.
Levels 1 and 2, which offer visual cues, allow children to see the letters in their place and then match them by dragging. When the letter pops into place, they hear its name or the sound in the phonetic options. Level 3 children hear the name of each letter by tapping the space. Levels 4 and 5 are for kids who are struggling.
Zip, an alien, appears on the screen with a picture and description of an object. Children fill in the blanks by dragging and dropping letters onto the screen to spell the item's name.
The levels get more difficult — Level 1 includes words with three to six letters. Level 2 shows the letters. Level 3 is for words with three to six letters. Level 5 includes seven to ten letters with no visual or audible hints. Once they have correctly spelled three words, they can choose a piece from their rocket. After the rocket is completed, the kids can launch it and see stars as they soar through space.
13. Squeebles Spelling Test
Squeebles Spelling Test features all of the characters from the Squeebles Series. This spelling game will help your child learn how to spell, write, and read.
Teachers and parents have access to many features in the app that can aid with learning and teaching. You can track multiple players' progress, create tests for groups of students, upload spelling lists, and record the audio for the word for your children.
The app keeps students entertained while they take spelling tests and give feedback. Students can also earn stars to unlock characters in the game. The app offers three modes of testing and an engaging mini-game that can be used to aid in ongoing learning. The app allows you to download more than 200 pre-recorded spelling list, absolutely free.
Conclusion
There are many spelling games and apps that can be used by students, from iPads to Android tablets and iPhones to high schoolers and middle schoolers to high schoolers, as well as iPads to Android tablets and Android tablets.
These simple and fun spelling apps and games will help you teach spelling words to your child and increase their confidence.
Don't Miss : Blooket – Blooket Play, Login, Alternatives and Game