15 Best Summarizing Tools Without Plagiarising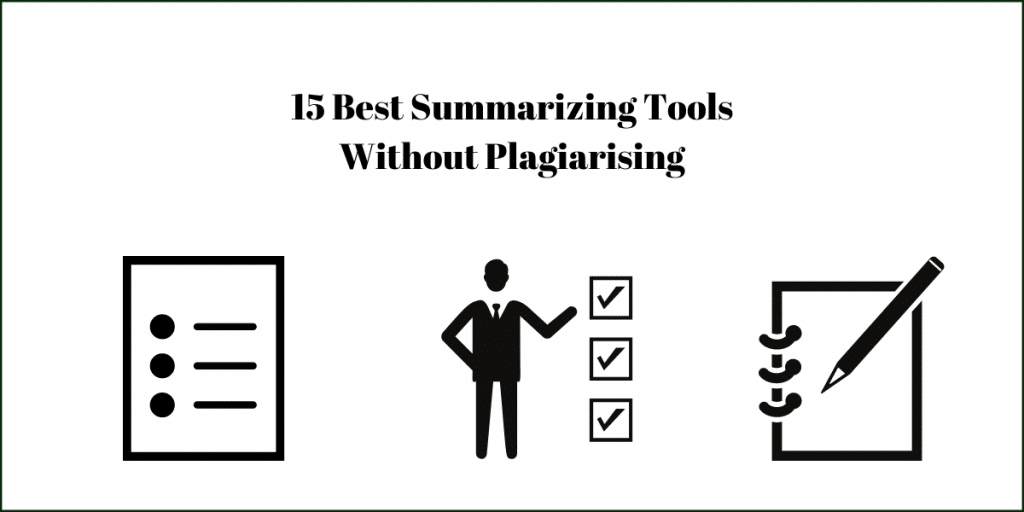 How can you create a compelling summary without infringing on another person's copyright when there are only a few days or hours left before the deadline for your report or project?
A summarizing tool can be used to summarize a text or portion of it without plagiarising.
You can start by using one the top summarizing software on the market if you are ready to do well-planned, well-elaborated and well-researched work.
This article summarizes the best summarizing tools available in this niche. Some tools are paid while others are free. You may need a paid tool depending on your needs. However, if you have smaller tasks that are not as important, the free tools might be able to help you.
So, let start with some vital tips for a good summarization.
Tips for Proper Summarization
It is important to fully understand the meaning of content summarization before you begin using the tools discussed here.
These are some ways to preview your work before you start reading it.
Include the title of the content.

Name the person who created the piece in your opening sentence.

Verify that the author's thesis is included in the summary's first sentence or two, and that your summary uses your own words.

When you're trying to sum up a long piece of writing, make sure that all the phases of your explanation and reasoning are linked through relevant paragraphs.

Break the article up into sections and summarize each section with a few lines.

To avoid reprinting the exact words of the author, remove any concept not needed for your material.

Eliminate specific instances and details.

Do not include personal opinions or comments in your summaries.

Even if you use a few phrases from the author, make sure they are in quotation marks.

You should not review the original text before creating your summary.
That covered, here are the best summarizing tools available.
15 Best Summarizing Tools Without Plagiarising
Scholarcy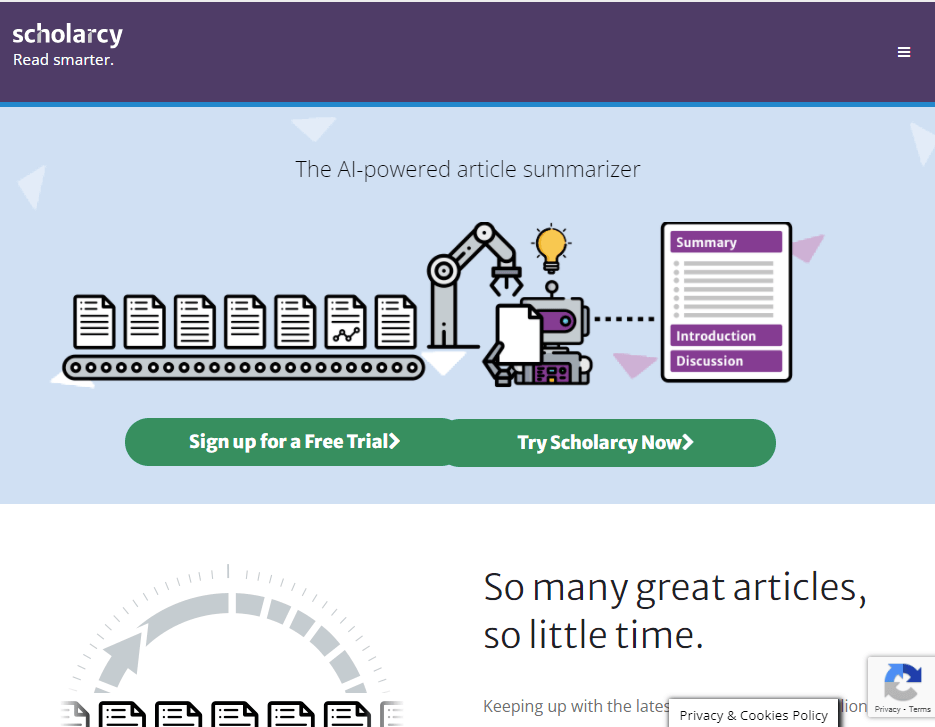 Scholarcy scans your material quickly and breaks it down into smaller chunks that are easy to access for evaluation.
Researchers, students, and other professionals can use the application to quickly summarize papers or reports, or to create valuable summaries that can be referred to later.
You can also extract the essential numbers and references from any paper or report in PDF or Word formats within seconds to create a handy summary flashcard.
This program allows you to extract figures, tables and photos from open-access sources by linking to them.
Scholarcy also allows you to quickly follow arguments and skim information.
Scholarcy has included a browser plugin that connects to open access repositories for Microsoft Edge and Google Chrome.
It also links to Scholarcy Library, which is a monthly membership that allows searching summary cards from any device.
The summarizing tool also proposes background reading, locates summaries and pulls figures, tables, and other data for you to use.
You can also save any tables found by the program to a PDF or Word file and do your own calculations on them.
Scholarcy also searches the internet for publications cited in the report's or assignment's references. It uses the UnPaywall API for open-access PDF files.
To access Scholarcy Library, you will need to pay $7.99 per month or $72 annually.
For $8,000, an academic license is available. Commercial API licenses are available for $225. Your chosen plan will determine the price of your API license. There are three options available: Starter Plan, Growth Plan and Custom Plans.
Resoomer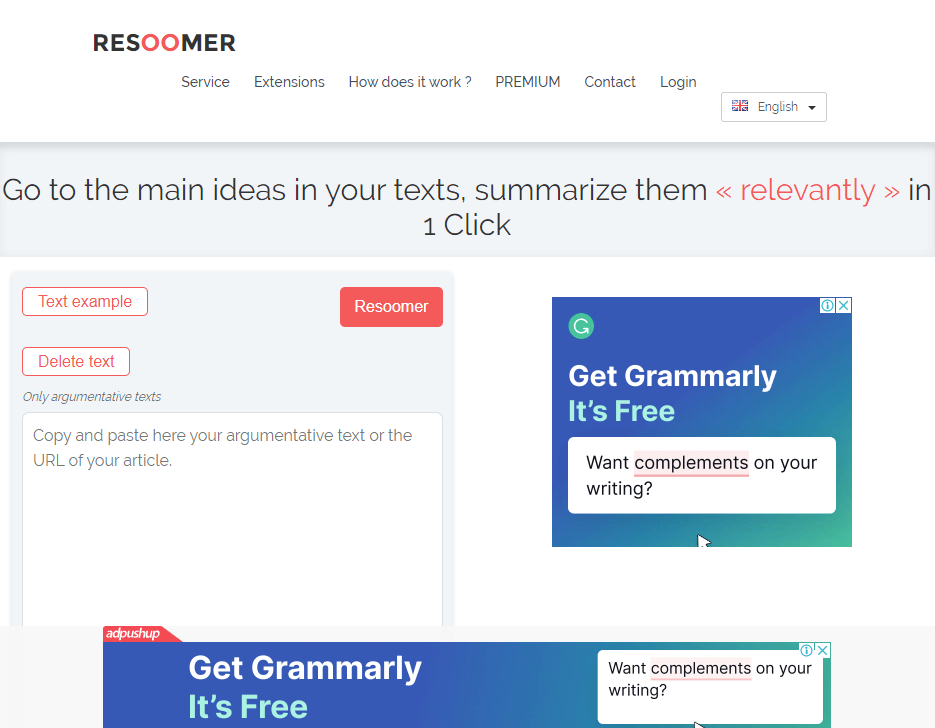 Resoomer can be used to summarise various documents and assignments by journalists, teachers, students, college students, librarians, editors, museums, publishers, and readers.
This program allows you to quickly analyze and filter your work according to key aspects, major topics, or concepts. This easy-to-use program allows you to quickly summarise or analyze text.
You can summarize content by either pasting it directly into the tool, or using an online summary extension.
This program makes learning easier by condensing long passages of text from research papers or other publications into one concise form.
It is easy to use, intuitive and quick. You can also control how much summarizing you want depending on how long your summary is.
You can also reverse any modifications. The tool is available in many languages including French, Spanish and Italian.
Resoomer also offers a paraphrasing tool that can be used to rephrase your summary. The program can only rephrase argumentative content, so it won't work with other types of content.
The tool also comes with advertisements. It does not support file import. A premium Resoomer membership can be purchased for 4.90 EUR per month, or you may opt for a yearly subscription for 39.90EUR.
Resoomer respects privacy and doesn't save your text according to European data protection rules.
The program can also be exported as PDF and Doc files.
Text Compactor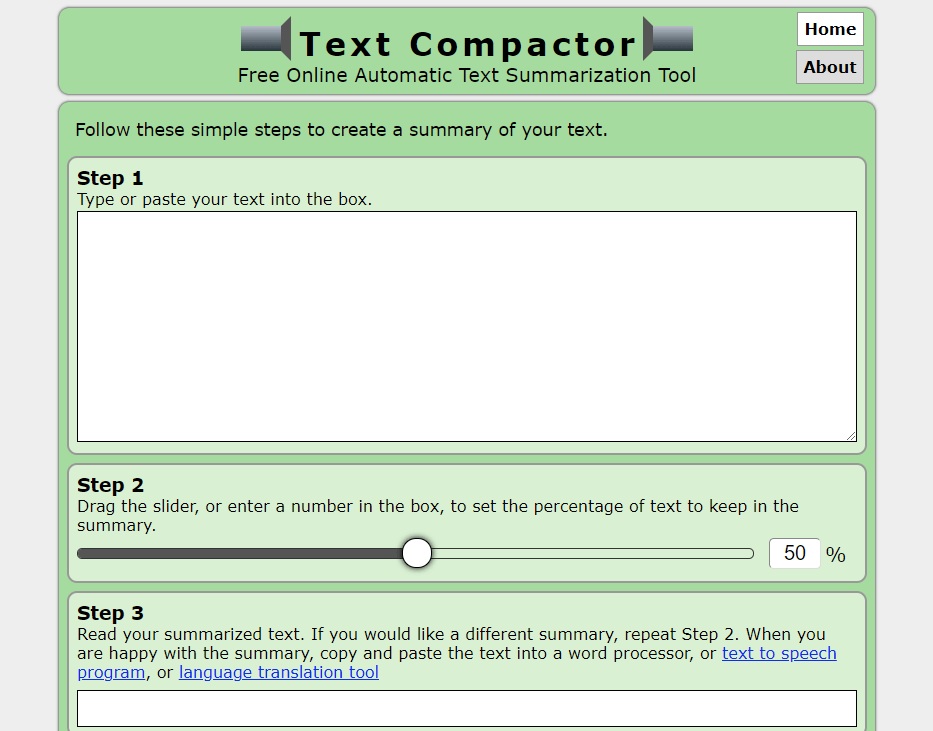 Text Compactor allows you to summarize any text part and allows you to select the percentage of text to be retained for summary.
If you are not satisfied with the result, you can always change the percentage or retry.
To access the ad-free website, you don't need to register. It does not allow you to import files or URLs and doesn't even let you save the result in most common file types.
It also includes a translator in English and a slider to select how much copied material should be retained in summary format.
If your text exceeds 500 words, however, the tool will generate more complex phrases. Therefore, it is better to use it for shorter pieces.
Text Compactor was created to help readers who have difficulty reading large volumes of text. However, it is also beneficial for busy professionals and students.
Text Compactor will automatically calculate the frequency of each word in a passage once you have entered it. The software will then assign each sentence a score based on its frequency count.
The sentence with the highest frequency count is the most important.
Although readers might disagree with this method, it works well with textbooks, reference materials, and other expository content.
It is easy to bias findings if a paragraph contains a few sentences.
The tool is limited in word count and can't handle fiction, such as stories about people or events.
QuillBot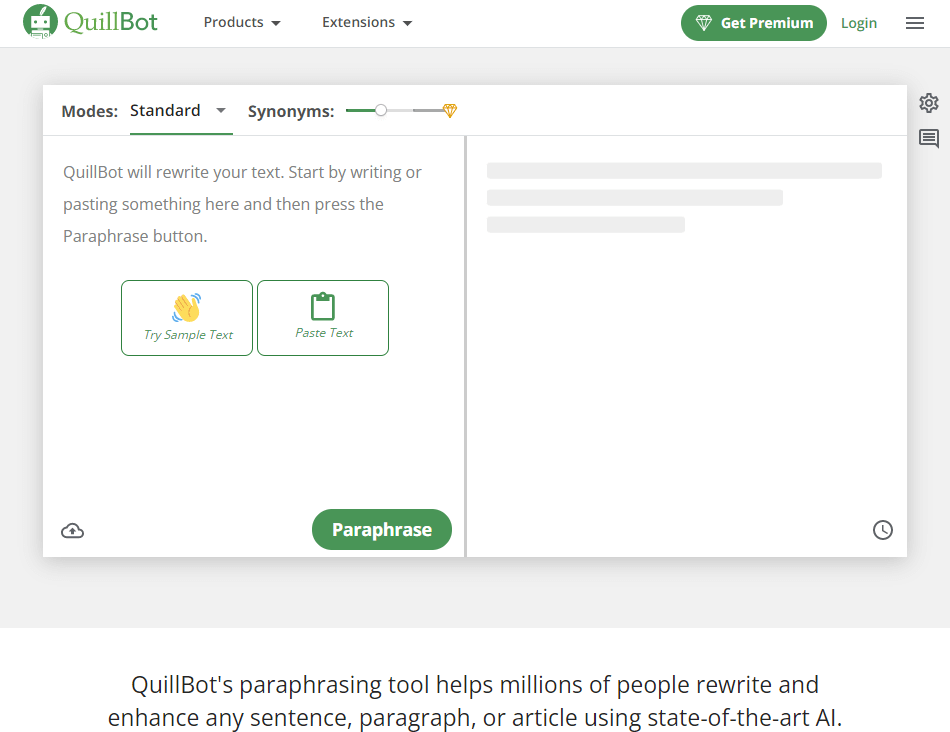 QuillBot allows you to quickly summarize any text and extract the most important bits with one click.
This application uses AI-based algorithms that extract the most important points from your long material. It also guarantees that the summary matches the original context.
You can summarize information using bullet points, paragraphs, or reduce long articles, documents, and studies into a short paragraph.
AI programs extract critical information, but retain the context. This is what natural language processing (NLP) is.
QuillBot summarizes the work of your team with the help Paragraph and Key Sentences modes.
Key Sentences extracts and presents the most important sentences from your text. You can also adjust the word count using the summary length slider.
Paragraph mode can be used to condense your text and create a paragraph that acts as a paraphraser and summary.
You can create text that flows naturally while emphasizing key points. Also, the fancy slider allows you to control the length of the paragraph.
The summarizing tool can be used to extract information from multiple sources such as an article or paragraph, or even a research document.
Forge Article is an alternative for QuillBoot
SummarizeBot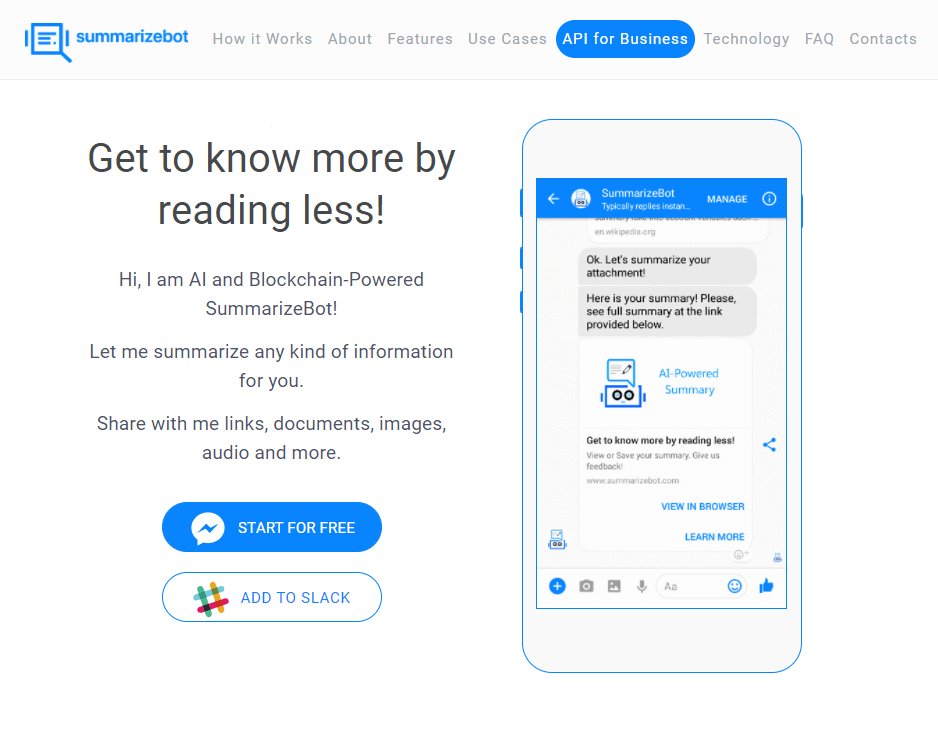 SummarizeBot saves time and generates accurate summaries. This makes it easier to digest large amounts of information in concise formats.
This program will help you organize your time better to analyze the most important and engaging stuff. It will also allow you to read less.
Artificial intelligence drives the chatbot. It analyzes multimedia files, papers, and web links, extracting key concepts, and condensing them to a short synopsis.
You can improve your efficiency and effectiveness by summing up online links, which could dramatically alter your surfing experience.
SummarizeBot is a tool that helps you organize unstructured data and produces improved versions if you run a business.
It makes use of technology to give the best summary results. It's ad-free and easy to use. Text compression allows you to save time when researching.
Summary maker shows how much time you've saved and other useful information.
SummarizeBot supports a wide range of file types and languages including PDF, JPG and mp3, as well as TXT.
SummarizeBot supports all file types and URLs.
However, it does not have a web-based version and users without a Facebook or Slack account will not be able to access its capabilities.
Summarizing Tool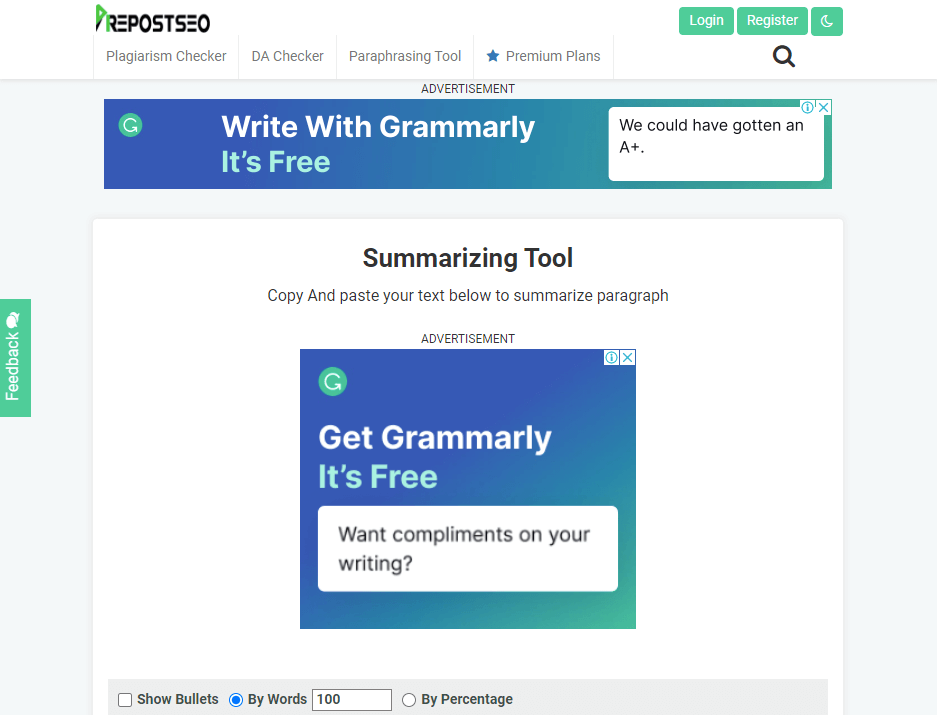 Summarizing tool uses artificial Intelligence to compress your long information into a concise form.
Summary text contains the most important lines and provides context for the entire text. The tool can combine three to four paragraphs into one by clicking one button.
For professional or educational purposes, you can summarize. The tool can be used for any purpose, professional or educational, but it is efficient, accurate, and beneficial in creating a summary.
This tool uses powerful algorithms to analyze your material and provide a summary depending upon the context.
It does not change the content's meaning, but it helps to understand it so that you can provide the best summary.
Summarizer Tool has two main features: it displays the most popular phrase with the highest score, and allows you to customize the summary percentages of your content.
It also creates content sequences based on your ranking and provides the format you need.
The tool's AI algorithms score each phrase based on word choice, structure, optimization, correctness, and correctness.
Based on the score, the technology determines which phrases are most critical and where they can be found.
It scores your work and creates a summary with the most important and informative lines. Finally, it proofreads the summarized text to remove any errors.
SMMRY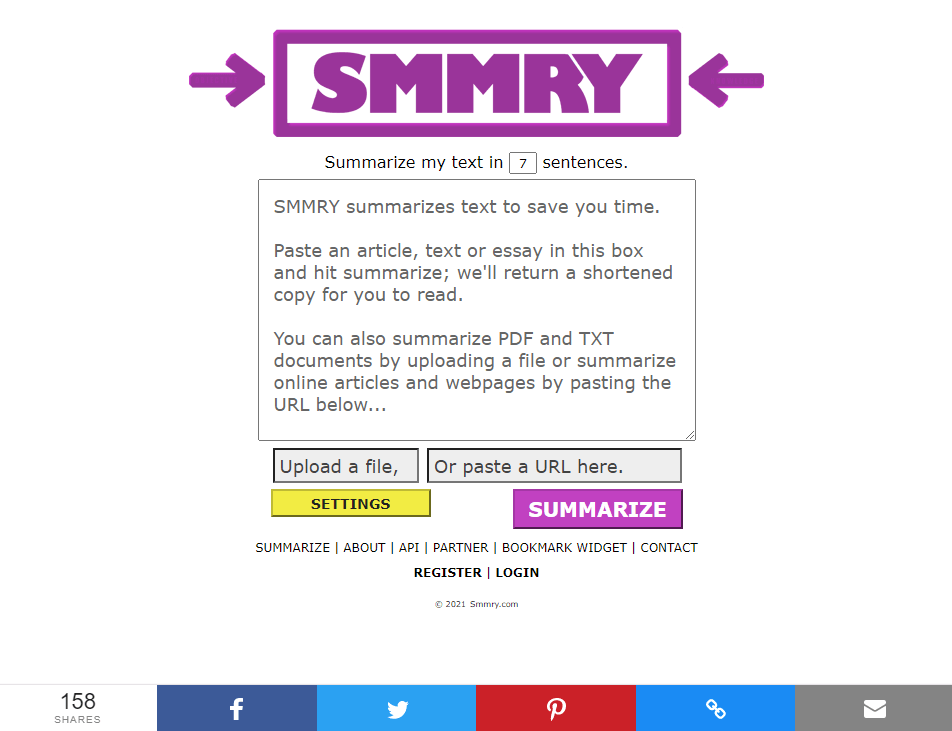 SMMRY can be used to help with the comprehension and summarization text and articles.
This is done by condensing and rating the information with a core algorithm. Then, the program restructures the summary to focus on a specific theme.
The tool also eliminates redundant clauses, transitions, and instances.
This application has everything you need to create a flawless summary. It includes an intuitive interface and a multitude of features.
The online service also summarizes text copied from another source and pasted into it. It can also upload material from a URL or file.
URL Uploads eliminate the need to modify the material. Simply enter the URL and the tool will give you the results.
The tool also offers a heatmap that allows you to color code words according to their relevancy. You can also skip exclamations, quotes and questions.
TextSummarization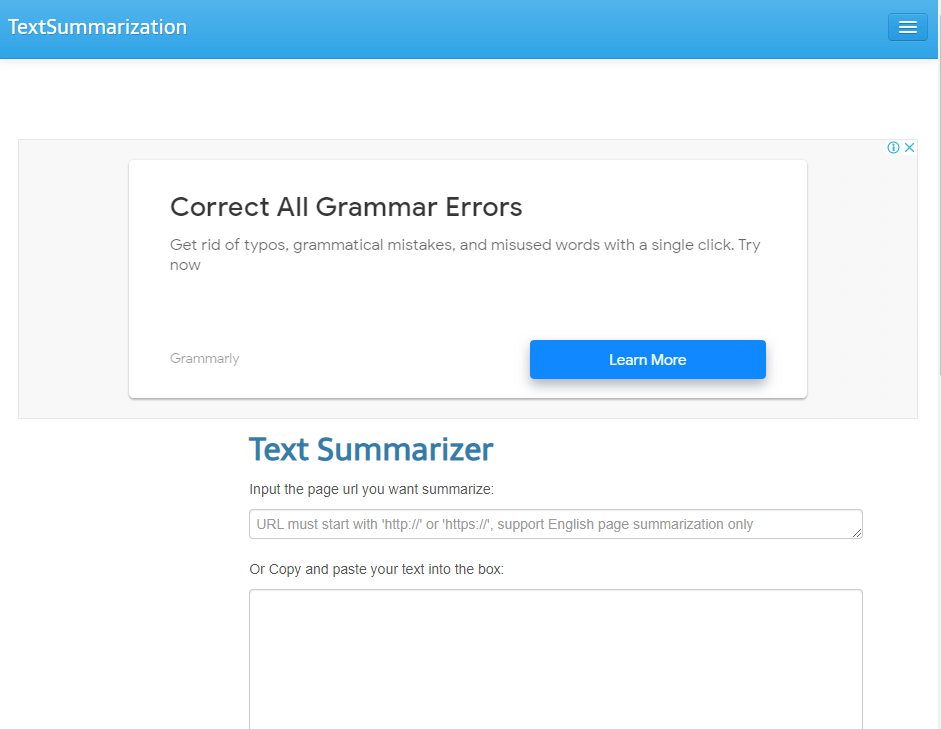 This program can be used in a simple way. It can be used by almost anyone.
This tool allows you to paste a URL or text. It will scan the content and sum it up to the desired word count.
The downside is that the tool doesn't always correctly identify text. However, it works well in most cases.
There is also an API available for Ruby, Java/JVM/Android and Objective-C/iOS as well as Node.js/PHP, Python and.Net development environments.
The API is available for evaluation by signing up for the free plan that allows you to make 100 requests per day.
The application is free, but it contains advertisements. It does not allow for you to import files or export your findings in common formats such as TXT or PDF.
Tools4noobs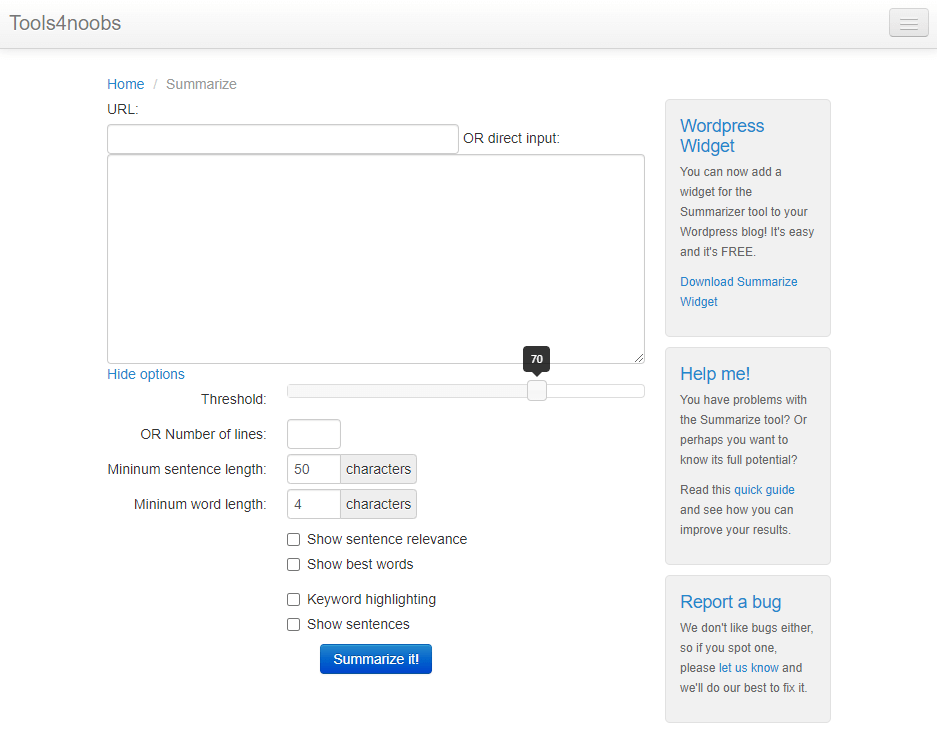 Tools4noobs provides handy scripts and widgets that can be used on your website or integrated with it.
It's a free tool that allows you to instantly paste a URL or a text.
You can choose the type of summary that you prefer, or set a threshold value between 1 to 100 to reduce the summary size depending upon the terms.
You can also alter it to display as many lines as you want.
Tools4noobs can highlight your sentences based upon their keyword density or relevancy. They may also enlarge the most frequently occurring terms in your material.
You can also use the summaryr and, if you want, add widgets to your WordPress-powered site for free.
It is completely customizable and ads-free. You can contribute to its development by making donations.
Autosummarizer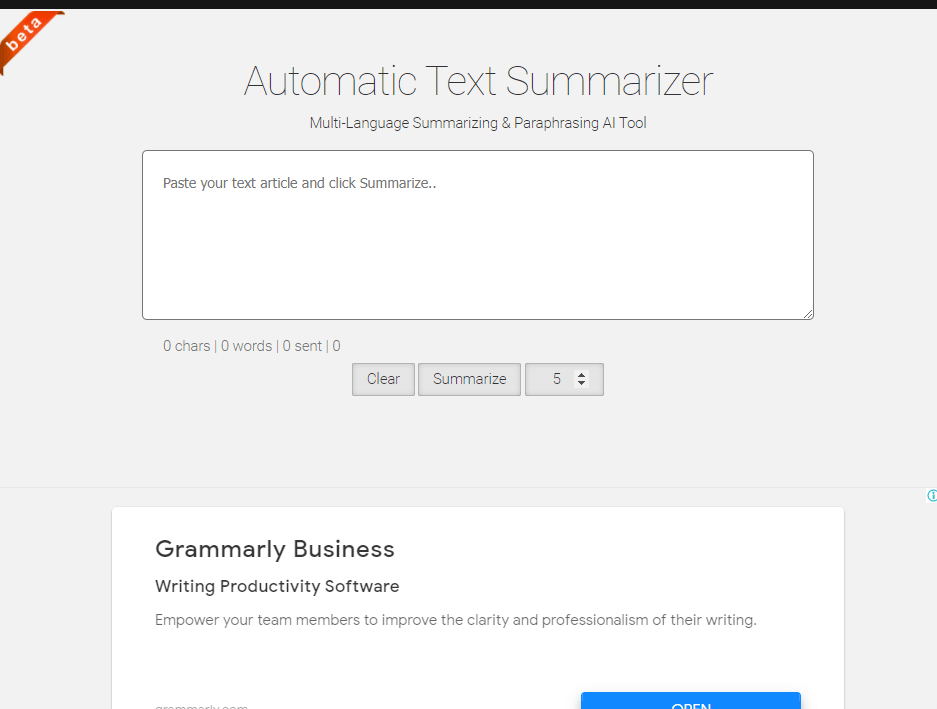 The Autosummarizer can be used if you are short on time.
Although the tool has limited functionality, it does provide concise summaries that you can customize to include between five-ten phrases.
Autosummarizer can be used for free. Although it does not require registration, Autosummarizer cannot summarize files or web pages.
It also contains ads, so you will need to use an ad blocking program to access it.
The summarizing tool picks the most important sentences from text articles and ranks them according to their importance.
An API allows you to connect with other applications and websites to create summaries of specific sections of text.
An algorithm is provided to extract key points from the original text.
Autosummarizer has a simple UI, along with a slew other useful features. However, it doesn't have file import or export. It limits you to summarizing up 3375 words.
Summarizer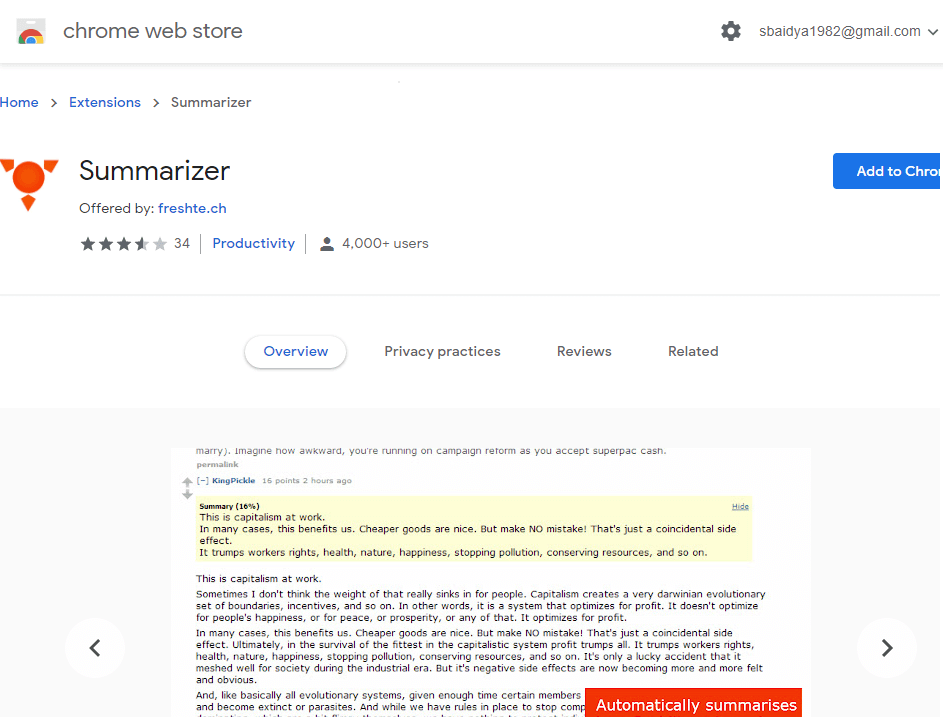 Summarizer Chrome extension that helps you summarize any information found on the internet.
Once the extension is installed, you can simply open the article or content you wish it to summarize.
The program is integrated into Chrome browser and processes PDF documents as well as text fragments. Only 7% of original material will be included in the summary output.
Summarizer is a great tool for those who don't want to read long texts or magazines.
It is compatible only with Google Chrome, and it does not allow you to download the result. It does not allow you to import files or export the results.
Free Summarizer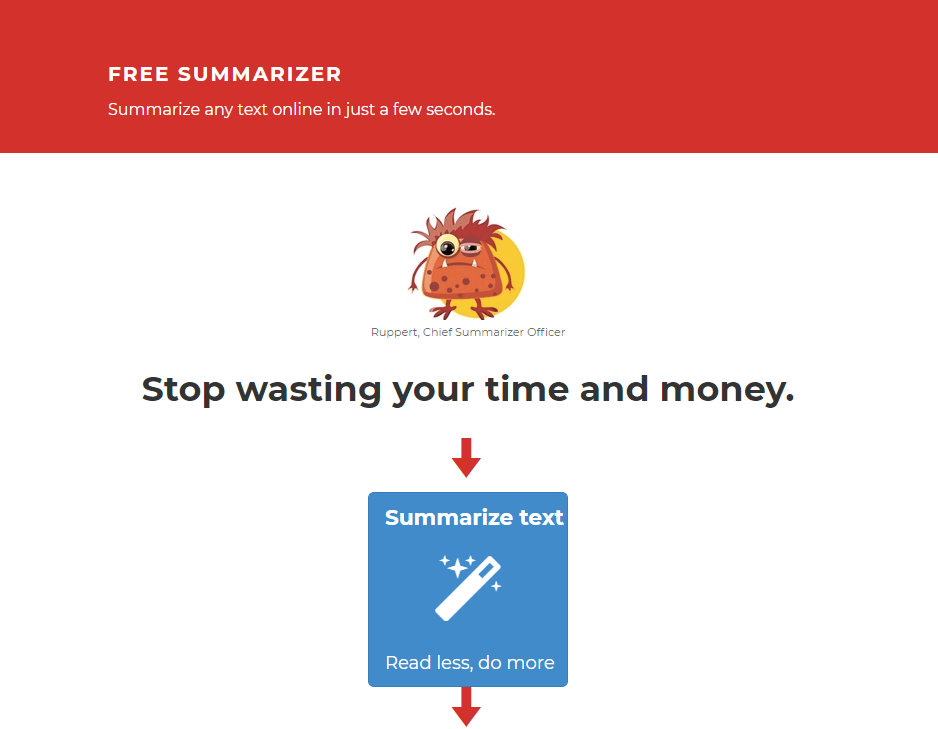 Free Summarizer a well-known summarizing program that allows you to manually enter your text in the platform.
You can then choose how many phrases you want the tool summarize.
You can generate insightful summaries with the tool, which makes up for its limited feature set. Also, the tool has a handy proofreading tool you can use to double-check your summary before you submit it.
Simplifly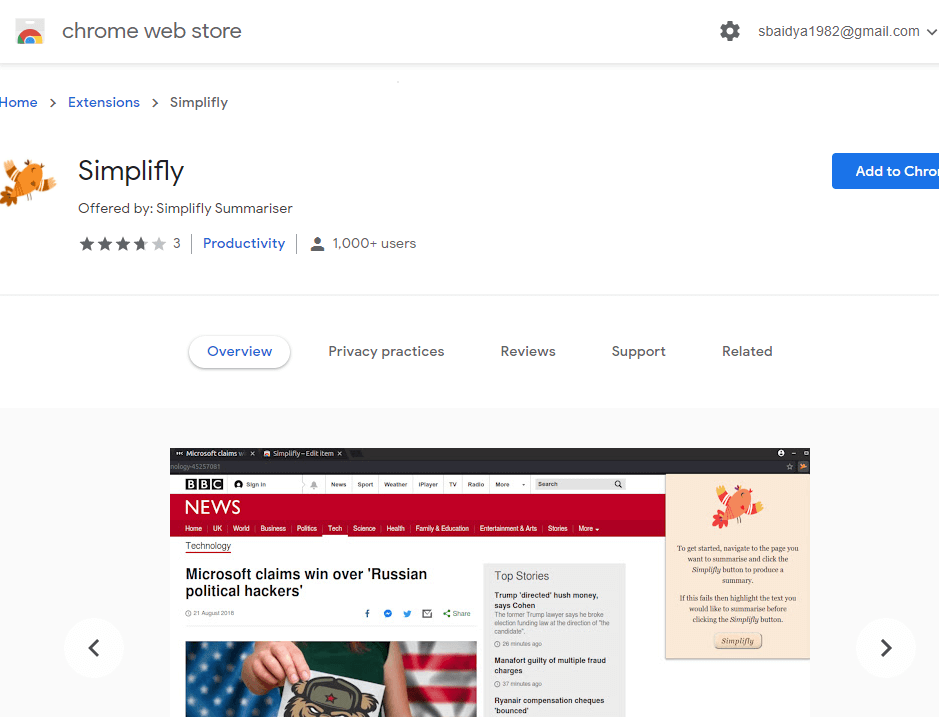 This summarizing tool from Google Chrome is another extension that doesn't impose character limits. This tool is free to use and does not require registration.
To use this tool, you will need to extract the title and body of the content. Next, pre-process the extracted content with Porter-Stemmer for removing stemming and stop words. After you have done that, the tool will generate several sentences which will be used as the basis for your summary.
Simplifly allows you to quickly summarize any type of material, even news stories.
It is compatible only with Google Chrome. However, it does not support the import and export of files in common formats like PDF.
Split Brain Summary Tool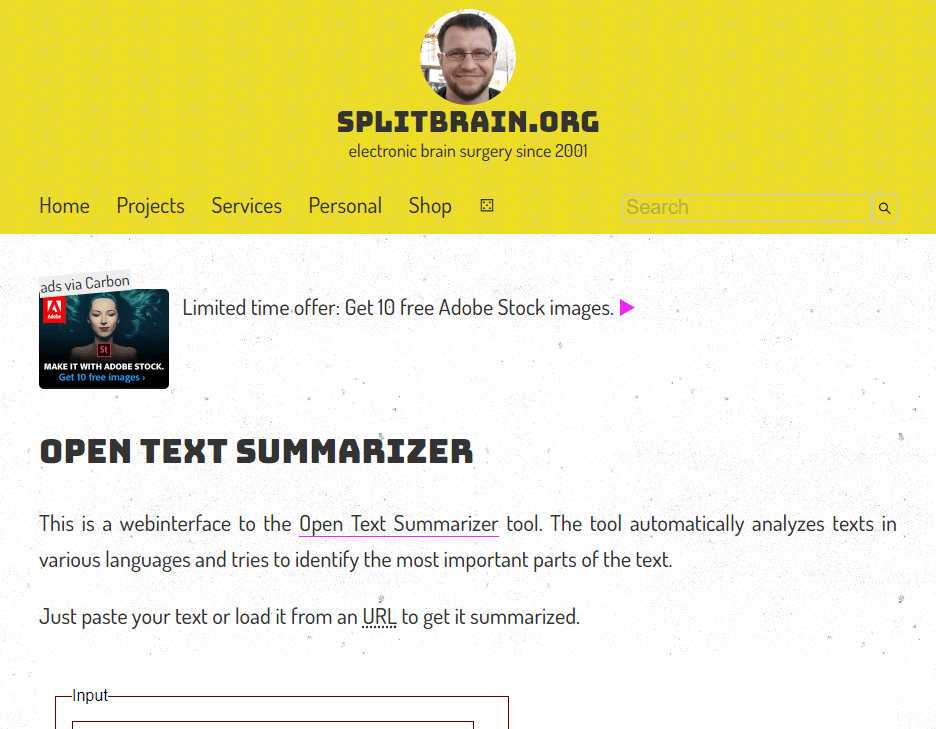 This application allows you to summarize in 39 different languages!
Simply insert a URL to have the content summarized.
You can also create different summaries by simply adjusting the paraphrasing density and defining the summarization rate. This ratio can be adjusted between 5% to 80%.
Split Brain Summary does not support file export to common file formats like PDF or DOC.
The website is free of ads and offers additional services that can be very useful for students.
AppZaza Article Summarizer
This tool is totally free. It doesn't require you to register in order to use it. You can rely on this tool to rephrase material you copy or paste directly into it as the author of your content summaries.
Software performs best when well-structured papers have been summarized.
Unfortunately, appZaza doesn't support import or export.
There are many other tools and applications that can be used to edit your material.
Conclusion
It is important to understand the best way to summarize your work, regardless of whether you are a researcher, student, professional, teacher, or journalist.
This allows you to distill the main themes of the content into a few paragraphs. You can then reproduce the overall idea in precise but detailed language.
You can be sure that the summarizing tool you use will provide you with a concise summary of key points, in either a short or long form.