Blooket – Blooket Join a Live Game and Play
There are by now tons of online games for students that are both engaging and educating. From the likes of Kahoot, Gimkit, SplashLearn, Quizlet and many more. All of these games come with varied features and engagement, all geared towards educating and engaging the mind of the player.
In all the games we have reviewed none is more engaging than Blooket. You can look through our review of Kahoot, Quizlet, and Gimkit.
As an educator I highly recommend Blooket. From my experience, I found this game more engaging to the student to the point that they beg to play it over and over again, no matter what subject we're studying or how difficult it is. Their desire to play Blooket and give their best is not only commendable but I have found considerable amount of focus which they transfer to other area of studies. Let's first look at what is Blooklet and how it works.
What is Blooket?
Blooket is a relatively new website in the online trivia and quiz options for teachers, is Blooket . It's a website and not an app. After creating an account as a teacher, you can create "sets of questions" on any topic you like. You can also search for "sets" created by other educators. You can host games for your students by creating a set of questions.
Blooket is different from other sites that I have used with students because the same set questions can be used for a variety games styles. The teacher could host a Gold Quest or Battle Royale or even a Classic game (think Kahoot), along with five other options.
Students don't need to create an account. Students can join any game hosted by you by going to blooket.com/play, and then entering the pin that you will be given when hosting a game. The majority of games can be played at their own pace and students do not need to see the teacher screen. This makes them a great choice if you're playing with virtual students. You can host games so that students can play at the same moment or assign homework to students to complete in a set time.
How Does Blooket Work?
Blooket follows a 5 step format each design in a step by step module. Here are the five steps by which Blooket works.Choose a Question Set.
Blooket allows you to choose your set of question either by creating your own tailored to your class need and importing them with Blooket convertor tools, or you find question from their Discover database which contain variety of questions. Whichever one you decide, you are certain to find the perfect set of questions for your students.
1. Choose a Question Set.
Blooket allows you to choose your set of question either by creating your own tailored to your class need and importing them with Blooket convertor tools, or you find question from their Discover database which contain variety of questions. Whichever one you decide, you are certain to find the perfect set of questions for your students
2. Select a Game Mode.
The next step after creating and uploading your questions or choosing question that suits your students from the Discover Database is to select a Game Mode. There are variety of unique game modes to choose from, each tailored for maximum engagement of your students. Also, make sure to keep an eye open for limited time seasonal and event modes.
3. Host & Join
To get your student involved in the game as a teacher, you have to host a game on a large screen in front of your class and ask your students to join in and compete on their devices with the Game ID.
4. Play to Review
Throughout a game session, students will not only be having a great time, but they'll also be answering questions to review the content being taught in class.
5. Analyze the Results
Here you get to analyze the results with detailed score reports and question analysis. You will be able to easily understand how your students are performing and identify key areas that they may need to review again, and also encourage them in the next game.
How to Create an Account on Blooket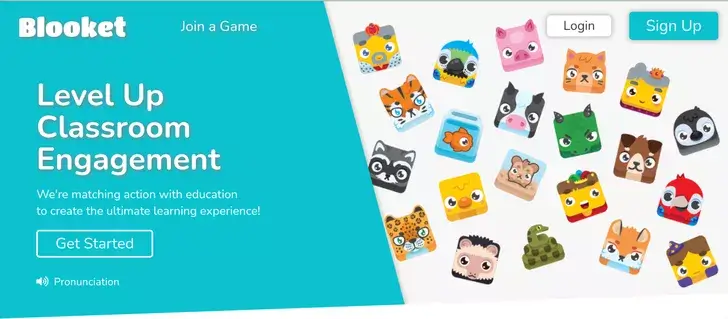 To use Blooket to engage your students, you will first need to visit https://www.blooket.com. From there, you will need to sign up for an account. You can sign up for an account if you are a Google user. After you sign up, you can start using Blooket for student engagement. Here is how to sign up for an account.
Go to blooket.com. Click Sign Up in the top-right corner to begin the account creation process.
Choose your sign up method. Click on Sign Up with Email to create an account or Sign Up with Google to link your account to your Google account.
Fill out the boxes with the required information. This may include your email, username, and password. (Signing up with Google only requires entering a username, while signing up with email requires your email as well as a username and password.)
Confirm your age. Make sure to check the box that you are over 13 (or at least 16 outside of the U.S.), confirming you are of age to use Blooket.
Click Sign Up to create your account.
Select the type of account you'll be signing up for. State whether you are a student or teacher when prompted. You can change this later in the settings.
How to Host Blooklet Live Game
After creating an account, the next step is to host a Blooket as a teacher so your student can join in and get engaged.
You can host a game by creating a Blooket that your students can join. You will need to search for Blooket sets currently available. Click on the button to create a Blooket once you have found one you like, or that covers what you need. This will create a code that you can share with students via Google Classroom, or other forums. Students will then go to https://www.blooket.com/play and enter the code you have provided, so they can begin to engage, practice and learn from the Blooket you are hosting.
What are the Pros and Cons of Blooket?
Pros:
Blooket is completely free, at least for now. However, there are options for account upgrade that requires payment.
Students can work at their own pace to answer questions in many of the games.
Blooket is very competitive and hence very engaging and fun for students
Discover questions ensures that you can get started immediately without your own set of questions
Cons:
Blooket involves a lot of questions. While there are inbuilt questions, to tailor it to your students needs you need to add a lot of questions
There is no room to edit questions from other users and tailor it to your students
Blooket Frequently Asked Questions
How do you host a Blooket for free?
A Blooket is completely free to sign up, host, and join games. There is also no premium version of Blooket meaning it is all free.
What is a Blooket code?
A Blooket Code is the code generated when a teacher host a Blooket game. This code is given to student to join and play the game.
Is Blooket game free?
Blooket game is completely free to host for teachers and to play for students. There is however options for upgrade for improved features.
Can you play Blooket by yourself?
Yes you can play Blooket game by yourself. It's however fun and engaging when others join.
What age is Blooket for?
Blooket allows children under the age of thirteen to become users only with parental consent. Blooket collects the minimal amount of information from users necessary to create accounts on our Service.
Don't Miss Quizlet – Quizlet Live, Quiz, Flashcards & Alternatives