Chick-fil-A Menu – What time does chick fil a close?
Chick-fil-A is one of the largest American fast food restaurant chains and the largest whose specialty is chicken sandwiches. Its headquarters is in College Park, Georgia. The company operates more than 2,723 restaurants, primarily in the United States, with locations in 47 states and the District of Columbia.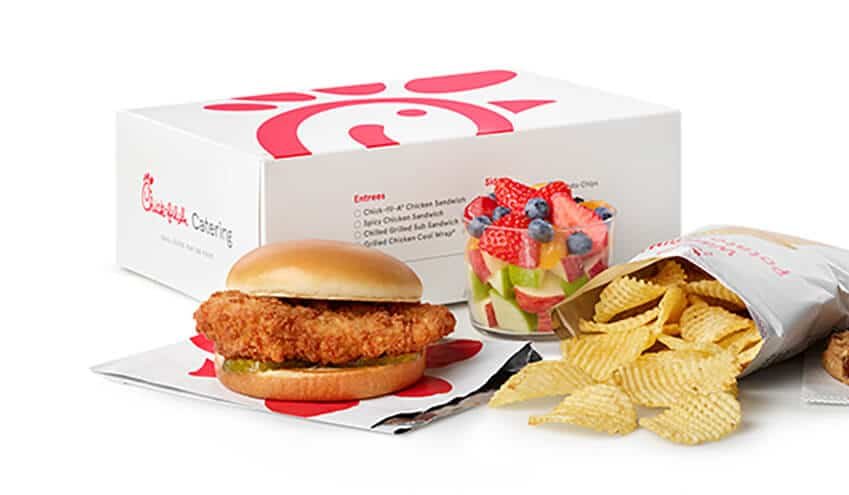 What time does Chick-fil-A Close?
Store Hours: 9:00 am – 4:00 pm
Breakfast served until 10:30 am
Chick-fil-A Menu
Breakfast Meals: Includes Hashbrowns, & Soft Drink
Chick-fil-A® Chicken Biscuit………………………$5.89
Chick-fil-A® Chicken Mini (4 ct)…………………$6.90
Bacon Biscuit…………………………………………$5.37
Sausage Biscuit………………………………………$5.37
Meals: Includes medium Waffle Potato FriesTM, & Soft Drink
Chick-fil-A® Chicken Sandwich…………………..$7.77
Spicy Chicken Sandwich……………………………..$8.07
Grilled Chicken Sandwich………………………..$9.38
Grilled Chicken Club Sandwich……………………$10.96
Chick-fil-A® Nuggets (8 ct)………………………..$7.89
Chick-fil-A® Nuggets (12 ct)………………………$9.55
Cool Wrap ……………………………………………$10.25
Upgrade to Fruit Cup (medium)…………………$1.46
Upgrade to Side Salad……………………………..$1.46
Breakfast Entrees
Chick-fil-A® Chicken Biscuit…………………….. $3.25
Chick-fil-A® Chicken Mini (4 ct)…………………$3.99
Bacon Biscuit…………………………………………$2.60
Sausage Biscuit………………………………………$2.60
Buttered Biscuit…………………………………….$1.30
Breakfast Filet……………………………………….$1.82
Entrees
Chick-fil-A® Chicken Sandwich …………………$4.50
Spicy Chicken Sandwich……………………………..$4.80
Grilled Chicken Sandwich ……………………….$5.85
Grilled Chicken Club Sandwich……………………$7.43
Chick-fil-A® Chicken Nuggets (8 ct)…………….$4.60
Chick-fil-A® Nuggets (12 ct)………………………$6.50
Cool Wrap ……………………………………………$7.25
Grilled Market Salad ……………………………..$9.85
Spicy Southwest Salad …………………………..$9.85
Cobb Salad…………………………………………..$9.85
Without Chicken……………………………$7.35
Chick-fil-A® Chicken Filet……………………………$4.15
Sides/Drinks
Hashbrowns…………………………………………$1.36
Fresh Fruit Cup (Medium)……………………….$3.85
Side Salad…………………………………………….$3.85
Waffle Potato FriesTM (medium)………………$2.18
Waffle Potato FriesTM (large)…………………..$2.45
Potato Chips…………………………………………$1.75
Apple Juice……………………………………………….$1.70
Milk (white or chocolate)………………………….$1.70
Orange Juice…………………………………………$3.05
Hot Coffee (small)………………………………………$1.99
Hot Coffee (large)………………………………………$2.69
Iced Coffee (medium)……………………………..$3.05
Iced Coffee (large)………………………………….$3.41
Bottled Water……………………………………….$2.10
Soda/Freshly Brewed Tea (medium)………….$1.99
Soda/Freshly Brewed Tea (large)………………$2.39
Freshly Squeezed Lemonade (medium)………$2.39
Freshly Squeezed Lemonade (large)…………..$2.77
Cheese …………………………………………… $0.35
Desserts
Chocolate Chunk Cookie …………………………$1.55
Ice Dream Cup (large) …………………………….…. $2.46
Ice Dream Cone (small) ………………………….…. $1.64
Ice Dream Cone (large) ……………………………… $2.11
Frosted Lemonade SM.……………………..………. $3.65
Frosted Lemonade LG………………………….……. $4.30
Strawberry Frosted Lemonade SM……………$4.00
Strawberry Frosted Lemonade LG…………….$4.65
Frosted Coffee SM ..…………………………………. $3.65
Frosted Coffee LG ……………………..……….……. $4.30
Handspun Milkshake (small) ….…………….…. $3.65
Handspun Milkshake (large) …….……………… $4.30