ClickFunnels Review: Is It Worth It In 2022?
If you've familiarized yourself with the world of online marketing, then you have probably heard of ClickFunnels by now.
It's one of the best-known landing page builders, and it is a pioneer in the field of online sales funnels. In this review, we will show you whether ClickFunnels is a serious marketing software and who it's made for.
What Is ClickFunnels and How Does it Work?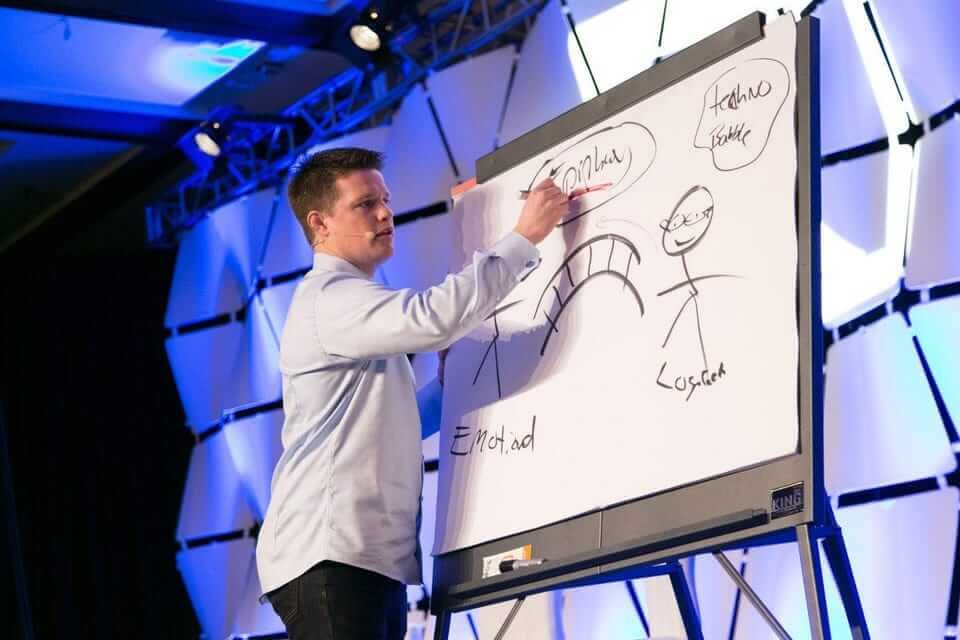 ClickFunnels is an internet site and sales funnel building software that is developed for entrepreneurs who are not programmers and cannot code. ClickFunnels can help a company grow online as it can be used to build beautiful commercial pages easily in a sales funnel.
The software ClickFunnels was founded in 2014 by Russell Brunson. In just a few years, ClickFunnels, in the words of Forbes, "has been silently revolutionizing the online marketing industry."
ClickFunnels makes it much easier than before for companies and entrepreneurs to sell things online by using an otherwise complicated marketing technology called sales funnels. With its Sales Funnel Builder, ClickFunnels created a technology that was not yet on the market.
ClickFunnels began to help Brunson and his team create sales funnels faster with the associated landing pages for various companies. The development came because the technology available at the time usually took weeks. However, they quickly realized that their creation would be useful for others and had great potential as a product. And that's how ClickFunnels was created and marketed.
ClickFunnels has made a big name since its inception and has grown into one of the largest SaaS (Software as a Service) online marketing companies. It's no wonder many people love ClickFunnels because a lot of people have made a lot of money using this software.
The concept of ClickFunnels is simple:
There is a landing page on which the prospect lands.
On this page, you inform the interested party in most cases by video and show why they should buy a product/service or simply leave their email address.
The platform is so popular because the message is conveyed very simply and clearly. It, therefore, often has higher conversions and thus more leads and sales in the end.
Upselling and cross-selling are also extremely easy with ClickFunnels, which further increases the sales potential.
Who is Russell Brunson?
The founder of ClickFunnels, Russell Brunson, is now as famous in the online marketing scene as his software, and for a good reason. He made a fortune, not just with ClickFunnels, but with other marketing projects as well.
Russell Brunson is also the bestselling author of Expert Secrets, DotCom Secrets, and Traffic Secrets, three books among the best online marketing books.
The ClickFunnels Functions at a Glance
Overall, the ClickFunnels functions are solid, and you will get everything you need. They are intuitive, plus you'd get a good level of control.
Also, ClickFunnels is flexible and uncomplicated when it comes to other settings, such as your account details or integrations. Perhaps very tech-savvy people find this limiting, but since the service is supposed to be easy to use, the basic functions are pretty good.
There are quite a few pre-made ClickFunnels funnel templates that cater to different types of businesses, and of course, you can also create your funnel from scratch.
Pre-Designed Sales Funnels
Within Clickfunnels, you will find a tool to create Funnels which is called COOKBOOK. It is a repository of pre-designed sales funnels ready to be imported into your Clickfunnels account. This COOKBOOK has a filter where you can select the type of market and the objective.
At this point, you will find free sales funnels and other paid ones with a more professional design developed by experts in funnels. Each funnel has a Funnel Map where you can see the steps and the operation of the funnel you have selected.
Funnels Edition
Once you have imported your funnel from the COOKBOOK to your Clickfunnels account, you will see its steps and the pages that make up said funnel. You must know that you can add or remove steps to your funnel, edit the URLs of each of the steps and duplicate some of the pages of your funnel.
If you want to add a new step to your funnel, you can use the templates (pre-designed pages). These pages are grouped by objective, and there is a great variety of templates.
You can preview the templates or import them to add them to your sales funnel.
Visual Editor (Drag & Drop)
Although Drag & Drop technology is nothing new, the visual editor of Clickfunnels is quite intuitive.
Just select one of your funnel pages and click EDIT to start customizing the design of your page.
The visual editor has 3 elements:
Section: These are containers that group contents. In these containers, you can add background images and select their size. You can add a background color, show or hide depending on the type of device from which it is viewed, use the Sticky function (so that this content accompanies when the user scrolls the page).
Rows: The rows indicate the number of columns that you want to add to the section. The customization functions are very similar to those of the sections, only that the main function of these rows will be to group and contain elements.
Elements: In many visual constructors, this is usually called Modules. The elements are intended to add content in various formats within the columns. There are several categories of elements (text, media, forms, counters, payment elements, social purpose.)
Device Compatibility
If you are going to create paid campaigns to bring traffic to your sales funnel, you will see that most of the traffic we receive always comes from mobile devices. Clickfunnels adapts the content to any device, offering vertical navigation.
The interesting thing is that you can show or hide elements depending on the device. For example, you can make a video show on the desktop version but hidden on the mobile version.
Upsells, DownSells, and Bump Offers
One of the main functions of any sales funnel is to increase the average purchase ticket of any user; for this, Clickfunnels allows Upsells, Downsells, and Bump Offers.
Indeed, it has happened to you that you have wanted to buy a plane ticket. When paying, they offer you an improvement of the offer for X extra price; then they offer you the possibility of selecting the seat for X extra price, then priority boarding.
You can create it yourself using the Upsells, Downsells, and Bump Offers; this function is completely optional, so if you are not interested in using it, there is no problem.
A / B test
The A / B tests allow you to compare two contents to see which one achieves better performance. For example, if your goal is to attract potential customers, you can create two different versions of your recruitment page and put them to compete.
Doing an A/B test with Clickfunnels is easy. You just have to click on the CREATE VARIATION function to generate a copy of the original version and then edit it.
IMPORTANT: it is always advisable to measure one variable at a time; for example, you can try a different headline for each of your capture or sale pages.
Third-Party Integrations in Clickfunnels
Although Clickfunnels is all-in-one, you may need to integrate this tool with some others.
Within the integrations section, you will see the different categories and tools that can be integrated with Clickfunnels. These include Auto-responders, E-commerce, Webinars, Transport, Messenger service.
Auto-responders
Auto-responder will allow you to follow up on your potential clients through automated email marketing campaigns.
Clickfunnels has two versions, the standard version with which you must use a third-party auto-responder and the actionetics version that comes with a built-in auto-responder.
These are some of the auto-responders that allow integration with Clickfunnels:
MailChimp
Getresponse
Aweber
Drip
InfosioSoft
Constact Contact
ConverKit
Webinars
Many products and services use webinars as a method of attracting and maturing potential customers. Although you can do live webinars using YouTube, you can also do it using automated tools that allow integration with Clickfunnels. These include:
Everwebinar
GoToWebinar
Webinar Jam Redirect
Webinar jam
WebinarJamStudio
Zoom
Messenger Service
These tools allow you to improve communication with your customers. Chatbots have a high open rate, unlike email. These are some of the messaging services that allow integration with Clickfunnels.
Facebook Messenger
SlybroadCast
Pushcrew
Delivery
Although Clickfunnels is more oriented to digital products than physical ones, it also allows integration with tools such as Shopify. And for transportation you can do it with:
Shopify
EasyPost
Shiptation
Membership Sites
If you intend to create an online course or a subscription membership site, then you can use this Clickfunnels feature that allows you to do so.
Membership sites allow content creation through lessons and classes. It also allows the DRIP CONTENT function to progressively release the classes. This technique is widely used to bring a product to the market before it is finished.
Another important feature is that you can block certain content based on the type of subscription the user accessed.
Payment Methods
Clickfunnels allows integration with two of the main platforms in the Paypal and Stripe market today, but it also has other alternatives.
Easy Pay Direct
NMI
JVzoo
Blue snap
Clickbank
Warrior Plus
Infusion Soft
Ontraport
Recurly
Integration with Analysis Tools
Clickfunnel allows integration with the main market analysis tools such as Google Analytics or the Facebook pixel. Any type of code that you need to integrate into your sales funnel can be done from the general section, where you can add code within the Head or Body section of your funnel.
You can also add Facebook events to each of the pages of your sales funnel.
Who is ClickFunnels For?
ClickFunnels is a sales funnel-building software aimed at everyone who wants to sell something on the Internet or generate interested parties. This is because corresponding sales funnels are required, which can be created simply and easily with ClickFunnels. ClickFunnel is specially developed for companies that offer products and services online, agencies, consultants, affiliate marketers, online marketing experts, solo self-employed, and more
ClickFunnels is generally well suited for creative product providers or independent companies. The software's pre-made ClickFunnels templates are heavily geared towards small businesses like, for example, florists. The Daily Deal Funnel, which is pre-made, could be a great way for you to do marketing. If you try to focus everything around you and your business, that would also be good support.
ClickFunnels Pricing and Ordering Process
There are two different ClickFunnels plans to choose from. On the one hand, the Standard Plan costs $97, and the Platinum Plan costs $297, with which you can build unlimited funnels and pages.
Meanwhile, there is also the super-premium plan, which is known as the TwoCommaClubX plan and also called "the 1% crazy." It costs $2,497, and you will be able to "get over the shoulder" with Russel himself for 90 days with this plan, among other benefits.
The main differences between a beginner account and a premium account are as follows: the standard account includes the main service, the funnel builder, with some restrictions on the number of pages (100), visits (20,000), custom domains (3), and just some of the full list of features.
Note: If you "forget" to cancel the free ClickFunnels trial in good time and ClickFunnels do not convince you, you have to bear the almost $300 costs.
Pros:
ClickFunnel is a good landing page builder, with a simple drag-and-drop editor
There are many templates to choose from, but with restrictions as the higher quality templates are not free
It's easy to use with no programming experience
Suitable for beginners
You can try it for free for 14 days
Cons:
The loading times of the funnels are extremely poor, especially compared to other alternatives
Intransparent registration process can cost you a lot of money if you are not vigilant
Slightly cluttered dashboard
Final Thoughts
The idea behind the tool is to provide companies with software that helps them convert their website visitors into customers. And since there wasn't anything special like this before when it came, it's no wonder that ClickFunnel has grown so rapidly in such a short period.
In addition to the essential landing pages, ClickFunnel also offers more specific sales pages or special websites for lead generation in the form of the so-called opt-in pages. It also offers convenient automated webinars, to name just a few.