Commission Hero 2.0 Review Does it Work?
ClickBank is the largest affiliate marketplace in the world, with thousands of products to promote in exchange for commissions.
Depending on which products you choose to promote, which marketing strategy you pick, and where you look for your traffic—ClickBank can bring you thousands of dollars per day…
Or break you completely.
So how do you master this platform, pick the right products, and start earning money online?
The Commission Hero 2.0 Course by Robby Blanchard is one of the most in-depth trainings on this matter.
Blanchard claims his system works even or people with:
NOsocial media subscribers or email lists
NOown products to sell
NOwebsites to show off
NOemployees to command
NOtalking to customers, ever
However, the hefty price tag of $997 sure makes many people wonder if it's a worthy investment.
The risk is pretty high. What's the potential reward? Can you make money with Commission Hero 2.0? If yes, how much can you expect to make?
In this Commission Hero 2.0 Review, we'll dig into all of these matters one by one.
Let's get started!
Meet Robby Blanchard, the creator of Commission Hero 2.0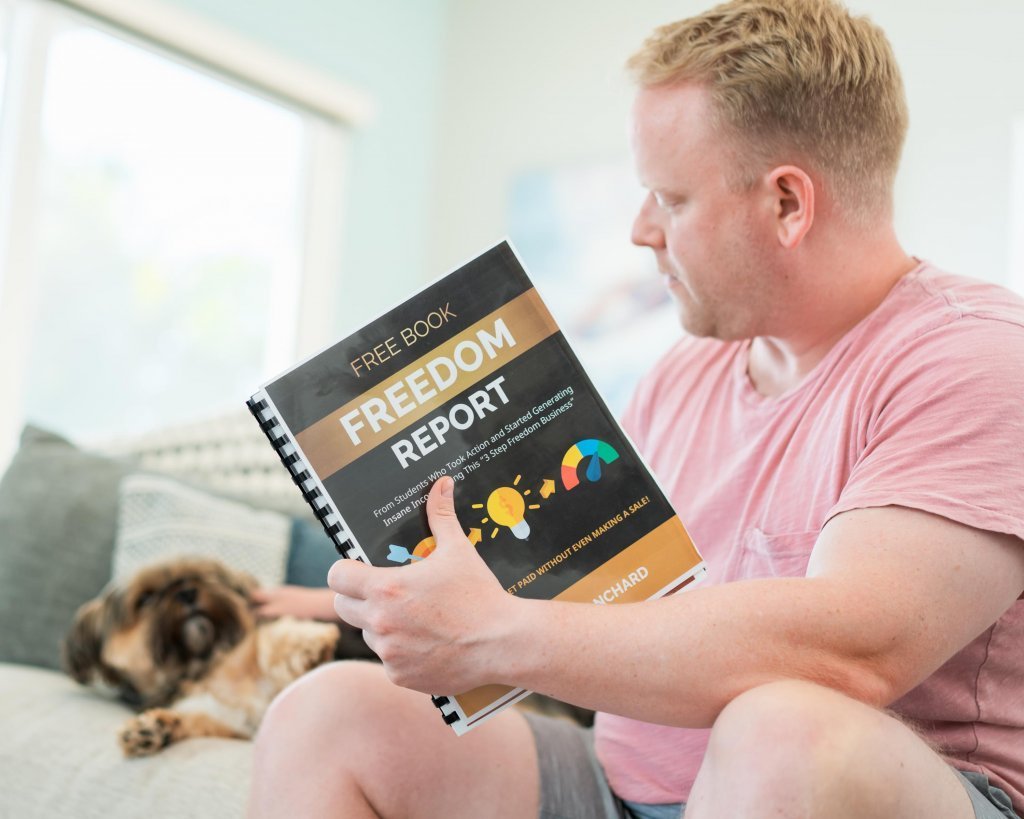 The genius mastermind behind Commission Hero 2.0 is Robby Blanchard. So, what makes him qualified to teach others the path to success on Clickbank?
Robby Blanchard is the world's most successful Clickbank affiliate in the world. By cracking the system and learning how to generate several thousands of dollars per day, Robby managed to get well ahead of every other affiliate marketer in the Clickbank niche—by a long shot.
But how did Robby get so successful?
He started as a gym owner with a huge problem: not enough clients to keep his business working. As Blanchard himself says, the old-school logic along the lines of "build something, and people will come" is outdated—and even dangerous for success.
So Robby started experimenting with Facebook ads. One test after another, a dollar here and a couple more there, a tweak in the phrasing, a new design to test…
And his gym became one of the most successful in the US.
All thanks to using Facebook ads the right way.
The smart way. The most cost-effective and conversion-focused way EVER.
Of course, Robby was itching to test his hand at some other form of business and see if his knack for ads would be useful there. That, in a nutshell, is how Blanchard got into affiliate marketing—and the rest is history.
Millions of dollars earned. The title of #1 Clickbank marketer worldwide. A top-class course to teach others the path to success. Thousands of people trained to master the art of Facebook ads and Clickbank marketing.
Now, with Commission Hero 2.0 and Robby Blanchard, you can learn how to duplicate part of his success—and earn at least $1000 per day after you get the hang of the game.
So, what's inside Commission Hero 2.0?
Commission Hero 2.0 modules breakdown
The core component of Commission Hero 2.0 is a training course consisting of 10 in-depth modules, plus bonuses and additional resources. Let's check what exactly you'll be able to learn from each module and lesson!
Module 1: Getting Started
For most marketers out there, the first steps are the hardest to make. How do you start? Where do you go? How do you minimize your expenses and start earning as soon as possible? Robby knows this sort of anxiety and insecurity very well, so this module contains just the essentials to get sorted out and jump to action. No more "analysis paralysis": here's the lean super-start to dominate affiliate marketing.
Lessons:
1. What is Affiliate Marketing
A brief overview of what affiliate marketing is, how it works, and what you'll be paid for.
2. Ad Accounts
Any form of advertisement platform, including Facebook, operates through ad accounts. To start advertising, you'll need to create one – and this lesson teaches you how to do that the right way.
3. ClickFunnels
ClickFunnels is currently the world's best tool to build sales funnels – sequences of pages that turn random visitors into buying customers. Regardless of where you get your traffic from (Facebook ads, organic search through Google, etc.), having a high-converting sales funnel basically guarantees your success and profits.
4. ClickBank
Being the world's largest affiliate marketplace, ClickBank is the best place to find awesome products to promote—and profit from the sales. Since Robby Blanchard is the most successful ClickBank affiliate ever, he knows the whole system like the back of his hand.
5. MaxWeb
Somewhat less popular than ClickBank, MaxWeb is still a fairly large affiliate marketplace with loads of products to promote. Great as a plan B for some situations, so it's better to have an account there too.
Module 2: Choosing The Right Offers
A great part of your success as an affiliate marketer lies in picking the right products to promote. Besides promising high commissions, these products have to be reliable enough to make the customers happy. Pick a bad product, and you won't get any profits from the refunds, no matter how much money you spend on the ads.
Lessons:
1. Finding The Right Offers on ClickBank
Even though there are lots of alternatives right now, ClickBank is still the best place to start your affiliate career. But what makes a product great on ClickBank? How can you be sure of what you pick? Blanchard shares all his secrets for affiliate success on ClickBank.
2. Finding The Right Offers on MaxWeb
Blanchard's 2nd best option after ClickBank, MaxWeb is another great affiliate marketplace to research for profitable products. The core benefit of having two separate options is that you'll have an advantage before other affiliate marketers—and maybe be the first to spot a product that would bring millions down the road.
3. Finding The Right Offers on A4D
ClickBank and MaxWeb aside, A4D (previously known as Ads4Dough) is another veteran player in the affiliate marketing game. Founded back in 2008, this platform has quite a few expert affiliate marketers that evaluate and check the quality of both the offers and the affiliates to ensure a stellar performance of the whole system. A good resource to get familiar with, but generally less profitable than the previous two options in most cases.
4. Clickbank Product Spotlight: Flat Belly Fix
5. Clickbank Product Spotlight: Lean Belly Breakthrough
In these lessons, Blanchard analyses two ClickBank products with great potential, teaching you how to evaluate offers before promoting them. One fabulous thing about Blanchard's Commission Hero 2.0 training is that it doesn't stop at just providing the theory: practice is what it aims for. As a result, offer spotlights like these are great opportunities to analyze how ClickBank works and how you can earn money from it.
Module 3: Finding Your Ad Image
The core idea of CH Pro is that one of the best ways to drive traffic through your affiliate links is by using Facebook ads. And what's the first thing anyone sees in the ad? That's right, it's the image. This module is dedicated to what makes or breaks 90% of the performance of your ads: the image!
Lessons:
1. What Exactly Should Be On Your Ad Image
Contrary to what many people think, there's actually a clear recipe for a high-performing Facebook ad image. In this lesson, Robby digs into the anatomy of the best images to use in ads!
2. How to Find a Reliable Designer on Fiverr
If you don't have a graphic designer bone in your body and don't want to learn this skill right now, Fiverr is the best place to find someone who'll create you some awesome Facebook Ad images at an affordable price. But there are thousands of freelancers on Fiverr, how do you pick the right one? This lesson teaches just that.
Module 4: Setting Up A Landing Page
A landing page is an internet page where you'll send your traffic using ads, guest posts, social media posts, and other ways. The number of sales you'll make ultimately depends on how clear, enticing, and effective your landing page is.
Lessons:
1. Register For ClickFunnels
ClickFunnels is currently one of the best tools to build landing pages and sales funnels, so it just makes sense to use it for your goals. Comes with a free 14-day trial
2. Setting Up Your Affiliate Links
Your affiliate links contain tiny fragments of information that trace a user's purchase back to you—in order to make you qualified for commissions and other rewards, when applicable. Affiliate marketplaces have different ways of forming these links, so this lesson is extremely important to internalize well. After all, you can have world-class Facebook ads, high-converting landing pages, a product that pays you huge commissions… But if your affiliate links don't work, none of that matters.
3. Setting Up Your Domain
4. Setting Up Your PHP Landing Page
Lessons 3 and 4 are somewhat rich in tech details, but Robby Blanchard did a great job in making them as simple and understandable as possible. To have the most control over your landing pages, it's highly recommended to not skip these lessons and do your best to master them.
Module 5: Setting Up Facebook
In Blanchard's approach to Clickbank success, Facebook ads are the life and blood of performance. But before you can run your first ad, there are quite a few steps to make, and Robby dedicates a separate lesson to each of them.
Lessons:
1. FB Business Manager
2. Facebook Fan Page
3. Facebook Campaigns and Adset
4. Setting and running Facebooks ads
5. Creating a Custom Audience for your ads
6. Bonus: Inside Look at a Successful Campaign
Basically, this is THE most important part of Blanchard's 3-step strategy, THE core of CH 2.0, and THE guarantee of your success.
Module 6: Setting Up Facebook Pixel
A Facebook pixel is a tiny image the size of a single pixel that you put on a page you want to track using the data available from Facebook. Then, when someone visits your page from Facebook, that pixel loads up and gathers the information available on that user—don't worry, it's 100% ethical and operates only with the info the user themselves made accessible.
But why do you need this Facebook pixel? The answer is simple: the more you'll run Facebook ads, the more data you'll gradually gather on the people who click on your ads, then see your page, then make a purchase.
Gradually, Facebook will learn to show your ads only to those people who are EXTREMELY likely to buy it right away. That's the power of a single pixel for you!
Lessons:
1. How to Install FB Pixel
2. How to Place Your Facebook Pixel in Your ClickBank Account
3. How to Understand Your Facebook Pixel Analytics
Module 7: Tracking Your Campaign
There's an old saying that goes "only that which is measured, improves."
If you don't keep track of your earnings, the performance of your campaigns, the cost per acquisition (CPA) of every customer and the return on investment (ROI) across your campaigns—you'll have no idea on what or how to improve in your strategy. But there are dozens of metrics you could track, so which are the ones to focus first and foremost? In this CH 2.0 lesson, Robby Blanchard will share his take on the matter.
Lessons:
1. Tracking Spreadsheet
2. How To Install Tracking Links
Module 8: Scaling
As soon as you earn your first dollar in revenue, the question of scaling your business becomes critical. How do you turn a one-dollar profit into an actual living? How do you grow a young company into a full-blown six-figure business? That's the art of scaling, and Robby Blanchard has a good strategy for that too—specifically, how to scale your ad campaigns and skyrocket your profits.
Lessons:
1. Scaling Your Campaigns
Module 9: Ninja Tactics
What makes the difference between the good affiliate marketer and the world-class one? In a nutshell, it's the unique strategies and tactics they develop. In this Commission Hero module, Blanchard gives a detailed overview of some of his advanced strategies—the exact skills and know-hows that made him the best Clickbank marketer in the whole world.
Lessons:
1. Reaching Out To Other Affiliates
2. Amex Card
3. Spying on Facebook Ads
4. Dealing With Account Shutdowns
Module 10: Bonuses
This module is basically the icing on the CH Pro cake. Even if this module wouldn't be here, the training would still be absolutely amazing. With these bonuses, though? It's a real goldmine. With plenty of ready-to-use materials that Robby himself tested across dozens of his campaigns (and earned millions in the process), this module is perfect to kickstart your personal online business in the affiliate marketing niche.
1. Robby's personal landing page swipefile (powered by ClickFunnels)
2. Robby's tested landing page swipefile (PHP)
3. The right mindset for affiliate success
4. Images: where do you find the best ones?
5. CPA
6. Contacts
CH Pro extras and bonuses
Besides the Module 10, CH 2.0 comes with a few extras that sweeten the deal even further:
Live weekly sessions of Questions & Answers, as well as group coaching by Robby Blanchard himself—and his team of coaches
Robby's million-dollar rolodex of contacts that could help you boost the commission rates on certain products just by reaching out to the owners themselves
Snapchat training. Don't rely solely on Facebook: leverage the power of one of the world's fastest growing platforms right now!
$10k email marketing module, created together with Mr. X, an affiliate marketer who earns $20-30k per month consistently with his email marketing techniques.
Access to a real Facebook Insider. That's right, a real person, at Facebook, who knows all the details about how the company operates, what their algorithms prefer, and how you can use them to your advantage.
What You Get When You Join CH 2.0 Right Now
Component 1: 8 Week LIVE MasterClass
All the help, coaching, resources and DFY software to virtually guarantee your success.
The core 8 week live masterclass designed to get you to become a PRO in your online business
Learn step by step what it takes to scale up to $100 and then up to $1000's per day
​By the end of 8 weeks you be on your way to life changing income and freedom.
​You'll get all the tools, training, strategy and help to see amazing results.
Component 2: CH 2.0 Tools
MORE SHORTCUTS – I've built custom tools that will help improve your success and make it easier to get started.
Software that helps you write your ad copy, set up your ads within 30 seconds.
​Additional systems to find hidden audiences of buyers that can TRIPLE your profit on your ads.
​I've spent well over $100,000 developing PRO tools so that it'll save you a HUGE amount of money.
Component 3: PRO Quiz Hero Software
I've developed this turnkey software that will turn clicks into cash.
You'll be able to plug and play with this software using our high converting templates.
​If website creation & building landing pages has been a headache in the past, this is your solution.
​This software is proven to work and has been tested through nearly 1 million quiz visitors.
​You'll also have access to all of my experience and expertise to accelerate results with this software.
Component 4: Million Dollar Offer Vault
I've personally brokered exclusive deals with the highest converting offers.
These offers generate $100-$400 PER sale.
​You'll get paid the HIGHEST commission on these exclusive offers.
​Eliminate all the boring, time-consuming product research so you don't waste time…and money.
Component 5: The Traffic Money Machine
I'll share with you every last secret I know about getting profitable traffic to your offers.
A step by step blueprint that will help you get hundreds of sales per day (even if you've failed in the past).
​How to get dirt cheap clicks from people that are dying to buy the products you are promoting.
​Use my "PRO Rocket" Method to scale up faster than ever before.
Component 6: Rapid Scale Training
Once you find your winning ad, you'll want to scale it up…In this module I'll show you how.
​You'll learn how to go from spending zero to thousands a day profitably in less than 30 days.
​Learn everything you need to have massive success online this year.
Component 7: Commission Hero 2.0 Community
Full support from everyone in the CH Pro community.
Be able to ask questions and get help fast 24/7 from my team and I.
​Share your big wins & get help when you are frustrated!
​24-7 support from my dedicated support team.
Pricing and Payment
Commission Hero 2.0 cost one time payment of $2497.00 OR $997.00 Three-Payments (billed 30-days apart). While this may seem very pricey, you can be sure of earning back your investment within the first week. Also when you join CH Pro today through here you have access to the following Bonus.
Bonus #1: ACCESS TO OUR NEXT VIRTUAL EVENT
2 Full days of insider training, coaching and strategies.
You'll hear from experts who are making millions per year online.
​Get proven strategies to increase website traffic and sales.

​These recordings will give you a competitive advantage.
Bonus #2: $100K DFY Campaigns
The biggest challenge about Commission Hero 2.0
Hands down, Robby Blanchard's Commission Hero 2.0 is the best online training on how to reach success on Clickbank. There are no real alternatives to this course. And hey, Blanchard is the #1 Clickbank affiliate in the world, so it's natural that he has no serious competition. He's just too way ahead of everyone else.
So, in a nutshell, his training works, and his students consistently reach the revenue mark of $1000 per day—and the best ones make 10x, 20x, 30x times that number. Per day.
So what's the catch?
There's just one, really.
The cost of the ads.
The Commission Hero 2.0 success system relies heavily on Facebook ads—and they can cost quite a lot to run effectively. When you get the hang of the process, most of your ad campaigns will be tremendously profitable, but there's a learning curve you WILL HAVE TO GO THROUGH.
Those words are in bold capital letters for a reason, so keep your expectations realistic.
The first weeks of running ads (maybe even the first few months) have a high chance of being losing months. For example:
Month 1:
Cost of ads – $4000
Net profits (after refunds) – $2700
Total: lost $1300
Month 2:
Cost of ads – $4300
Net profits (after refunds) – $3500
Total: lost $800
Month 3:
Cost of ads – $3900
Net profits (after refunds) – $4200
Total: earned $300
Month 4:
Cost of ads – $5700
Net profits (after refunds) – $13700
Total: earned $8000
And that's the goal: to survive the initial period of losses and draught and make it all the way to the actual profits. Which will be VERY worth it if you just manage to get through everything.
So, if you have at least $4000 to spend on ads without going into deep debt, selling your house, or destroying your family—Commission Hero 2.0 could become one of the best investments of your life. If you don't have that money, however? Better skip this product for a while—or be ready to start and progress very, very slow.
Final thoughts: should you try Commission Hero 2.0?
All other options considered, affiliate marketing is the safest and fastest way to make legitimate money on the internet—if you don't have your own product, audience, or brand.
And the best training on affiliate marketing that money can buy is Robby Blanchard's Commission Hero. Yes, it costs quite a bit, and you'll need extra money for ad expenses. But if you have that money, if you can make that investment, if you can commit to Blanchard's system—you basically have his personal guarantee of success and daily earnings starting at $1k per day.
If THAT's not a compelling argument, here's the cherry on top: Commission Hero has a 12-month money-back success guarantee—which can be activated 12 months after your purchase.
In other words, if you buy the program and stick to all recommendations—Robby Blanchard guarantees you'll soon be earning at least $1000 per day using Facebook ads and Clickbank offers. If, for any reason, you don't, you'll get your money back in a year.
Why a year, though?
Because the Commission Hero family is looking for motivated people determined to work for their success, not tire-kickers that will buy a product, check it out, think it's too complicated, and bail out. That's tiresome for everyone.
If that's not about you, if you're determined to work for your success with the right guidance, if you have the money to invest into your success…
Go for it. Seriously. Commission Hero is definitely worth it, and you have Blanchard's guarantee that it will bring you at least $1k per day if you follow the system.