Voomly Reviews 2023 – Is Doodly Animation Software Worth It?
If you visit Facebook, other social media or even blogs, you might have come across cute videos. A hand holding a pen sketch different characters on the screen, draws in images, puts them in various parts of the video, and even writes text. These types of videos are doodle videos and are an excellent medium for grabbing the attention of the viewer. Such videos are made via whiteboard software, and Doodly is one such software. In this Doodly review, we will consider the features, benefits, drawbacks, and pricing of this software. In the end, you'll be able to decide whether it is a software for you.
Whiteboard Animations
Whiteboard animation videos have risen in popularity in recent years. These videos offer a high conversion rate simply because they are appealing, attractive, precise, and enjoyable to watch. They are often used to explain ideas the same way some explain stuff to you by drawing on a piece of paper.
What is Doodly?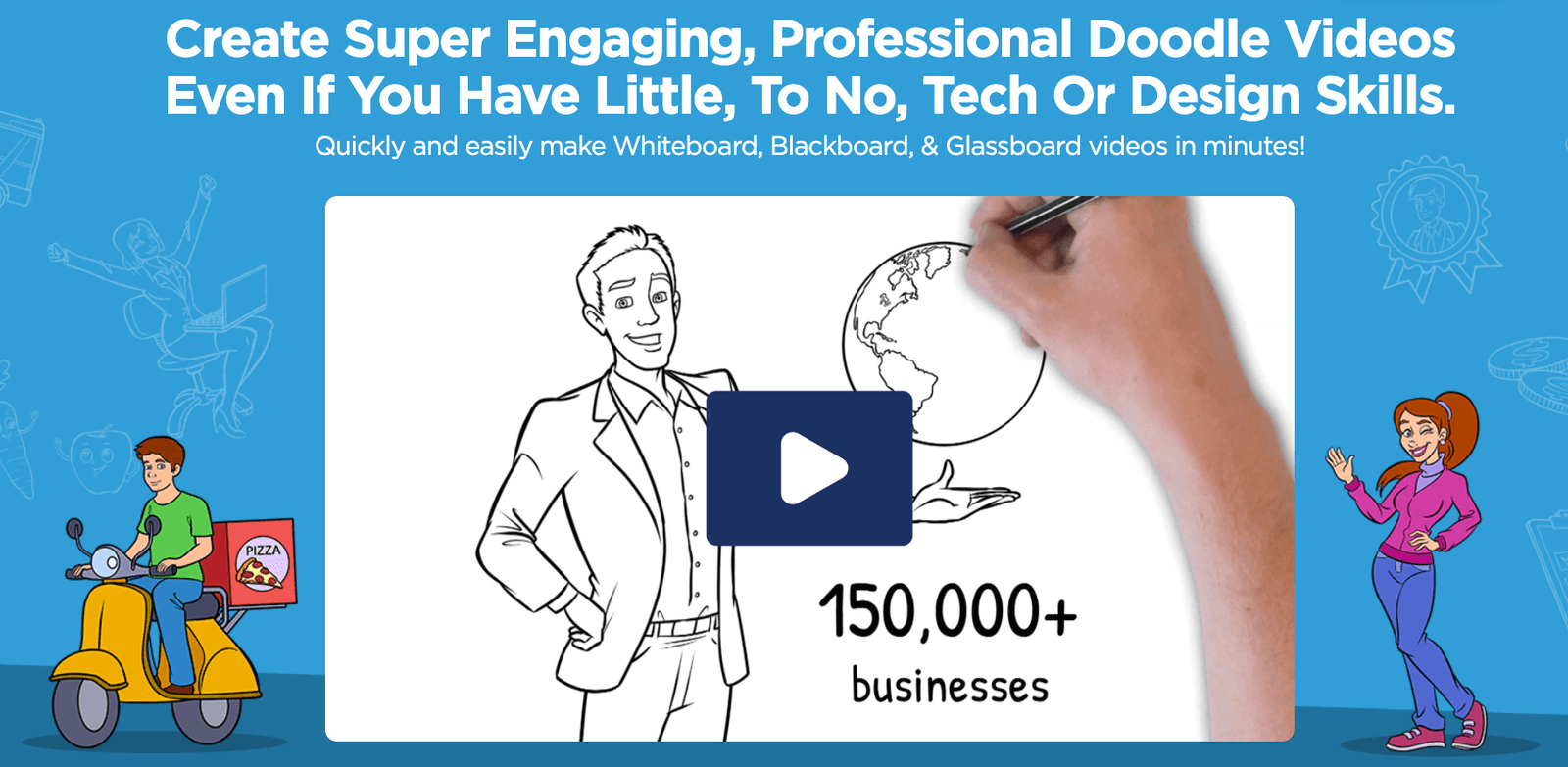 This product is a whiteboard animation software. The software sports a Drag and Drop interface that makes it easy to make sketches. While there are several types of this software available, Doodly stands out because it is easy to use by even beginners. With Doodly, you can create different types of videos quickly.
Doodly sports thousands of images in its library – hence, you just choose the image you like, drop it on the canvas, and the software sketches it for you. Apart from the custom images, you can also upload your images. After sketching, Doodly lets you add sound to it via the free library.
It is compatible with your Mac and PCs. Get Doodly at a Special one time fee click here
Features of Doodly Whiteboard Animation Software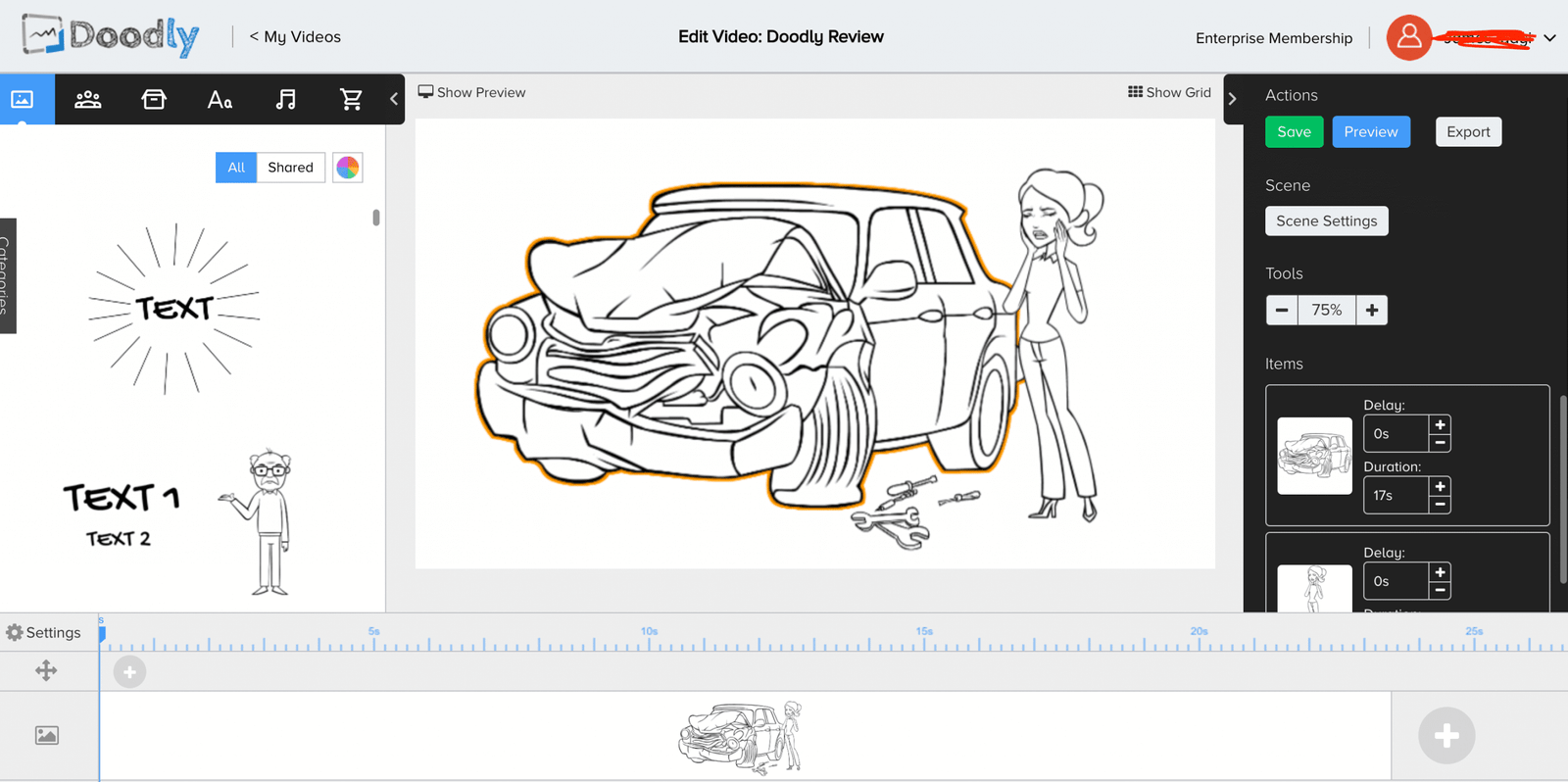 The software comes with a wide plethora of useful features. Let's see some of them.
The extensive library of custom images is one of the reasons why many people love this software. You have thousands of these images at your disposal. The images are also not your average run-of-the-mill options. Professional graphic artists make them. Doodly offers you 200 different characters with 20 poses each.
Additionally, the Doodly library has up to 20 backgrounds to choose from and different props. Therefore, you'll most certainly find whatever you are looking for on this software. And if somehow you cannot find what you want, you can always order a custom job from Doodly's team of graphic artists.
After making a sketch, you can add sound on Doodly. Doodly gives you two sound slots. The first one is for background music and the other for voiceovers. You can edit the sounds until you get what you want.
You get a specific number of tracks depending on the package you purchase. There are three packages – Gold, Platinum, and Enterprise that offer 20, 40, and 80 tracks, respectively.
You can also add voiceovers, although you'd have to do this outside the app by importing the MP3 track to the video.
Video editing can be tricky, so it is good to look for software that would make it easier to do. Thankfully, Doodly comes with an easy-to-use video editor. The editor allows you to tweak several things like the timeline, deleting scenes, duplicating scenes, and so on. You can also edit the length of each stage that you sketch.
If you need to share your doodle sketches, then the software comes with easy share capabilities. You can choose the parameters of the video you want to share. Some things that you can determine include the frame rate, quality, and resolution. Once these are set up, click the 'share' button and you are good to go.
Doodly sharing is compatible with several social media platforms like YouTube, Facebook, and Instagram. It also lets you share to your personal website.
Although Doodly is mainly designed as a whiteboard animation software, you can take advantage of its additional animation styles using the different board styles available. Some of the board styles include:
Chalkboard
Glassboard
Greenboard
Whiteboard
Custom board
As the name implies, Custom board lets you choose your background color. You can also determine what the arm uses (chalk or marker).
Apart from giving you different board styles, Doodly also allows you to choose from different hand styles. The software offers up to 15 different real hand styles and 13 cartoon hand styles.
Among the customization features are whether to make the hand right-handed or left-handed.
With this animation software, you can make your custom draw paths to any image imported into Doodly. Therefore, it makes the imported image look more natural in the software and makes it look like it was drawn there.
Doodly also grants permission to import SCG paths and add SVG images to the software.
One of the best features of the software is that you get plenty of support. You can find tutorials on their official website or visit the customer support desk.
You can interact with other creatives, ask questions, and even offer solutions on the Facebook Group.
Lastly, Doodly comes with a request function. With this feature, you can ask the Doodly team what you'd love to see in future updates.
Benefits of Doodly Whiteboard Animation Software
Buying animated videos can cost plenty of money. With Doodly, though, you do not have to pay so much before you can get your animated video. It comes with a relatively cheap monthly subscription, and you can even save costs of your pay for a yearly subscription. Once paid for, the payment offers you access to as many animations as you like.
Doodly allows you to make high-quality videos without having to undergo a steep learning process. You can do all you need from the comfort of your computer. The software is quite easy to use, and the Drag and Drop feature is excellent.
If you have the Enterprise plan, you get access to a wide library of photos, characters, props, and soundtracks. Furthermore, as the software is continuously updated, you get more stuff in your library with each update. With Doodly, you can transform any image into animation.
Doodly is a very versatile software that can be used for several things. You find it useful in making ads, instruction videos, book reviews, and different types of presentation. If you have a YouTube channel, you can use the videos created on the software to garner more views.
And if you are a digital marketer, adding animated sketches to your website or ads is one way to improve traffic and improve conversion rates. Get Doodly at a Special one time fee click here
How to Use Doodly Doodle Maker
The software is a versatile program that can be used in several ways. You can use Doodly to:
Market and advertise your products
Makes explainer videos
Upload to social media to drive engagement
Create educational videos
And much more.
Doodly Doodle Maker Pricing
The animation software comes with two pricing options – Standard and Enterprise.
Standard costs $20/month (annual billing), or $39/month (monthly billing).
Enterprise is $40/month when billed annually or $69/month when billed per month.
There are benefits to annual and monthly billing plans.
For monthly billing, you can cancel your subscription whenever you want. Annual plans, when calculated, are cheaper than the monthly billing. Unfortunately, there is no trial period with Doodly. The best that you get is a 30 day money-back guarantee. This way, you can decide whether you like the software before committing totally.
Special Pricing
Doodly is offering a limited a special FACEBOOK-ONLY offer of $67 one time fee. This is for the Standard plan which normally sells at $20/month (annual billing), or $39/month (monthly billing). If you choose to purchase this plan, you will be given an opportunity to upgrade to the Enterprise plan for $97 one time fee. The Enterprise plan is $40/month when billed annually or $69/month when billed per month.
I have been able to secure same special offer for anyone who will chose to purchase Doodly today. Please not that this is a special arrangement and I cannot guarantee how long it will last. For just $67 (one time fee) you can sign up for Doodly today.
Doodly Advantages
It is easy to use
Creating animations is very easy with this software. Even if you are a beginner, you will find it easy to use after a few tries.
Plenty of doodles
Whether you are great at drawing or not, having a large library of images will certainly make your work easier and more fun – and that is what Doodly offers you.
Custom image support
If you cannot find the images you want in the library, it is easy to import them from other sources and add them to Doodly.
Effective
With Doodly, you will undoubtedly be able to do your work well. The large catalog of images and media comes in pretty handy. This software comes with virtually all the things required to form a whiteboard animation. While it may take some time to get that first video out the door, it only gets more accessible from there.
Support
In terms of support, Doodly is one of the best options available. When you first visit the website, you won't find plenty of videos or FAQs. However, choosing a particular line of inquiry yields plenty of helpful results.
They are quick to reply to your emails and inquiries and are super helpful overall.
Regular Updates
Many alternatives release updates less than three times in a year, and some do not even bother to update the software. Doodly is different. The manufacturer listens to complaints from the users, and the team works hard to push useful updates as soon as possible. Updates are free once you have both the animation software. So, whether on your MAC or Windows computer, you can rest assured that Doodly will receive prompt updates that are meant to improve your experience.
Doodly Disadvantages
No Color in Standard Plan
You can choose either the standard or enterprise plan. One disadvantage of the Standard plan is the lack of color images. If you want colored images, you need to pay a one-time fee for the Add On. If you create only black and white sketches, this shouldn't be a problem, but if you don't, you might be put off by having to pay an additional fee for the colored images.
No Offline Use
Doodly is only available with an internet connection. If you are somewhere with bad reception, it can be annoying if you cannot access your software.
Limited Audio Features
Although Doodly comes with a voiceover slot, it is quite basic, and you might find it annoying to use. Hopefully, more updates will bring better features in this regard.
Cost
Although it comes with plenty of features, the cost of Doodly might drive off anyone who is just looking to have fun with animated videos. It is more expensive than several other alternatives
Slow Export
Exporting videos is somewhat slow. It can take up to 40 minutes to export a 5-minute animation or even longer.
Doodly Doodle Maker Alternatives – Easy Doodles
If you do not fancy using Doodly, you can check out other animation software on the market some of the most popular Doodly alternatives are:
InVideo is a great tool that helps users create animated videos within minutes. It comes with an intuitive UI that allows professionals and beginners to create and edit animated videos. In addition, you can avail yourself of a great deal, from animated templates and texts to short stock video clips, while using InVideo. It is one of the budget-friendly online animation tools with a business plan of $15/month and an unlimited plan of $30/month only.
This animation software gives you a nice interface and experience for making top-notch whiteboard videos. It starts at $14 per month for the yearly plan. If you are looking for a full-featured program at a lower price, then Videoscribe offers more than you'd get with Doodly. You can get VideoScribe at a special discount here
This animation software is geared towards businesses. That is why it comes with features that support business endeavors like analytics, branding, and so on. While it doesn't have as nice an interface as Doodly, it surely offers excellent animations. It begins at #37 per month for a branded video and $67 for a video with your company logo.
Compatible with MAC and Windows, this program comes with several presets and extra features. For $59 a year and $69 annually, if you want to sell the videos, Explandio offers excellent value for money.
This software is online-based and gives less hand-drawn features and more animation. It begins at $20 for each video that you export.
This software is the first Doodle Video Creation Software that employs AI to let you create the doodle video of your choice. Because of this feature, anyone can easily make a doodle video – even if they do not have any experience in creating such. It is available in 60 major languages. Thus, if you are looking to boost your marketing efforts with doodle videos, this is an inexpensive way of doing so.
FAQs
Is Doodly easy to use?
Yes, Doodly is designed to be easy-to-use with a drag-and-drop interface and a timeline feature for editing. Users can create professional-looking videos without any prior video editing experience
Can I use Doodly on a Mac or Windows computer?
Yes, Doodly is compatible with both Windows and Mac computers.
Does Doodly offer a free trial?
Yes, Doodly offers a free trial version with limited features.
Are there different pricing options for Doodly?
Yes, Doodly offers several pricing options, including a standard plan, a pro plan, and an enterprise plan. Each plan includes a 14-day money-back guarantee.
Can I add audio to a Doodly video?
Yes, you can add a voiceover or musical audio clip to Doodly videos. Doodly comes with stock audio background files for you to use or you can upload your
Do I own the work I create with Doodly?
Yes, as a user, you own the work product and content you create using Doodly. The software, images, sounds and other creative elements provided by Doodly are licensed to you in accordance with the End User Agreement. The works you create using these elements and our software are yours.
Is there anything to download with Doodly?
Doodly is a desktop application that needs to be installed directly on your computer. Upon purchase, you can select to download the Windows 32 or 64 bit version, as well as the Mac version. Internet connection is required as Doodly pulls images from the internet and your saved projects from the cloud.
Conclusion
From the review so far, we hope you have gained a better insight into the features, benefits, and drawbacks of this software to decide whether it is for you. If you want animation software that is easy to use, you'd be hard-pressed to find an easier option than Doodly.
Everyone works differently, so Doodly might not be for everyone. Although it doesn't have a free trial to play with, you will get a money-back guarantee if you are not satisfied with the product. So install it today and see whether it is for you.