There are quite a number of software on the market that claim to assist you with your business, turning your visitors into paying customers that come back repeatedly. Well, Easy VSL is one of these software. Here, we review all that you must know about the software. By carefully reading through this post, you will be armed with the correct information that will assist you to determine whether it is for you. We will consider the pricing and a host of other essential information.
What is the Easy VSL review?
The first step in knowing whether this software is for you is to have an overview of the things that it can help you to do. That requires knowing its fundamental function. So, what is the fundamental use of Easy VSL? Well, it is to help your business.
This software, created by Mark Thompson and Matt Callen, is a software that works to help you to make high-quality, customer-centric video sales letters that will work for your business. It doesn't exactly automate the work for you, but it certainly makes it far easier to make these VSLs (video sales letter) in a jiffy.
Asides from making it easier and faster for you, Easy VSL is also excellent because it reduces the amount of money that you will spend on VSLs. In the past, you had to pay money to someone to help you create a VSL, but with Easy VSL, you can do that yourself and ensure that you get exactly what you want.
There are several reasons why Easy VSL is gaining popularity in the industry. The interface is intuitive, and you can start creating VSLs, even if you have zero skills in editing videos and stuff like that.
What Easy VSL will help you do
As stated earlier, this software is designed to make the work of creating VSLs pretty easy. In a systematic manner, you will see how you can make VSLs without the help of any other person.
Hiring someone to do it for you might reduce the work you do, but it increases the chances of frustration and undesirable results. You might have to go back and forth with your hired hand and face all the stress associated with that.
However, with Easy VSL, you have complete control over every single facet of the video. You can change and customize a host of things, ranging from fonts to images and slides to voice-overs and audio files.
Before the advent of Easy VSL, such work would last for hours or take a day or two.
When you buy the software, you get access to the Member's Area. As the name implies, this area gives you access to different things. You will be provided with the opportunity to easily download the software, get training videos, and interact with a support team when you require help with anything.
As if that isn't enough, this Member's Area will give a free webinar that teaches more than you would expect. Here, you get free training on how to create a sales funnel that will greatly boost conversions and sales via ClickFunnels.
How Easy VSL Works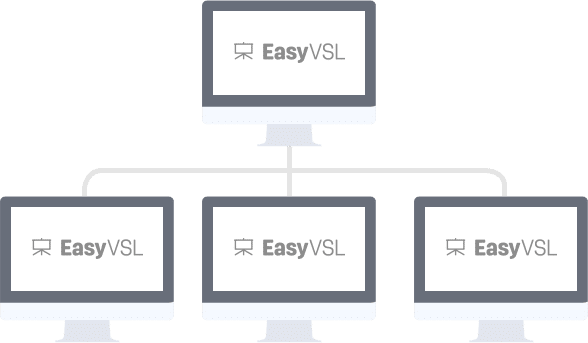 As we said earlier, the Easy VSL gives you a systematic way of getting the job of video creation done. In this section, we will briefly consider the working principles and steps needed for you to make your very own VSL!
Steps to follow
Create the VSL
The first thing to do is to indicate that you want to make a new project by clicking on the new VSL project. Once clicked, you can choose from two options.
The first option is the 'Create a VSL from Scratch". This is easy to do, and you can type like in regular PowerPoint.
Second, you can "Paste Text". This is similarly easy to do as you just copy all the text from a program to the Easy VSL software.
Add Split Marks
These indicate the end of a slide. Therefore, if you have sufficiently worked on a slide, you will add these to stop the slide or indicate that you have ended the slide.
Select a Background theme or color
This step is pretty easy to do, but very important. Color and themes affect the visual experience and can even determine how your viewers process the information. Therefore select a theme or color that will appeal to all that see the VSL.
Edit the slide
After you have done all the steps outlined above, Easy VSL will process it and present it to you. You can then see all the text you typed, the color and theme, background, and all the things that you have created. This is the stage where you will consider what you have done to determine whether it will fly.
Add Audio
Easy VSL is great since you can integrate audio files into each slide. You can do this by choosing an audio file from the computer and load it on to the software. You can make adjustments to and choose where and when you want the audio.
Editing the screen is easy since Easy VSL has included a drag and drop editor. Therefore, if you make any errors, you can change them in a short time and with limited fuss.
Publish
This is the last stage of the production. Click on 'Publish', select the quality of the video, and sit back as Easy VSL helps you to create the VSL.
As the steps above reveal, it is pretty straightforward using the software, and it will give you excellent results.
Reasons to consider using Easy VSL
If you haven't a clue why this software is such an asset to any business owner, then we will show you why it is so in this section.
There are several reasons why many business owners prefer using video sales letters over regular tools. These have proven to be highly successful at improving sales and making a business grow.
In fact, it has been shown by studies, that even more than pictures, videos are a wonderful tool that helps to improve engagement and capture the attention of the viewers.
Think about it, which would you prefer – reading a long, boring sales letter, or watching a video that says the same thing the sales letter is trying to say? I know I would prefer the VSL.
Now, knowing that videos are awesome is one thing, but the main challenge here is that creating the perfect video might consume more time than you are willing to spend.
Before the creation of this software, there were two ways to make a VSL. You could use PowerPoint to make your slides.
The second way is to have another create the VSL for you. While this would give what you want, it is often expensive.
Easy VSL eliminates the middle man and makes it so much easier to have your video.
Since we have seen that Easy VSL is definitely good for you and your business, let's now consider some of the top features of the software.
In writing this section, we considered the latest features of the software. One good thing about Easy VSL is that as a software, it gets updated regularly. These give it more versatility and functionality. Although the original Easy VSL was cool, the latest version is much better and gives you a plethora of new features that will help you to get the best out of the software.
Main Features of the Software
Here are the most important features of the software regardless of the version.
Point and Click Interface. This feature is awesome because it makes your work so much easier to do. All you have to do here is point anywhere on the slide to include your text or whatever else that you wish to add
Custom Background Theme and Colors. We have considered this earlier in this post. With Easy VSL, you can set the color or theme that you want and even create a custom background for every slide that you have.
Auto Slide Creation. With this interesting feature, you don't have to fret about making slides – the Easy VSL will make the slide for you! All that is required from you is to paste your text and voila! the slides will be there for you
High-Quality Video Format. There are several video formats available on the software, and the Easy VSL will let you make the right videos in the quality you want. You can make it an Mp4 format, which is compatible with virtually all devices out there.
All these are but some of the features found in all the versions of the Easy VSL. However, since there is a new version, we will see some of the features that set that apart from the others and how that is helpful to you.
Version 3.0 Features
As with the previous version, this generates slides for you automatically.
With a collection of more than 75 templates, this feature lets you decide just how you want the presentation to look like.
Fortunately, the Easy VSL comes with plenty of custom fonts.
This will let you add a video to the created VSL, without using any other video editing tool.
Another lovely feature is the ability to detect your voice and speech and translate that to text for making the video.
With the latest version, you can export your video directly to video sites. Thus, you save yourself plenty of time and headaches trying to upload a video onto a website.
Easy VSL 3.0 has improved the functionality and efficiency of the editor. With the new upgrade, users can control volume, snap a timeline, use multi-layering, and create cuts as well. This improves the speed and support of Easy VSL.
You can visit the website to see the complete list of features.
Easy VSL Pricing and Availability
With all these features and benefits in mind, it certainly isn't a big surprise that this is a highly sought after program.
Well, the official price is $97 initial payment. This is a one-time payment. Subsequently, you can renew the subscription every month by paying $9.99.
That is for the monthly plan.
Annually, you will pay $197.
Pros:
Affordable
Easy to Use
Compatible with speech to text editor
Plenty of graphics and templates
Good for different niches
Cons:
It is not cloud-based software.
It is more expensive with every upgrade
FAQs
Does it come with Upgrades?
Yes, it does. From the review above, we even discussed some of the good updates that arrive in the latest version. The upgrades are made in line with what is becoming easier to handle for users. It is also designed based on the feedback received from the users. As this is a internet-connected software, you will always receive updates whenever these become available.
What are the hidden costs?
This software is a simple, straightforward software that doesn't have any hidden charges. If you make a purchase now, it is a one-time thing. You will have the benefits of upgrade and enhancements without any more payments.
Is it compatible with sales scripts?
It is compatible with any VSS (video sales script). You can make the video in some minutes.
Conclusion
Video is a very powerful tool that can help get people keyed into your offer. It grabs the attention more than traditional print and paper can. That is why software like the Easy VSL is a godsend. It offers you plenty of features that allow you to set up a VSL in mere minutes.
Aside from being easy to use and fast to boot, Easy VSL also makes very high-quality videos that will leave you satisfied. The price is quite steep, to be fair. However, if you consider the ease and benefits, that is a small price to pay to boost your revenue.