EmailOnDeck – Temp Mail, Fake Email Alternatives
EmailOnDeck allows you to create temporary email addresses. It allows users to create disposable or temporary email addresses in two easy steps. It can be used online for transaction purposes or registrations. It provides spam protection and can be used with nearly all websites and apps on the internet. This enhances the user's online privacy.
Email addresses generated can be used for online trading via Bitcoins and cryptocurrency, as well as to sign up for dating accounts or profiles. EmailOnDeck is used by professionals from around the globe for its easy and fast performance. EmailOnDeck's data hosting facilities are certified by PCI-DSS compliance and SOC2 Type compliance, which ensures appropriate security.
Although the addresses generated by the platform are valid for most of the day, if a user closes his/her browser, they might lose access to the details in real-time.
What is a Disposable Email Address?
In an ideal world we would all be able use one email address to handle everything. Spam wouldn't exist. It does. This can lead people to look for ways to reduce the number of spam. One solution is a disposable email address. But what exactly are they?
They are temporary. They are disposable. They are different from any other email address that you might get through Outlook or Gmail. These disposable email services are also unique in that they don't require registration or the handing over of any personal information, such as your name, number or physical address.
You'd go to one of these sites, then follow the steps to create your temporary email address. Then, copy that address and paste it into another form on another website, where your real email would be.
It sounds pretty convenient, doesn't it? You can rest assured that all those spam emails will be sent to the disposable address. It will then automatically self-destruct after a certain time. Your inbox will remain clean and the associated address will not be added to any database that could be affected by a leak.
These disposable services have some limitations. These disposable services don't offer the same utility as a Gmail account or Outlook account. You won't be allowed to create signatures or folders, check if anyone has read your mail, and BCC people. Some disposable email services offer the ability to send mail, retrieve recently deleted mail addresses or address, and forward emails.
What is EmailOnDeck?
Get temporary email for your privacy and to prevent spam. You can get a disposable email address for free that you can use on any website or app. Advertisers can't track your shopping habits, purchases, or visits to websites. For any website that requires you to provide an email address, keep your personal information private. Use temporary email to reduce spam mails.
Emailondeck can be used for any forum signature, or Facebook-like registration. You can get as many email addresses you want. There is no registration needed. Get your temporary email now and protect your privacy!
EmailOnDeck, a web-based temporary mail service provider, delivers a temporary email address for free. To obtain a fake email ID at EmailOnDeck, there are only two steps. To prove your identity, first complete the EmailOnDeck security system. Next, you will receive a fake email ID.
EmailOnDeck offers a free temporary email ID. You can create temporary email ID in just two steps. Protect your privacy by not sharing real email IDs. All received emails will be deleted after a certain time. EmailOnDeck offers temporary email IDs that can be used to protect your email addresses from spam email. You will also be protected from spam emails.
Most websites and apps require users to confirm their email IDs in order to collect personal information. While it is fine to give the email ID, the problem is that advertisers will have access to your personal information. You can use temporary email IDs to easily distinguish between the email ID you use for business purposes and those you use for commercial purposes.
The EmailOnDeck will delete the email after twenty-four hours. The email will be deleted faster if the browser is closed or cookies are cleared. EmailOnDeck is a one-way service. This means that you cannot use it to forward or send emails to anyone.
EmailOnDeck's best feature is its ability to protect the privacy and security rights of its users without asking for any personal information. All messages and logs sent to the fake inbox are deleted after twenty-four hour.
EmailOnDeck Pricing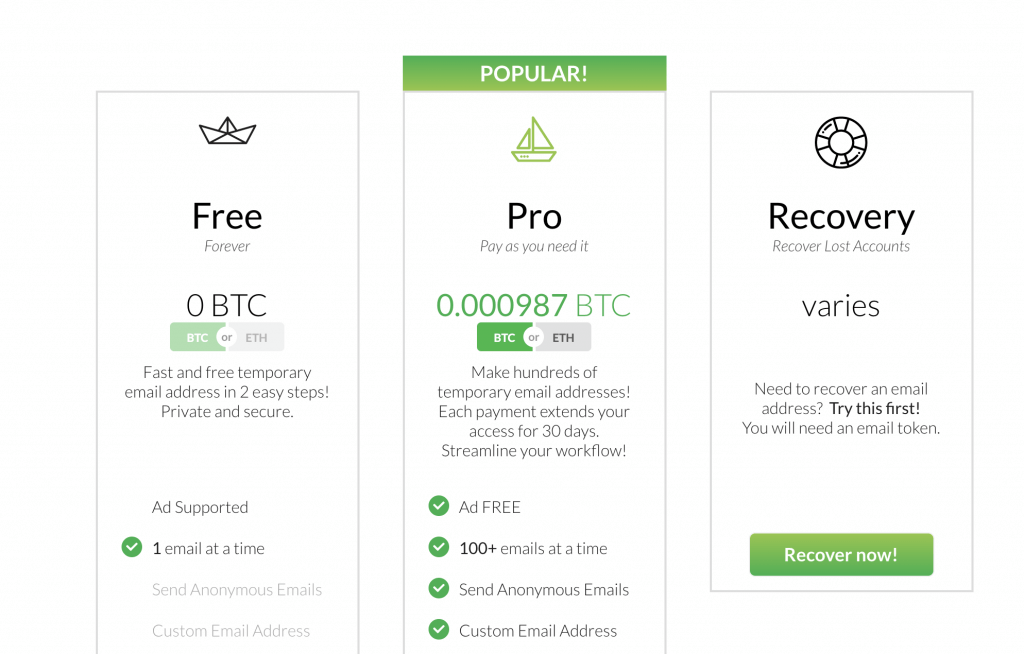 Emailondeck is one of the most accessible disposable address providers. It can generate an email address in just two steps. EmailOnDeck is completely free and will keep your mail for 24 hours. However, you can speed this up by clearing your cookies. EmailOnDeck routinely deletes mail and actively wipes logs to reduce storage costs. It's not recommended to use the service for long-term endeavors.
Only premium users have the ability to send anonymous mail to any email address. Free users can send secure mail directly to other EmailOnDeck accounts. Premium accounts will remove ads and allow users save their email address. Users can also create custom addresses. EmailOnDeck is extremely secure. It can be accessed via HTTPS and its servers use TLS.
EmailOnDeck, a web-based temporary email service provider, delivers a temporary email address for free.
EmailOnDeck.com, the leading site on temporary, disposable, and throwaway email addresses is your best resource. We are here to help you avoid SPAM and protect your privacy online. We are dedicated to providing you with a disposable email address that is compatible with all sites and apps. We want to give you the power to decide who your personal information is sent to.
You can use temporary emails to protect your online privacy in any transaction. These emails can be used to buy and sell Bitcoins or trade cryptocurrency locally or at exchanges. These can be used to test emails and register quickly. It is easy to create a temporary email address and protect your privacy online.
EmailOnDeck is easy and always free
In just two steps, you can quickly create temp emails
Professionals around the globe use it
You can protect your privacy by refusing to allow spam into your inbox
Emails are being constantly encrypted and securely deleted
Friendly to Bitcoin and Cryptocurrencies
EmailOnDeck Alternatives
EmailOnDeck offers free temporary, disposable email addresses but they are not the only one in that space. Here are 7 EmailOnDeck Alternatives.
1. 10 Minute Mail
10 Minute Mail is a leading service that provides temporary, anonymous, secure email accounts. It can be used to create social media accounts, and many other uses. It is completely free and can be used to prevent spamming or losing your privacy.
It will generate a random email address and it will remain active for 10 minutes. A ready-to-use email ID will be available at the clipboard once you have moved to its official site.
You can also use your own name, but it must start with @trbvn.com. This site has many great features. You can access it from anywhere on the internet without restrictions. You can access 10 Minute Mail anywhere in the world, and it is completely free to use.
2. Guerrilla Mail
Guerrilla Mail, the leading disposable email address provider, allows you to send and receive emails. It's similar to 10 Minute Mail, but has many new features that make it stand out. It doesn't require you to register in order to use the service. You can log in automatically and an email address will be assigned to you. This email address can be used anywhere you want to register or for other purposes.
This will allow you to avoid spam and keep your data safe. This site offers many domain options. You can also create an email address for your name without restrictions. It is more secure than other similar platforms. It is accessible from anywhere in the world.
3. Spamgourmet
Spamgourmet provides disposable email addresses to protect against spam. This service is free and supported by donations. Users can set the default expiration date for any new temporary email address to any number greater than 20. You can also reset the expiration count at anytime.
Sometimes, your email ID is given to a website for registration purposes. The company forwards your email ID to the advertisers. Or, the website can send you promotional and marketing emails on its own. You will be bombarded with spam and junk emails. It will allow you to give a different email ID to each website, while still receiving your email as usual.
Spamgourmet is an online service that allows users to create fake email addresses just like real ones and then use them as their original email ID. It is not necessary to install any software on your computer. Spamgourmet will provide you with a fake email ID that you can use to access the best anti-spam tools.
4. Temp Mail
Temp Mail provides temporary and fake email IDs that can be used to address security concerns. Temp Mail offers disposable email addresses and anonymous email IDs. Temp Mail will give you a new ready-to use email ID every time you visit it. The clipboard will display an inbox in the middle of each page. This ID is not required. You can also create a new ID.
Temp Mail is different from regular email in that it does not require registration. It is completely anonymous. After a time, all your information such as IP address, location and log will be deleted. The messages will be delivered immediately to you. Temp Mail's mailbox is completely protected against hacking, spam, exploits, and other threats. Temp Mail does not support forwarding email.
5. Tempr.email
Tempr.email allows you to create a disposable email address quickly and easily without registration or any commitments. This service is an alternative to 10 minute mail and provides all the same services but with new tools and features. It creates an email from scratch and sends it to you wherever you need it.
Tempr.email offers a simple, easy-to-understand solution. Simply visit the site and click on the link to get a temporary email address. You can view any email sent to this address and click on them to open them. Tempr.email is free and does not require any prior knowledge. It has millions of users all over the globe.
It is best to use a disposable email address in private settings and not as your primary email address. It is temporary and can be used for a limited time. However, the email contained within it will automatically be deleted after a period of time. Core features include a vast array of tools that are optimized for mobile devices, desktops, and tablets. You can use your domain as well as all primary email functions.
6. MinuteInbox
MinuteInbox provides a temporary, disposable platform that allows for easy, quick communication. It is not limited by time zones and can be used in one-to many communications. Once deleted, the platform will not be accessible by anyone.
You can also have your mailbox protected from being read by others. MinuteInbox allows users to extend their mailbox's life to nearly 100 minutes. This platform allows users to access any spam website that asks for their email address. Users can also avoid spam operations by using this platform.
The service allows users to retrieve their mailboxes before it is permanently deleted. The service also offers a mobile platform that allows users send emails from it. MinuteInbox offers a domain change feature that allows users to access other places without being blocked by admins.
7. MintEmail
MintEmail provides a wider range of functionality than most temporary email providers. You can use them whenever you need them. MintEmail makes use of the latest web compatibility formats to keep your inbox updated. It doesn't require you to update it every time you receive new mail. MintEmail pulls a Gmail trick to update the title of the page so you can check for any new mail.
MintEmail's best feature is its ability to provide a disposable email ID system that is easy to use. Simply go to MintEmail's official website to get an email ID that you can use immediately. This email ID can be used to replace the original. You can also create a custom email ID, but it must include the @ce.mintmail.com. You will receive a fake email ID by visiting MintEmail.
This fake email ID can be used on any website or forum that requires email verification. Once the email has been received, it will appear in this box immediately. MintEmail's inbox system is quite different. MintEmail's inbox system is very different. Once an email has been received, it will immediately appear in this box.
Conclusion
Using disposable email has several advantage, from protecting your privacy to preventing spam. Whichever is your need, EmailOnDeck and all the other alternatives can get the work done.
Don't Miss : Schedulicity – Review, Pricing, Alternatives