ESPN Plus Free Trial & How to Sign Up
It's a great season to stream your favorite sport. Sports fans have many streaming options, whether you want to stream big-ticket events such as the NFL playoffs or tennis tournaments like Australia Open. There are a few free packages and trials available from companies like fuboTV and Peacock TV
You don't need to sign up for cable or satellite TV to stream certain games live online.
This is what you need to know in order to get started using ESPN+'s streaming app and site, which includes how much it costs and how to get a trial to try the service.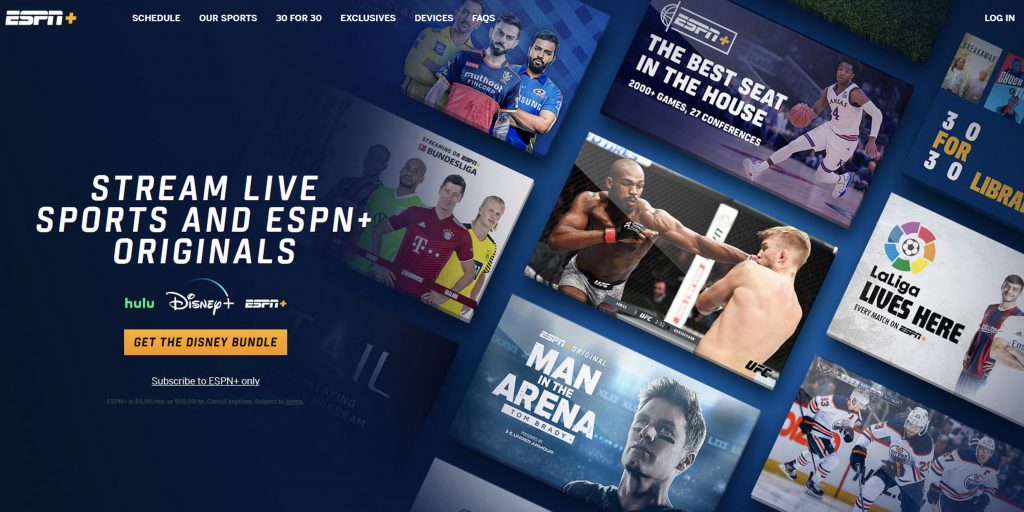 What Is ESPN Plus?
ESPN+, also known as ESPN Plus, is ESPN's online streaming service and app. It allows sports fans to watch live and on demand content including games and tournaments on their smartphones and tablets, without having to subscribe to traditional cable TV.
ESPN Plus allows you to access live events such as Major League Baseball, National Hockey League, and Major League Soccer games, provided that their seasons are active. Subscribers have access to other sports, including college football, international soccer and tennis matches, as well as Professional Golfer's Association and Ultimate Fighting Championship games.
ESPN Plus includes live events as well as original shows such Peyton Manning's Places and Detail. Detail is a recap show featuring in-depth analysis from players. Stephen A's World, a news program about sports, features Stephen A. Smith. Why Not Us, a docuseries about a Black men's basketball team; and the award-winning 30 For 30, which highlights noteworthy sports moments and people over the years. ESPN Plus includes selected films and game replays. It is also available in HD on ESPN.com as well as through the ESPN App for various smartphones, tablets, computers, and smart TVs. ESPN Plus includes streamable content as well as premium articles written by respected figures in the sport industry.
How much does ESPN Plus cost?
ESPN Plus is $6.99 per month for a monthly or $69.99 per annum for a yearly subscription. This saves customers around 15%. ESPN Plus offers a bundle with Disney Plus or Hulu for $13.99 a month. This saves customers about $8 per year compared to subscribing individually to each service. For existing subscribers, ESPN Plus offers UFC pay per view matches at $70. A special discount bundle is available for new subscribers that includes a 1-year subscription to ESPN Plus and one pay-per view match for $89.98.
ESPN+ Free Trial – Does ESPN Plus have a Free Trial?
At the moment, an ESPN Plus trial isn't available. This is a shame for subscribers who would like to test it before they pay. For a complete overview of the services, see our ESPN+ review.
ESPN Plus is lacking a 7-day trial period, despite the fact that most streaming TV services like Hulu and FuboTV offer free subscriptions with their subscriptions. The service is only $7 per month and you can cancel at any time. We are implying that there is very little risk in the commitment, even if you don't have an ESPN Plus trial.
You can also look at the streaming schedule if you are interested in any of the games that will be available during your first month with ESPN Plus. This planning will ensure that you get the most bang for your buck, even if your subscription doesn't last.
ESPN+ Bundles
ESPN Plus offers bundles that allow streamers to combine their service with other streaming services. Many viewers are switching from cable TV to streaming. Using bundles to reduce the monthly TV bill can help you save a lot. There are currently three ESPN Plus bundles:
Disney+, Hulu (with advertisements), and ESPN+ bundle
Disney+, Hulu (ad-free), & ESPN+ bundle
ESPN+ on Hulu bundle
There are several options if you don't feel like you can afford ESPN+ and want to save money. The Disney+ Bundle includes ESPN+, Hulu, and Disney+. This will allow you to get your sports fix.
Verizon customers have the option to get ESPN+ free of charge through the Verizon Disney Bundle deal. However, anyone can still score a deal with the Disney+ Bundle at a low $13.99 per month.
However, there are no active ESPN+ promo codes at the moment. Keep this page bookmarked as we add new ESPN+ offers, discounts, and deals.
How to sign up for ESPN Plus
Visit ESPN Plus' website
Click "Get the Disney Bundle" or "Subscribe to ESPN+ only"
Create an account
Select your plan and insert your payment information
Log into your account and start watching ESPN Plus