Flaticon Review – Should You Buy a Subscription?

What is Flaticon?
Flaticon is a Freepik company that offers one of the largest collection of icons in the world. Though the company advertises itself as free icon provider, the truth is that the service is a freemium service. Yes, you will get some icons for free, but there are premium icons as well.
Icons that you find on Flaticon were once available on Freepik. However, in 2013, Freepik founders decided to move the icons segment to a different website that resulted in the creation of Flaticon – a sister website of Freepik.
The icons you can find on Flaticon are available in various formats and you can download and edit them as per your requirements.
The Flaticon website exclusively offers icons. There are no other forms of graphics for you to download from there. As the name suggests, all icons you find on the site are flat icons. Flat icons simple refer to a unique design type that uses a blend of flat colors in which you get least contrast but better highlighting and shadow details. You are not going to get glossy icons at Flaticon.
The collection of icons on the website is quite impressive. There are well over three million icons to select from. Almost all icons are bundled in packs. Each bundle may contain any number of icons. For instance, a bundle may contain a total of 36 icons or 50 icons, etc.
In total, there are 10,235 icon packs available of Flaticon and collectively, these icon packs hold 3+ million individual icons.
Many icons you find on the site are free, but if you want to use an icon for free, you must give attribution to the icon creator. There are certain icons that are available only and only for premium users. This means that even if you say that you will give necessary attribution, you cannot download those icons unless you purchase a premium subscription.
Things You Will Like About Flaticon
Flaticon will give you many reasons for purchasing a premium subscription. In fact, going for their premium subscription is a steal because it gives immediate access to well over 3 million premium icons in addition to the free options.
Here are some reasons that I can think of for getting a premium membership:
1. Beautifully designed icons
Every icon you find on Flaticon is beautifully designed that can fit in your project seamlessly. The clean and sharp designs are perfect if you are working on some design project that requires immaculate attention to details.
Flaticon icons are designed with great details, making them one of the most sought-after websites for those who are looking for icons.
2. Free icons
Yes, there are many icons on Flaticon that you can use for free. You don't have to pay a dime for using those icons. The only requirement, however, is that you have to provide credits to the person who designed the icon.
That's normal! Why would you want to take credit for someone else's hard work? That's unfair, don't you think so?
3. Massive database
The collection of icons on Flaticon is massive. You will most likely find the icon that perfectly suits your needs. It is needless to say that there will be some categories or specific topics for which you will not find the exact icons you want, but the likelihood of finding something that is nearly suitable is quite high.
4. Easy Downloads
Flaticon has ensured that downloading icons is easy. There are websites where you have to go through various steps to download the icons. That can be frustrating. With Flaticon, all you have to do is select the file type, the icon size and click the download button! That's it! The icons will download immediately.
Additionally, if you want, you can create a collection of various icons after registering an account (for free) with the website. Once you have the collection ready, you can download all the icons at once. However, do not forget that free users will be allowed only a limited number of downloads each day.
5. Icon Packs

Finding individual icons can be excruciatingly painful. That's the reason why Flaticon has arranged the icons in packs. Icon packs contain all related icons. For instance, if you are looking for social media logo icons, there is a whole pack that contains the icons for the most famous social media platforms.
This bundling makes it easy to find all the relevant icons quickly, which is a time-saver, don't you think so?
6. Formats
Each icon is available in various format. You don't have to settle for a single format. You can download whichever format you need. The various formats that you will get include PNG, BASE 64, PSD, EPS, & SVG.
If you settle for the PNG format, you can select the icon size and even its color. For the rest of the formats, you don't have to select the size because they are scalable formats. You can scale them up and down in size as per your requirements.
Fun Feature: Pattern Creator
With Flaticon, you can create a pattern using the icons you find on the site. You can use the patterns for many things like your website background image, your flyer background, and more.
In fact, when used correctly, the patterns can help in brand recognition. So, if you want to play around with that feature, you are welcome to do that. However, do remember that to use the feature, you will have to use icon packs. It cannot work if you are looking for individual icons.
The patter creation can be randomized, that is, Flaticon will create random patterns using the icon set you have selected or you can create your own pattern. There are various YouTube videos that can help you understand how this feature works!
Things You Will Not Like About Flaticon
Not everything about Flaticon is hunky-dory. There are bad sides as well. Here is the list of the few things that I found bad about Flaticon. Even you may dislike them.
1. Customer Service
Look around the web and you will find many people complaining about their customer service. Flaticon is a sister site of Freepik, which doesn't really have a stellar reputation when it comes to customer service. There will be times when you will feel frustrated.
2. Download Limits
Though Flaticon advertises that you will get unlimited download when you go premium, the truth is that there is a limit. You cannot download more than 2000 icons a day with the premium subscription. For most users, that limit should be sufficient, but for large agencies working on many simultaneous projects, that might be a problem.
3. Terrible Refund Policy
Yes, they have a 30-day refund policy in place. Already feeling excited? Hold your horses! You can get a refund only if you don't use their services within that 30-day period. What does that mean? Simply put, you cannot download any icon (not even one) if you want a refund.
I really don't get it! How on earth can you assess whether you like a service or not with using it? That's ridiculous to say the least!
Pricing Structure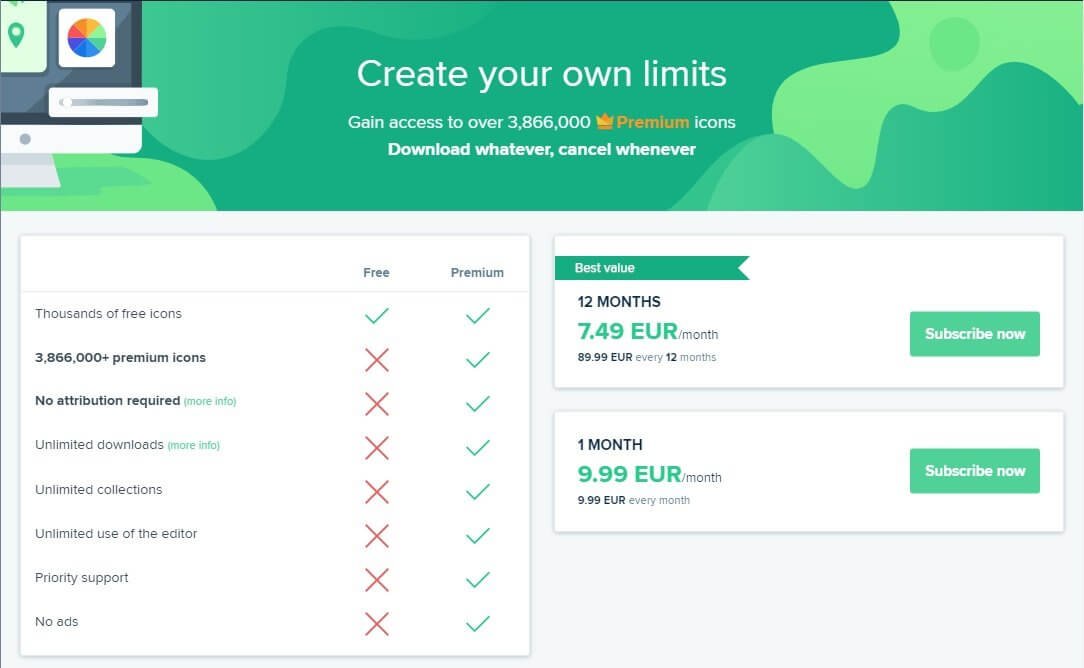 Pricing structure of Flaticon is the same as you would find with Freepik. You have to pay €9.99 a month if you are settling for a monthly payment cycle. If you are settling for a yearly billing cycle, the price will come down to €7.49 a month, but you have to pay for a full year in advance that will cost €89.99 a year.
Conclusion
Should you be using Flaticon? Do I recommend it?
Yes, I recommend Flaticon. I have used various services similar to Flaticon and Flaticon itself. In all likelihood you are not going to get in touch with the customer service. It is all about finding the right graphic that you need and downloading the right format. There is nothing to troubleshoot.
However, if you do cancel your subscription at some point in time, make sure that you communicate with them properly and you follow the rules of cancellation. There are reports of unauthorized credit card charges.
Barring that issue, there's nothing bad about Flaticon. I can vouch for the quality of icons that they offer, and that's what matters the most. So, if you are hunting for a reliable source for some high-quality icons, Flaticon is a great place to start.