Freepik Review – Is it Worth Purchasing a Subscription?

What is Freepik?
Freepik is a software as a service platform. It is an infographic software that comes integrated with a search engine for finding free and premium vector designs. If technicality is not your stuff, then you can think of Freepik as a simple website where you can find vector graphics. Some of them are free to use while other are premium, that is, you need to purchase them to use those graphics.
There are thousands of photos, vectors, icons, and illustrations to select. Freepik keeps adding new resources. If you want to use some free resources, you must provide credit to the original creator. In case you are paying for some vector graphic, you do not have to provide any attribution. The resources you download from Freepik can be used for both personal and commercial purposes.
Be it a blog post, a flyer, a social media post, or a banner, an image makes it complete. You cannot ignore the power of visuals. Finding the right image, the right icon, or the right design matters! The problem is that not everyone is a designer. Some people need to find these graphic elements from third parties.
There are dozens of websites from where you can get such design elements. Some of them offer everything for free. Some will require you to pay for anything that you use from their collection. Finally, there are some providers who will offer both free and premium resources. Freepik belongs to the third category. It is a Freemium service.
Some of the resources you find on Freepik are free to use while the others must be paid for. Those that you can use for free require attribution. Simply put, you need to provide credit to the authors of the graphics that you are using. If you don't want to give credits, you need to purchase a premium subscription and use the premium graphics that you can use without giving attribution.
The company says that it experiences 100+ million monthly downloads across the different platforms it has to offer.
In this review of Freepik, I am going to tell you everything you need to know about Freepik before you become a paid member of the service.
To start with, let me walk you through the pros and cons of the service:
The Pros of Freepik
Massive collection: Freepik offers a massive collection of vectors, PSDs, and photos to all its users. There are millions of components to select from. It is not difficult to find the image or graphic that you need. In case you don't find the exact thing that you need for your project, it won't be difficult to find something that fills in the gap.
A good platform to earn: If you are a designer or a photographer, you can use Freepik to earn money. Yes, you can submit your work to Freepik to be review by the editors. Once the editors approve the work, you can start submitting more content and earn whenever someone purchases one or more of your works.
Neat categorization: Freepik has used a neat category structure. All the elements or resources that you can find on Freepik are broadly divided into four categories that include Icons, Stock Photos, PSD Files, and Vectors.
Each broad category, in turn, has multiple sub-categories. These sub-categories help in narrowing down on the search. Overall, the navigation system used by Freepik is quite user-friendly.
The Cons of Freepik
Limited for Free Users: If you don't want to become a paid member of Freepik, that's fine. However, you need to know that as a free user you will have the choice of registering or not registering with the site.
If you decide not to register, you can download only three resources a day. With registration, this limit increases to 10 resources a day.
Bad customer service: Another big issue with Freepik is the customer service department. Hundreds of users have complained about the rudeness of the support staff. The customer support is quite unreliable, and some users have complained that their credit cards have been charged even though they cancelled their subscription. This is can be a terrible turn-off for anyone.
Contributor model sucks! Many contributors have complained that the model that Freepik uses is not particularly good. Some have spent months creating graphic resources only to end up earning only cents! Of course, there are complaints that the publishing standards are often too high, barring many contributors from getting in!
Freepik Terms of Use
As a user if you don't read the terms of use properly, it can be extremely devastating. First thing first, if you are a premium customer, you need to know that you can use a premium resource that you download only once on a project.
You cannot use the same resource again and again. So, the next time you need to use the same graphic or resource, you must either find an alternative or find some other website to get what you want.
This problem doesn't exist with other websites like Adobe Stock photos or Envato Elements that allows you to use the same photo or resource repeatedly.
Yet another restriction is that if you are using the resources from Freepik to create a design that you want to mass sell, you cannot use the Freepik graphics as the main elements of your design. You can use them as background elements.
Finally, you cannot trademark anything you download from Freepik! If you do so, you will get into serious troubles.
Thus, before you start using Freepik as a premium user (or even as a free user), make sure that you are going through the terms and conditions properly. Failure to comply can lead to legal tussles.
Download Limits with Freepik
Just because you become a premium member of Freepik, it doesn't mean that you get the right to download as many resources as you want in a single day. For free members, there are obvious download limitations that include:
For non-registered free users only 3 downloads a day is allowed.
For registered free users only 10 downloads a day is allowed.
For premium customers, the download limit is set to 100 resources a day. That's quite a terrible restriction, to say the least! This shouldn't be happening, especially when there are tons of competitors that will allow you unlimited downloads a day against a premium membership.
For individual users and small businesses, the limitations are fine. However, for large organizations, such limitations can be choking!
Social Interaction
On websites like Freepik (or similar competing websites), it is necessary to have social interaction. You may like the works of a particular artist and you may want to follow him or her. You may even want to be able to comment on their work to appreciate them or even request new stuff.
Luckily, Freepik allows such social interactions. Not only can you like specific designs, but also follow the artists and leave comments. However, you need to know that you must be a registered user to be able to leave a comment.
Freepik Primary Offerings
Freepik offers various types of graphics that you can download and use. Here is a quick look at each of those offerings:
Vectors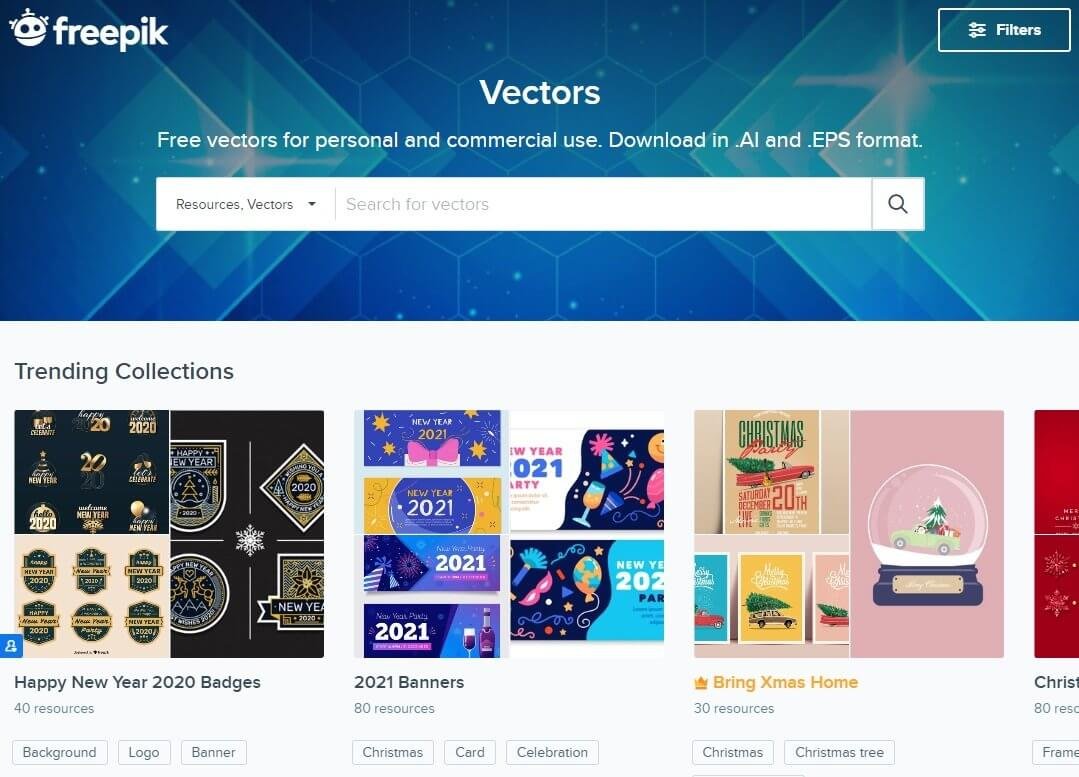 Vectors are the primary offerings of Freepik. There are well over 100,000+ vectors available in 40 categories. There's everything from animal vectors to maps, from logo templates to human silhouettes – there's almost everything that you might need.
You will get over 80,000 resources for free usage if you are giving proper attribution. For premium users, there are over three million premium resources that can be used without giving attribution.
Resources reflect great design acumen of the contributors, but of course there are various resources that look poorly designed, especially in case of icons.
Talking of icons, founders of Freepik created Flaticon in the year 2013. Ever since then, many icon searches on Freepik redirects to Flaticon where you must register to download an icon pack. Yes, even Flaticon has free download options that will limit you to only 10 icon downloads a day.
If you want to download more, you must become a premium user that will not only enable you to download a complete icon pack, but also erase the requirement of giving attribution. The premium membership will cost you €7.49 a month if you are purchasing a yearly subscription plan. If you settle for a monthly subscription plan, the cost will increase to €9.99 a month.
Stock Photos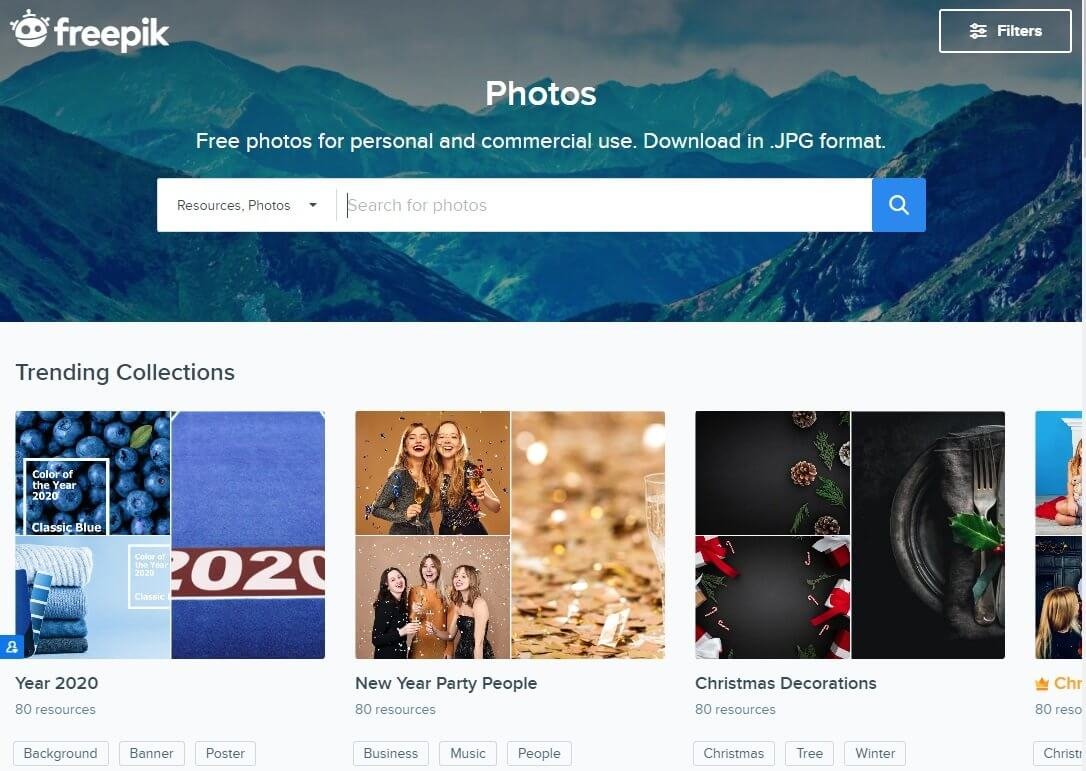 Freepik also offers stock photos. Again, it is a freemium service. Some of the images you find on Freepik are free, but you need to give attribution. This is where things don't work well for many people. I, for example, don't like to give attribution. That's the reason why I use premium stock images or I use a service like Pixabay which doesn't require you to give attribution. Attribution is completely optional with Pixabay.
Anyway, if you want to use stock photos from Freepik, you are always welcome to do that. Just remember to give the necessary attribution. Also, in case you are looking for purchasing premium images where you don't need to give any attribution, that is also entirely possible.
There are well over seven million photos on Freepik that you can use. There are 50 categories in which these images are stored, and all categories have a massive collection of images. Some less popular categories or search terms will not yield a lot of relevant images. You need to narrow down your search properly to find images that are relevant.
PSDs
PSDs are one of the most important offerings of Freepik. There are PSD templates for a wide range of subjects divided over 20 categories. Mockups, emails, objects – they have a lot to offer. Yes, the collection may not be as massive as vectors and stock photos, but they still have hundreds of thousands of PSDs. To be more precise, there are over 200,000 premium PSD files.
These PSDs are perfect for bloggers, marketing teams, editors alike. All you need to do is download a PSD, edit it to make the perfect image that you need and voila! You are done! As before some of the PSDs are free (require attribution) and others are premium (you don't need to attribute the author).
Storyset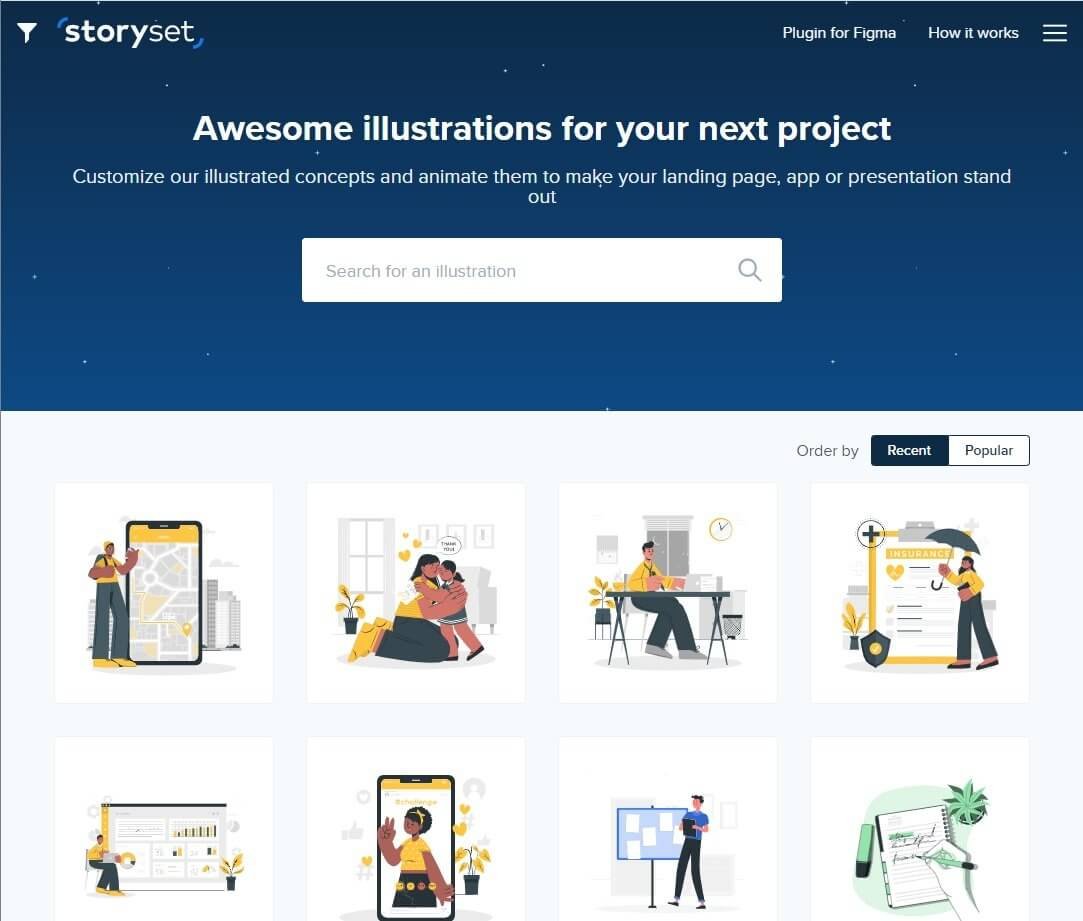 Stories are essentially illustrations. You can use these illustrations to meet your needs. Of course, you can edit the various elements like color, foreground, background, etc.
What's great is that Freepik even allows users to animate the illustrations. Adding animations is simple and straightforward. You can add animation for the entrance or exit. You can use loop animations like heartbeat, shaking, spinning, etc.
Of course, when you are adding animation, you get the chance of defining animation duration. You can also set delay for each action. The whole interface is super simple and you don't need to be an expert to use it.
Exporting the animation is simple as well. You can save it as a GIF file or a video file. You can even get the embed code if you want. The export screen also has a preview window where you can see how it looks like on a phone or one desktop.
Stories are a great way to create stunning visuals that can instantly grab attention. The only problem is that you might not get the type of illustration you want. It is basically suitable for rudimentary tasks.
If you need something super customized for your needs, you must get things done by hiring professionals. At the time of this writing Stroyset is completely free and though there is a link to Storyset on Freepik website, clicking on it takes you to a completely different site. That's good, because it allows you to focus on the task in hand.
Slidesgo
This is also a relatively new offering from Freepik that offers free editable slide templates for both Google slides and Power Point. Yes, you read it right. There are no premium offerings as of now and you can use the templates for both personal and commercial use. However, you need to provide attribution.
Freepik Editor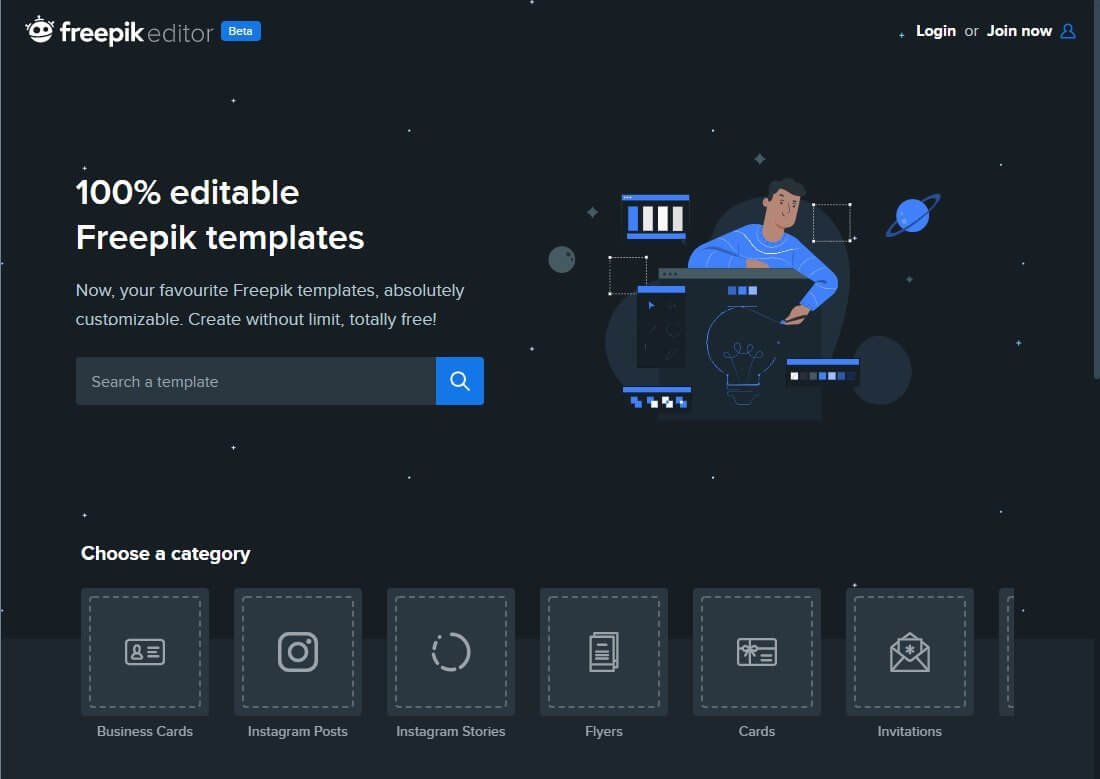 This is the final product that they are offering. It is an online editor that allows you to edit the Freepik templates to your heart's content! It is a great resource for anyone who is looking forward to create stunning visuals for online or offline use.
There are many categories to select from including Facebook covers, Instagram posts, Flyers, Cards, Logos, Photo Collages, YouTube thumbnails, and more.
The Freepik editor is currently in its beta stage and you can use it for free. Yes, it is completely free.
The whole service, if I understand correctly, is more like a competition to Canva. While Canva will allow limited free options, Freepik Editor is completely free for now. This new offering from Freepik is not as powerful as Canva.
The Freepik editor works pretty much the same way as Canva. There are premade templates that you can edit. All elements are editable. You can change color, font size and style, rotate elements, change templates, and more.
That's a cool thing!
Pricing Structure
Freepik keeps the pricing structure simple. You can go for their monthly subscription or you can go for their yearly subscription.
If you are opting for their monthly subscription, you have to pay €9.99 a month. In case you opt for their yearly plan, you have to pay €89.99 a year (at the rate of €7.49 a month).
Of course, going for their yearly plan is far more profitable, because that can lead to a significant savings over the long run.
Conclusion
Overall, Freepik is a great source if you are looking for premium graphics at a low cost. The collection is great, and some of the free resources are truly amazing. Albeit, the premium resources are great too!
If you are a designer, a marketer, a blog or a website owner, or a social media manager, Freepik is a great resource that you can use to create a lasting impression for all your readers and customers. Yes, there are hiccups and glitches here and there, and at times, their customer service can be truly frustrating. However, truth be told, I have never seen any such service (be it Adobe Stock Photos, Envato Elements, Shutterstock etc.) that gives exceptional customer service.
I will always recommend Freepik to anyone who is looking for great graphic design templates to work with. The free options available with Freepik are often enough for many, but for those who are serious, the premium subscription is a steal.