GeoGebra Review – Is it good and should you use it.
GeoGebra, a free program, allows kids to create mathematical structures and models that allow them to drag and adjust parameters. This allows them to simultaneously explore geometry and algebra (alongside other math fields). It is browser-based, and you can also download applets for your computer or mobile device.
GeoGebra gives teachers and kids the ability to create their own math explorations. There are many tools to help you do this. There are many explorations available, so the existing library covers all high school Common Core math expectations. This includes those that involve graphing and geometry. Teachers can create interactive worksheets with text, video, multiple-choice questions and simulations. Some worksheets can be interactive while others are static and only show an idea.
Teachers can quickly create class groups so that they can share their activities with children. Tutorials can be used to assist teachers in incorporating GeoGebra into an existing class site, learning management system (LMS), or other educational tool.
What isGeoGebra?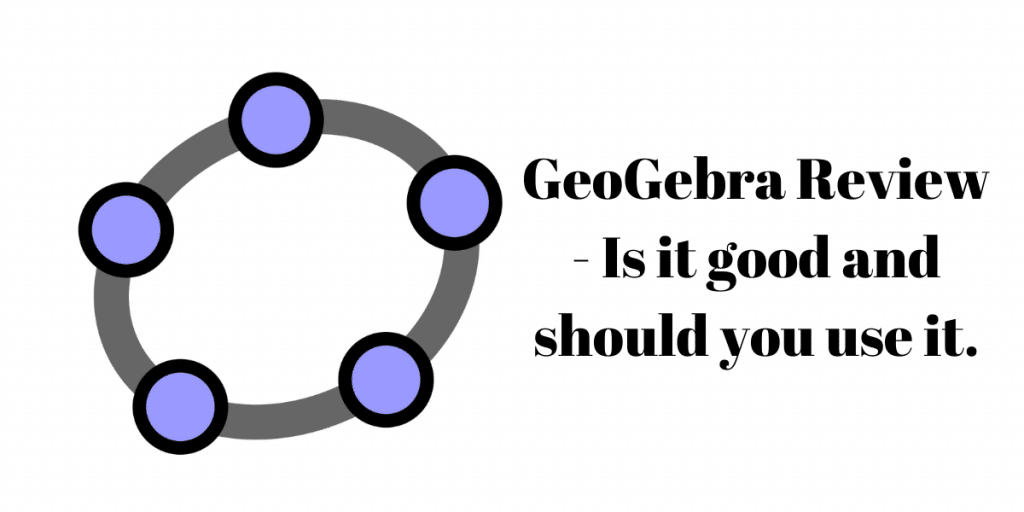 GeoGebra is an interactive mathematics and statistics application. This program is a powerful tool for teaching math, statistics, geometry, calculus, and algebra. It is available for multiple platforms, including desktop applications and tablets. It can also be used for teaching science. Users can use this software on a variety of devices, including tablets and mobile devices. There are several types of GeoGebra, such as desktop, tablet, and online versions.
Students can practice math concepts using GeoGebra's applets, which contain built-in functions and help icons. In addition, the program has a large forum with answers to frequently asked questions. For the most part, GeoGebra is easy to use, but it is not necessary to have programming skills to use it effectively. You should spend some time getting acquainted with its tutorials, and learn how to use it properly.
GeoGebra supports multiple languages, including Hindi, Marathi, and English. It is available in the Windows Store, Android, and Web. All three versions of GeoGebra can be used to create mathematical models. The graphics view can be exported in PGF/TikZ formats, which are widely used for presentations. Additionally, GeoGebra allows users to print their creations, enabling them to share them with others.
Teachers can use GeoGebra to teach students about the different kinds of shapes and functions in mathematics. These interactive applications can be used to solve mathematical problems and prove geometric conjectures. The software is suitable for both primary and secondary school mathematicians. It has a rich forum that allows users to discuss math questions. This helps educators develop better lessons and create a better understanding of the various aspects of the program. The benefits of using GeoGebra in the classroom are many.
IsGeoGebra Good for Learning?
GeoGebra offers kids an alternative to traditional pencil-and-paper math. Students can find traditional methods of building with a ruler and a compass frustrating and time-consuming. GeoGebra makes it easy and fun, provided there are clear instructions.
Anyone can create and share the resources on the site. The quality of these resources varies widely. Some don't give specific directions to students while others provide basic illustrations that illustrate a topic without interactivity. Teachers can also create interactive worksheets from simulations created by others, with their own context and helpful directions.
GeoGebra is an example of community and flexibility. Teachers have the ability to make what they want for their students. Teachers don't need to start from scratch. They can use the work of others. Teachers all over the globe are creating math simulations every day.
How to teach the difference between logistic and exponential models. One teacher shared an activity about the growth of Facebook. Do you need an analog clock that you can control? GeoGebra also has an analog clock with hands you can manipulate
Benefits of GeoGebra
The interactive GeoGebra application is a math and statistics app designed to help students and teachers learn and teach algebra, geometry, and calculus. It is available for multiple platforms, including mobile devices, tablets, and desktop computers. It offers desktop apps as well as downloadable and interactive versions of the software. It is also intended to be used for educational purposes, especially in the classroom. It is free for educational use. Users can download the app and use it on any computer with an internet connection.
While the desktop version has a user-friendly interface, it can't be downloaded to mobile devices. Despite this, GeoGebra is a great addition to the desktop version. Its tutorials and extensive questions and answers forum help teachers and students learn how to use the application. Ultimately, GeoGebra is more powerful if you can use it both in the classroom and at home. However, it's worth noting that the desktop version of GeoGebra has a limited set of functions and is therefore not compatible with the web.
Students will learn about the properties of shapes through this interactive software. Moreover, GeoGebra also supports a wide range of languages, including Hindi and Marathi. A student can use the program to create, edit, and proof geometric conjectures. It can also help students understand and apply the concepts of integral calculus, limits, and derivatives. While using this application, you will learn about the basics of mathematics and how to construct various mathematical structures.
The GeoGebra app is free to use. If you're a teacher, you can use it as a classroom tool. You can use it as an interactive worksheet to teach geometry and other mathematical concepts. It's also available for commercial entities and is open source. Regardless of the platform, GeoGebra will always be free to download and install. It can be used for free by educators and students alike. You can find more information about the company and its resources here.
Besides the benefits of free GeoGebra, the software is also easy to use and intuitive. Its customizable symbols and intuitive interface allow students to make use of it with ease. Its calculator, graphing calculator, and 3D graphics are useful for math and science education. With these features, students can learn and practice the mathematical concepts they're learning in a real-world environment. The applications can help with various aspects of STEM education.
Aside from its free version, GeoGebra also offers a free app that has many of the same features of the desktop software. It allows for active teaching with data manipulation and is available in several languages. The free version of the software is available for iPads and tablets. The desktop version is also available for desktop computers. It can be used for problem-oriented and interactive teaching. Its downloadable version has all the same features as the desktop version.