Grammarly Review – Should You Spend Money on It?
What is Grammarly?
Grammarly is a tool designed for helping people to improve their English writing skills. Be it embarrassing spelling errors or incorrect punctuations – Grammarly can spot them in real-time and provide suggestions to fix them.
Spelling errors and punctuations aren't the only things that Grammarly helps to avoid. It also reduces the wordiness of a sentence, suggests synonyms for repetitive words, and even provides a better sentence construction format.
What else? It also checks for the overuse of the passive voice. It sometimes tries to suggest sentences or words depending on the context.
Grammarly has a built-in plagiarism checker that helps in avoiding copyright issues! Overall, Grammarly is a powerful tool that can drastically improve your writing capabilities. It doesn't matter whether you are a native English speaker or a non-native English speaker; Grammarly can help you.
Grammarly is a spelling and grammar checker tool for proofreading blog posts, book chapters, articles, and anything you write in English. It is a very vital tool for students, freelance writers, and professionals.
In this Grammarly review, I will be using the premium version of the tool. That will allow me to narrate its true potential. I have been using this tool for over two years now and found it extremely helpful in my everyday tasks, like writing articles or sending emails.
Contents of This Review
Things that Grammarly can do.
Who should use Grammarly?
How to use Grammarly premium?
The efficiency of Grammarly plagiarism detector.
Is Grammarly difficult to use?
Where can you use Grammarly?
What is the cost of Grammarly premium?
Grammarly free version vs. Grammarly premium version.
Is Grammarly accurate?
Is Grammarly a replacement for a human proofreader?
The efficacy of Grammarly as a proofreader.
Is Grammarly premium worth it?
Some Grammarly alternatives.
Grammarly general FAQ.
Grammarly pros and cons.
Okay, now that you know what to expect from this review, let's start without wasting time.
Things that Grammarly can do
Grammarly is quite an advanced tool that can help in several ways. Here is a quick list of things that Grammarly can do:
Grammatical & Punctuation errors
The greatest strength of Grammarly is the detection of grammatical and punctuation errors. It doesn't matter whether those errors are basic or advanced; Grammarly can detect them in real-time as you write.
Punctuations are important! One misplaced comma can change the meaning of an entire sentence. Grammarly can identify those mistakes and provide suggestions for fixing those errors.
Spell Checks & Typos
Spelling errors and typos can be embarrassing. Grammarly helps to identify those errors and provides the correct spellings so that you can fix them with a single click.
Writing Style
The writing style is important, specifically when you target a particular set of audiences in a specific genre. Depending on your settings, Grammarly can provide real-time insights on several things like sentence length, readability score, etc.
Grammarly allows you to set the goals and then provides suggestions depending on your settings.
Plagiarism Checker
When you are writing an academic paper or an essay or a medical paper, you need to be extremely careful about plagiarism. Those writings need to be 100% plagiarism-free. The same applies to blogging!
You just cannot copy-paste stuff from other websites. You must check your copy for plagiarism. Grammarly's plagiarism checker can help you achieve that by comparing your copy with millions and billions of resources online. In case of any match, the tool will highlight it and even show you the original source.
From what I have seen so far, the only plagiarism checker that can throw a challenge to Copyscape is Grammarly.
Who should use Grammarly?
Anyone who writes in English should use Grammarly. Even if you are a native speaker, Grammarly can be your second line of defense.
What's great about Grammarly is that it will allow you to select American English, Canadian English, British English, Australian English, and more. Grammarly will proofread your document according to want you select!
If you want a more specific answer to the question, here is a list of categories of people who should use Grammarly:
Bloggers
Freelance writers (copywriters and content marketers)
Students
Professionals (who need to draft social media posts, presentations, reports, emails, etc.)
Authors
Academics who need to check their work for plagiarism
Grammarly is all about ensuring that your writing is accurate. It really doesn't matter what you are writing. You may write a book or a blog post, an academic paper, or your school homework! Grammarly can check anything that is written in English.
How to use Grammarly premium?
Once you create a Grammarly premium account, you can log into your account to see the dashboard, which looks like this:
Once on the dashboard, you can upload a document (word document) or click on New to open the Grammarly editor. Even if you are uploading a document, it will still open the editor. Once on the editor, you can set goals or check the content for grammatical errors and other errors.
Goals essentially refer to different writing styles. Depending on what you set, Grammarly will give you suggestions to improve your writing style. Essentially, depending on your goals, Grammarly will adapt to your writing skills and then provide suggestions for improvement.
This is how the Grammarly editor looks like:
By clicking on the Goals option on the righthand side, you can set make Grammarly adapt to your writing style. Once you click on Goals, this is what you will see: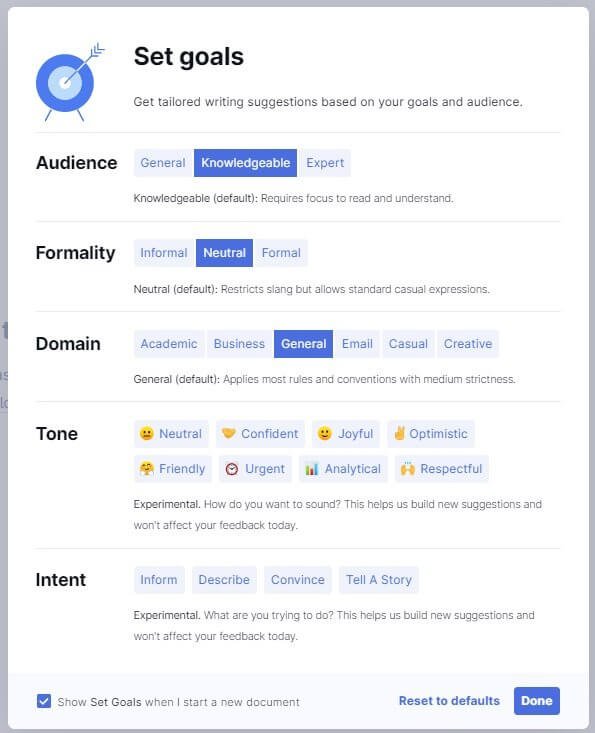 All options are self-explanatory. Click around on each option to understand what Grammarly will do when you set that option. This is a vital element of the Grammarly tool.
Depending on the goal you set, Grammarly will provide insights. These settings are particularly important because every piece you write might have a different intent. Unless Grammarly understands your intent, it cannot give proper suggestions.
Different ways of using Grammarly
You can use Grammarly in different ways. Here are four different methods of using the tool:
Copy & Paste into Grammarly Editor
The simplest method is to copy and paste the content you have written into the Grammarly editor. Once you do that, Grammarly will start analyzing the content and look for errors and suggestions.
Write directly into Grammarly Editor
You have already seen how the Grammarly editor looks like. You can start writing in that editor directly. Doing so will help you to get real-time suggestions as you write.
Install Grammarly on Microsoft Word
Grammarly has a plugin for Microsoft Word and MS Outlook. You can install the plugin and use it directly in those apps.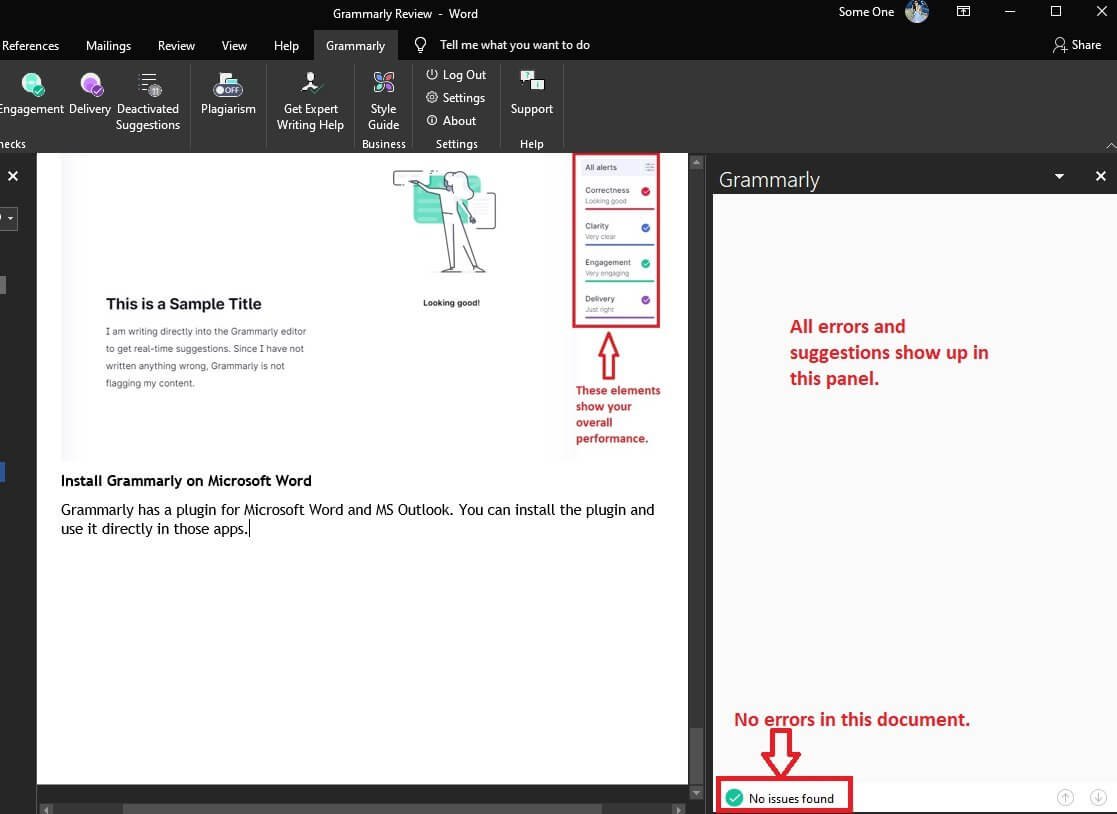 Install Grammarly extension on Chrome
You can install the Grammarly extension on your Google Chrome browser. Once you do that, Grammarly will check your writing if you are typing anything on the web (for instance, on WordPress editor, Gmail, UpWork, Amazon, YouTube, etc.).
If you want, you can install the Grammarly keyboard on your phone. You can also get a dedicated Grammarly app for your iPad. Here is a quick list of all apps that you can use:
Suggestions by Grammarly
Irrespective of how you use Grammarly, the tool will show you the mistakes or suggestions to improve your writing. These suggestions show up a few seconds after you write something or copy-paste something. Here is a quick example:
The error reporting or the suggestions show details of what went wrong or what can be done to improve your writing. This is particularly helpful if you are a non-native English writer. It can help you improve your grammatical skills.
It is absolutely not necessary that you have to accept all the suggestions that Grammarly provides. You can selectively keep or discard those suggestions.
The example above warns about a misplaced comma, which separates the subject and the verb in the sentence. That's an error, and you must accept the suggestion.
You need to understand that everything Grammarly suggests is not necessarily a good fit. You have to exercise your judgment to understand the context and the necessity of the words you are using.
Don't forget that Grammarly is a tool that uses some sort of algorithm. It can never match your judgment. All suggestions you receive are essentially picked from the long-established rules of written English.
This, however, never means that you cannot break or bend certain rules of writing. Especially when you are writing something creative or telling a story or drawing a reference to something, not everything that Grammarly says is right!
That's the sad part of most standalone tools that are similar to Grammarly.
In general, Grammarly will provide insights on the following:
Spellings
Typos
Vocabulary (suggest synonyms for words that you repeat quite often)
Active/passive voice checks
Sentence structure analysis
The tool will give you a readability score by examining your writeup. The lower the score, the more difficult it is for a person with a low education level.
The efficiency of Grammarly plagiarism detector
Grammarly comes with a built-in plagiarism checker that can check your copy with millions and billions of copies online to find out what has been copied intentionally or unintentionally.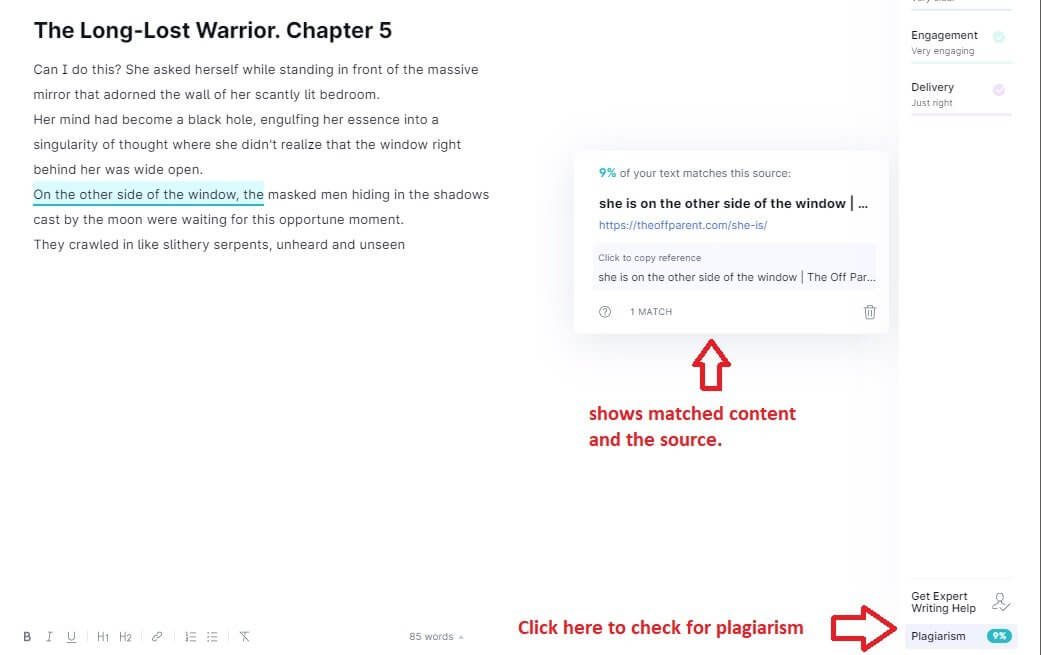 You can always rewrite the segments. It is not necessary that you intentionally copy something from somewhere. Just a random and general-use sentence can show up as plagiarized content.
If you are writing for your blog, the acceptable range for plagiarized text is 0% to 10%. Some say that the range should be 0% to 5%. I prefer it to be less than 5% always. It is virtually impossible to eliminate plagiarism because there are common phrases that many people keep using time and again!
The plagiarism checker is particularly important when writing an academic paper or reviewing a peer's work. It is also important for college students who may think that they may become victims of heavy citations from other sources.
Unfortunately, Grammarly's free version doesn't have the plagiarism checker tool. You will need the premium version to use this feature.
From as far as I have seen, Grammarly's plagiarism detection tool is as good as Copyscape. Bloggers and copywriters must have heard of Copyscape because it was the go-to tool for checking plagiarism for a very long time.
Many more have come up ever since, and today, you can use many free plagiarism checkers. They are not as powerful as Copyscape. Grammarly has been a late-comer in this department, but it does a better job than Copyscape.
While Copyscape tends to ignore several commonly used phrases, Grammarly picks up everything.
It is indeed one of the finest plagiarism checkers I have come across in my 12 years of blogging and copywriting career. I can say with absolute certainty that Grammarly will help you avoid plagiarism issues!
Is Grammarly difficult to use?
Did you feel like that? I have explained how Grammarly works and the different ways in which you can use Grammarly for checking your text. I find it absolutely easy.
However, there is one problem that I mentioned earlier. There are times when you have to use your judgment. There are times when it fails to understand the intent or the context.
That is where your judgment comes in. You should not blindly accept everything Grammarly has to suggest. That's foolish!
If you are not a native speaker of English, you may feel compelled to accept all suggestions, but you shouldn't be doing that! That's never an ideal thing to do.
As far as difficulty is concerned, no, Grammarly is not difficult at all! It gives real-time suggestions so that you can fix your mistakes as you write.
Because it works with Microsoft Word, Google Docs, and any other online editor, it is very simple to use. Suppose you are not comfortable with Grammarly showing suggestions and errors frequently; you can turn it off from that editor and write normally. Later, you can copy and paste the text in Grammarly editor or turn on the Grammarly plugin/extension to check the entire document at once!
It is your choice, and it should not be difficult!
Where can you use Grammarly?
Grammarly works almost everywhere. If you are using a desktop, you can get desktop apps. If you want to use Grammarly on your mobile phone, you can do so using the Grammarly keyboard. The keyboard tool is free. You don't need to purchase Grammarly premium to use the keyboard tool.
Grammarly also throws in a browser extension for Google Chrome so that you can use it with online editors like Google Docs, MS Office Online, etc.
There are add-ons available for MS Office Word and MS Outlook. They have a separate web app as well that works very much like Google Docs.
It doesn't matter whether you are using a Windows desktop or a Mac; you can get separate apps for them. You just need to install them on your computers, and voila!
The good thing about Grammarly is that if you are using the desktop app or the web app, the documents you create remain synced. So, if you are creating, say, Document A using Grammarly's web app from your office, you can access the same document from your home PC. The only requirement is that you use the same Grammarly account that you used in the office.
What is the cost of Grammarly premium?
Grammarly has different pricing plans. Here is a quick list of all pricing plans available for Grammarly:
| | | |
| --- | --- | --- |
| Billing Cycle | Grammarly Free | Grammarly Premium |
| Monthly | Free | $29.95 per month |
| Quarterly | Free | $19.98 per month |
| Yearly | Free | $11.66 per month |
You will get the cheapest price if you purchase Grammarly on a yearly billing cycle.
Grammarly Free vs. Grammarly Premium
There is no denying that any premium service will give extra features compared to its free version. Of course, certain services offer only a few extra features for their premium versions. Grammarly, on the other hand, severely restricts the number of features available with the free version.
The free version offers only basic writing suggestions that include spell checks, grammar checks, and punctuation suggestions. That's all!
The premium version, on the other hand, will provide several additional features that include:
Tone adjustments.
Synonym and word suggestions.
Inconsistency fixes for punctuations and spellings with advanced feedback.
Fluency improvements.
Sentence rewrites to improve clarity.
Improvements in the formality level.
Inclusive language.
Trust me, everything matters, especially when you are writing academic papers or telling a story. Not just that! Will you prefer sending an official email with informal words and phrases? For instance, will you write something like this – "Is there anything else I can do for u?"
Definitely not! Grammarly will help you polish your writing skills.
Is Grammarly accurate?
When Grammarly identifies an error in your text, it will highlight the error. When you click on the error, Grammarly will explain the problem, and it will give you a potential solution to that problem.
Here is a live example from this writeup: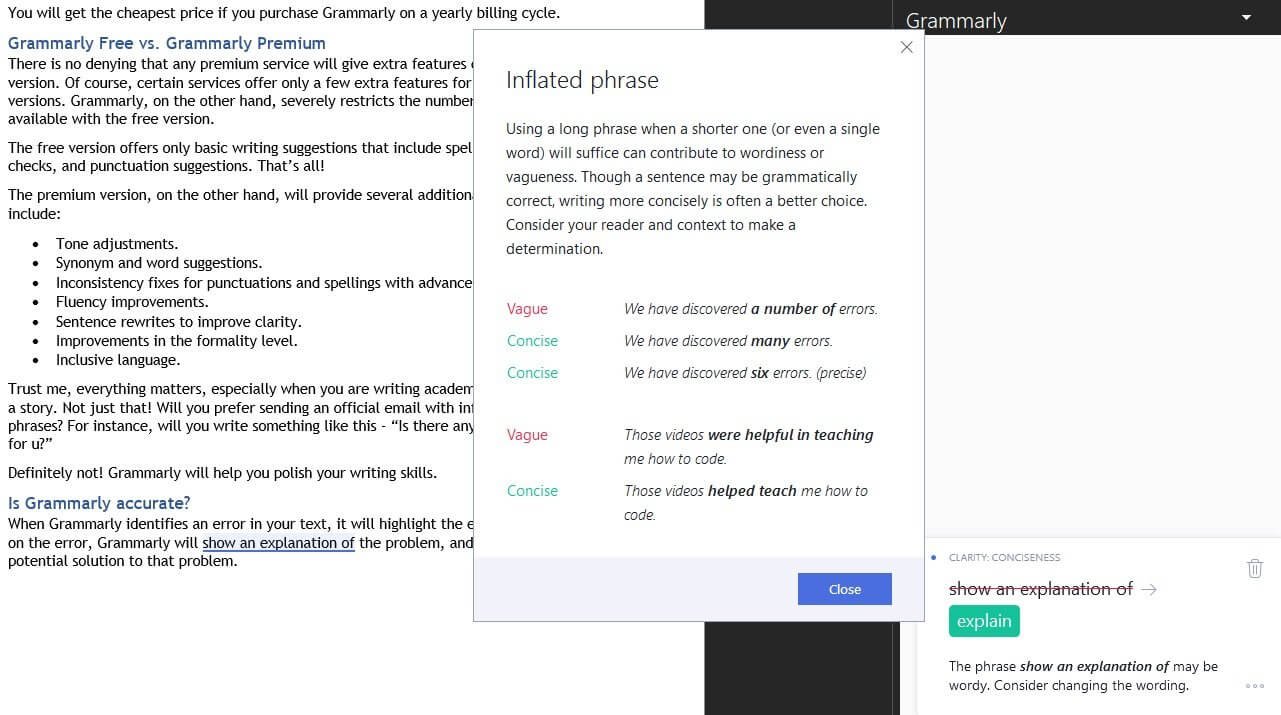 Over months of use, I have figured out that I have some nasty habits, and I just can't get over them. Here is what I usually do without Grammarly's aid:
I use repetitive words.
I write wordy sentences.
I get confused with prepositions.
I often end my sentences with prepositions.
Sometimes, I use commas incorrectly.
I often end up writing long sentences that are difficult to understand.
Sometimes, I misplace apostrophes.
There are times when I excessively use passive voice.
Oh, I use squinting modifiers quite often!
So, what exactly are squinting modifiers? Check this example:

Is Grammarly a replacement for a human proofreader?
The simple answer to this question is, "No!"
You need to understand that programmed software is different from a human being who is a proofreader.
It overlooked many of my mistakes, especially in my creative writing and fiction aspect. It may be because fiction is far more difficult to understand and correlate than non-fiction.
You can, however, shell some extra bucks to check your document with a Grammarly's proofreader.
If you want to just check on the clarity, you will have to go for one of these options:
Or if you want the proofreader to check for the clarity and the correctness of your English, then you will have to choose one of these plans:
If you have enough money or too little time to spend on Grammarly, it is always better to just print out whatever you have written and get it proofread by some person.
Simply put, rely on Grammarly only when you have shorter pieces of text and want to check some common grammar mistakes.
The Efficacy of Grammarly as a Proofreader
The question looms on almost everyone, especially on a non-native speaker and writer (like me). Some of them may think that whatever Grammarly suggests is correct, and it is the gospel of truth.
It helps scan your drafts looking for words like "centre" or center, or "realise" or realize.
Here is a small example when the preferred language is British English:
And here is an example when the preferred language is American English:
Grammarly can be used for both American English and British English (and even for Australian and Canadian English). So, you can use Grammarly to check your grammar and spellings of the words in both British and American English.
However, it is necessary to have skills in understanding or writing English to even use Grammarly.
You have to remember that Grammarly is just a tool to learn English grammar and spellings (to an extent). It is not a replacement for a teacher or a human proofreader.
Is Grammarly Premium Worth It?
As I said earlier, if you have enough money to spend on a tool that checks grammar, Grammarly is one of the best tools to lay your hands on.
But if you are a student or a budding writer, you can install its free chrome browser extension and use it.
You can also download the free version of Grammarly from other platforms like Safari, Firefox, Edge, etc.
Just like me, you can use Chrome or other platform's extension to check what you mail or post on social media.
I will repeat – digital tools for checking grammar is great, but not always perfect. If you can find a person who can proofread your article, document, or essay of yours, then just go ahead.
But for your daily tasks, small blurbs, and blog posts, Grammarly premium is a great tool. Not only will it help to improve your overall writing skills, but it will also help you check for plagiarism in your text.
Some Grammarly alternatives
Grammarly is not the only grammar checker in this world. There are several other options available. Here is a quick list of three great alternatives you can work with:
Linguix is one of the biggest competitors of Grammarly. It is gaining traction. The application works pretty much the same way as Grammarly. However, its premium version lacks the plagiarism checker tool for now. It is much cheaper than Grammarly. You can get a price of $8 a month if you are looking for a yearly payment plan. It is great if you write directly on various websites, particularly if you are working with WordPress.
It is one of the most powerful options you can find. It will give detailed reports on all grammatical errors and even runs readability analysis on your writeup. It also gives word suggestions and works with both Windows and Mac. You can integrate it with Google Chrome, Google Docs, Open Office, Gmail, MS Word.
This is a great alternative to Grammarly because of many reasons. It will check your grammar and spelling and allow you to run plagiarism checks. They even throw in a translator that can translate your text into several languages. It is cheaper than Grammarly. If you want a web version, you can get it for $5 a month. If you want to install it on your computer, you can get it for $6.66 a month.
If you want more, here are a few more options:
Grammarly general FAQ
Does Grammarly cost any money?
Yes, it does. But it also has a free version for you to use. You can check your grammar using the free version. However, the free version will restrict you to basic grammar. The premium version, on the other hand, gives other additional tools. The premium version will cost you $ 29.99 a month if you are going for a monthly subscription. You can save a lot by going for a yearly subscription; the cost will come down to $11.66 a month.
Can I get the Grammarly premium for free?
No, you cannot! Only if someone provides you the access to their Grammarly premium account you can use it for free. There is no other way to get the premium version for free.
Does Grammarly Really Work?
Yes, Grammarly works. It points out the grammatical mistakes and explains the reason behind the mistakes. In most cases, it suggests fixes as well.
Both free and premium versions work perfectly well.
Is Grammarly Safe?
Yes, Grammarly is safe to use. Whatever you write is backed up securely and is also encrypted. You won't face any security or plagiarism issues. Just ensure that you are running everything you write through the integrated plagiarism checker.
The business version of Grammarly is CCPA and GDPR compliant.
Does Grammarly Work on a Mac?
Yes, Grammarly works with Mac. You can download the desktop version and use the app. You can also use the Chrome extension. If you want to use Grammarly on iOS devices, you can use the Grammarly keyboard.
Is there a money-back guarantee?
Yes, there is a money-back guarantee. You can ask for a complete refund within 10 days of purchase. You need to contact their support team and ask for a refund. They will issue a refund without question.
Grammarly Pros and Cons
Grammarly is a great tool, but that doesn't mean that it is free of flaws. There are flaws, and there are strengths. In this segment, I will lay down the list of pros and cons. Read on…
The Pros
An excellent tool to spot grammatical issues.
A great tool for bloggers, writers, and authors.
An excellent helping hand for non-native English writers.
Allows easy switching between US, UK, Australian, and Canadian English.
Supports various platforms and browsers (through extensions).
Gives suggestions based on goals and intent.
The Cons
The monthly price of $29.99 is big. Many people might not find it suitable.
Some suggestions don't work because the tool cannot understand the intent properly.
It is never a replacement for a human proofreader.