Hayu Free Trial & Does Hayu have a free trial?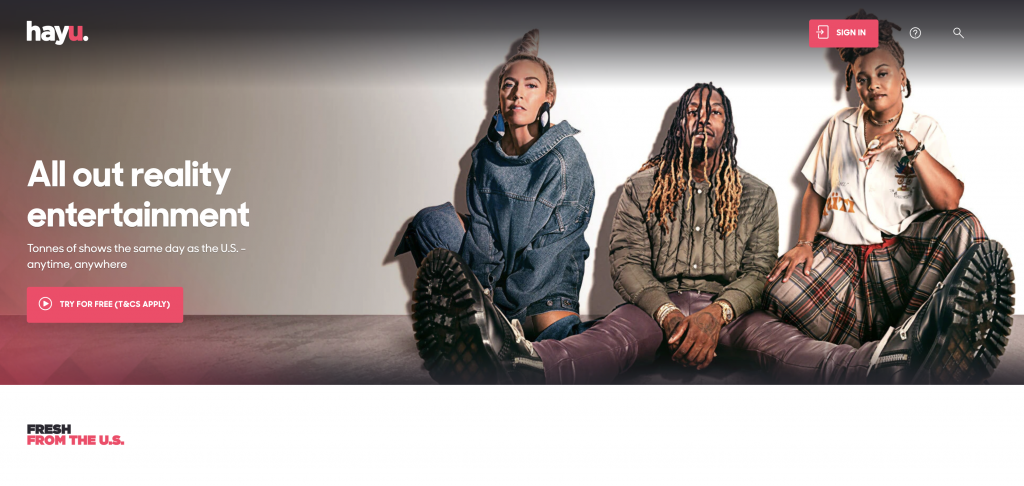 What is Hayu?
Are you a lover of reality Tv, drama and true crime shows? Do you want to watch unlimited shows without breaking the bank? Hayu pronounced as hey you could be the answer to your problems. If you have faced the problem of not finding some shows on netflix or amazon prime video then Hayu got you. It is a subscription channel dedicated to reality TV shows that was created back in 2016. This platform caters for all you drama shows wishes from keeping up with the Kardashians to the real housewives franchise. Basically there is something for everyone and every taste with Hayu. It is a subscription based video streaming service with over 250 reality shows and is owned by American network NBCUniversal.
How can I watch Hayu?
Hayu subscription costs around £4.99 a month and you can cancel the subscription at any given time. You can watch Hayu at the Hayu website, and on many different devices.
Devices you can watch hayu on are; android and iOS mobile devices , intelligent tvs like samsung, amazon fire tv, google tv, chemo cast , apple tv, chromecast, NOW, fetch tv, ziggo tv, hisense, viaplay, kindle fire, bell tv and the telus optik tv.
The company also has an offer of a free 30 day free trial whereby you can try before you decide to buy.
How does the free trial work?
Hayu has an offer of a free 30 day trial and you can decide to pay for the next subscription or cancel your subscription by logging into your account and canceling the subscription easily.
You can get the hayu free trial directly from the hayu site. Go straight to the site and get one month free
You can also have hayu free trial on amazon channels for one month. You get 30 days of Amazon prime included. You can stream all the hayu content on the prime app . It is easy to cancel since you have control over what to cancel, be it Hayu or prime.
It is also found on NOW TV from sky as a one week trial pass. You can watch the hayu through the NOW TV app.
What is the cost of Hayu?
If you subscribe to hayu via the site hayu.com or the mobile applications the price of hayu varies within the different countries. If you are a new hayu subscriber then you will get a free trial and the subscription is as easy as the cancellation. Hayu is found in several countries and is available in english. Below are the Hayu rates in each country.
United kingdom: £4.99 per month
Australia AUD $ 6.99 per month
Canada CAD $5.99 per month
France : 4.99£ per month
Norway: NOK49 per month
Sweden: SEK49 per month
These rates also depend on the country's tax policies. There is no contract needed.
How do I use Hayu?
After signing up for hayu, go to the home page and you will see featured shows.
scroll to see what shows are being featured, the various categories and also those that are fresh from tv.
You can watch those that are recently added and more
Click on read more to see the description about the various shows and you add it to my shows for future reference
Select the episode and watch
You can also search for genres and actors and read more about them in the description details
There is the my account category at the top to access your account details and payment methods
Is Hayu Tv worth it?
If you love drama, reality tv and true crime shows then hayu is for you. You can binge watch all your favorite shows be it million dollar listings, top chef, keeping up with the kardashians, you name it all.
Other shows listed in Hayu are flipping out, shahs of sunset, bad girls club, don't be tardy and jersey shore. Such an interesting site to use. For the price offered , it is completely worth it. It has over 250 reality shows, over 6500 episodes of cooking, dating and true crime documentaries. Many of the US shows are available on Hayu just hours after the premiere in the US.
We are here for the drama. Who is back, who has power, who has expensive taste and properties. It takes less than one second to start playing in Hd and quality remains constant whether on iOS or android. It is compatible with all devices. It is also very easy to use.
It is important to note that you can use your hayu account only on one device at a time.
It is simple to use, affordable and has a wide range of shows. If you are a fan of such hayu content then be sure to never run out of something to binge watch.
Hayu also has a download feature that makes it great for mobile services. Simply download your favorite show and enjoy it later or even on your way home without burning through your mobile data.
Final Hayu verdict.
Who doesn't love drama after having a long day ? Watching grown women fighting over who stabbed who's back or over a guy sound like a plan after a long day. Even with the ongoing pandemic and cases where self quarantine is needed, hayu got you. You can binge watch from old shows to new shows, from the 19 seasons of keeping up with the kardashians to million dollar listings. Who doesn't love a good binge day?
Hayu is a good place for shows and the subscription is totally worth it, tons of shows at an affordable fee and good deals and staying glued to the coach for the drama.
How to contact Hayu
They provide good customer service and assistance incase of troubleshooting, latest offers, payment issues, managing your account and getting started at Halu via their team at support@hayu.com . You can also find them at @hayuhelps, also via facebook and instagram at Hayu.
Hayu makes a great companion to services like netflix.