Top 15 Best TV Shows on Netflix to Watch Right Now
Are you lovesick and want to see a rom-com or a horror movie? Netflix has got everything for you. You get endless options to watch on Netflix, but how is the season you played worth watching for hours?
If you want to spend your weekend bingeing on hour-long TV series and you are confused about where to start watching, then don't worry because we have gathered the best picks for you. Here are the top 15 recommendations to watch right now on Netflix.
Bridgerton
Right after the first season's release, Bridgerton successfully became the most viewed TV series on Netflix. The Bridgerton was a massive successful production of Shondaland. Now, Season 2 is around the corner, and we are eagerly waiting to stream it.
The season's focus was on romantic regency in London"s elite society in the 19th century. The Bridgerton is like a blend of Gossip Girls and Pride & Prejudice and includes the possession for love, matchmaking, and political alliances.
Good Girls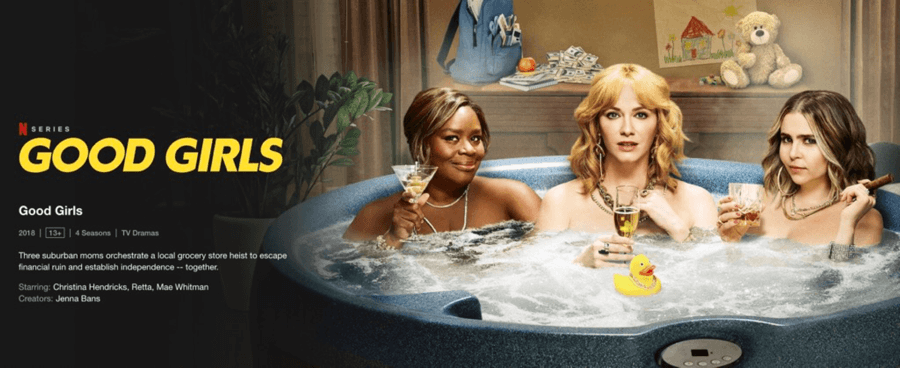 The final season of Good Girls is now streaming on Netflix in which you learn through the experiences of a middle-class mom with a low income. It will make you laugh and sad at the same time. You will feel the character's pain, and you will be stunned by how she gets into criminal antics.
Good Girls is a power-packed TV show with drama, action, and comedy with a big cast, like Christina Hendricks, Mae Whitman, and Retta. No wonder, Good Girls is one of the most popular shows on Netflix. So, girls, don't wait anymore and stream Good Girls on Netflix.
Emily in Paris
This is the story of an American girl who works in a marketing firm in Chicago and moves to Paris to work. The story revolves around her clash with Paris culture and lifestyle. She had to face a highly judgemental boss and co-workers, and at last, she found a way to impress them all.
Moreover, you will get to see Paris's beautiful streets and lifestyle with a twisted love triangle that will you fall in love with the show. Mon Dieu, Emily in Paris is a must-watch!
Squid Game

It is impossible that you haven't heard anything from your friends about the squid game. The record-breaking Korean show left everyone in shock by becoming the most-watched show in the history of Netflix in just a week. Squid game is a thriller show with many plot twists.
Players were invited to play childhood games to win a tremendous amount of money. But, the actual plot was that if you get eliminated from the game, you will be eliminated from real life. Once you start playing, you can't find a way to quit. It is a complete package of love, friendship, pain, fear, and loss that you surely don't want to miss.
Hellbound
Hellbound was released after the squid game and got hyped in a short time. Korean show fans were going crazy about the show, although it consists of six episodes only. The hellbound genre is very different from old TV shows. You will get to watch adventure, thriller, mystery and a little bit of horror.
The main plot of Hellbound is about people who have committed a crime in their lifetime. Many people start to get a prophecy from an angel, telling them about their day of judgment for their sins and time of death. It is indeed fascinating how people try to save them from death and escape.
All of Us Are Dead

There are already massive hits on the undead, such as Train to Busan and Kingdom on Netflix, and viewers love them. Now, Netflix is back with another undead zombie story, "All of Us Are Dead." The genre of the show is the outbreak of the zombie virus.
The outbreak started from the biology lab of a high school that spread among the students and took over the city. The series has teen high school leads trying to save themselves from getting bitten by zombies. Will they be able to make it out of school alive? Well, you have to see it for yourself.
Never Have I Ever
Do you love to watch high schooler teen stories? You do, and who doesn't love to watch some high school fashion, fights, friendship trio, secret crush, and love stories? Never Have I Ever is about an Indian girl named Devi who lives in America.
Devi is grappling with the loss of her father, and she also has to go through bullying in school. The story revolves around Devi's introduction to love, and she falls in love with two boys simultaneously. The show offers a juicy love triangle that you will enjoy watching.
You

YOU is a three-series TV show that revolves around a man named Joe Goldberg, a librarian and a hopeless romantic psychopath. A psychological thriller series filled with mysterious deaths, YOU is the story of a psychopathic lover who is no less than a walking dead.
Eventually, the story changed when Joe and Beck fell in love. They thought they were compatible and married, but the story doesn't end here. It has just begun, wants to know what happens next? Go and watch YOU on Netflix now.
Money Heist
Alex Pina's Spanish story Money Heist has our heart. Money Heist is the story of the biggest robbery in the history of the world. The lead actor, the Professor, makes the team and executes a plan to rob billions of Euros from the Bank of Spain. The plots, plan, mystery, love, and a crazy heist make it worth bingeing on Netflix.
The brilliant team and a mastermind leader convert impossible into possible, but here's the plot twist, the teammate gets caught. Another heist was planned to get their mate back, and this time it's not Euros. It's tons of pure gold. If you haven't watched Money Heist, you are missing on a lot.
The Witcher

Geralt of Riva is back with season 2 of Witcher, and it was worth the wait. Geralt, a Witcher that kills demons, took a hefty duty on his shoulder to protect the Crown Princess Ciri. There is a timelapse of Ciri from childhood to adulthood in a show.
Ciri has magical powers, and many people want her to take control of her power. You will love the action in season 2 of The Witcher as Geralt kills many GCI monsters. Will he be able to protect Ciri? Log in to Netflix to know the answer.
Love is Blind
Do you think love is blind? That's true, and love can put a blindfold on your eyes sometimes. Love is blind was recently released, and everyone is talking about it. Everyone wants to know the person or see the person before starting to date, and this is the whole story of the show that makes it the talk of the town.
Vassena and Nick had an experiment where they gathered single men and women to meet each other for the first time. It is interesting to watch how they fall in love and get married after the interaction. Everything is fair in love, and we'll find out what love is all about in this show!
Viking: Valhalla

After a year of our favorite TV show, The Vikings, another story has come back on Netflix, and people love it. The story is about Norsemen and Norse Women, a sequel to Viking regency. It is set centuries after the real show of Vikings, and the story evolves when Leif Erikson steps into North America with his sister, who failed to rule the British throne.
You need to watch out for Valhalla if you love to see sexy bearded Viking warriors fighting against each other with their mighty sword skills. Don't miss watching the action-packed history of Viking regency and friendship.
The Walking Dead
The Walking Dead is a dark story that will never die. The famous horror series has a total of 10 seasons. The 9th and 10th seasons are now available on Netflix and are worth bingeing. It is about the wake of the zombie apocalypse.
The series has different elements, such as fear, tears, terror, laugh, and absolute horror. The Walking Dead is a story about a group of people who try their level best to survive and fight through treacherous zombies around America.
Riverdale

Riverdale is an exciting show to watch on Netflix whose first season has a little darker side. But, the interest begins when the show gets darker and darker in every part of the season. It has a good cast and dramatic love story that will build interest with every passing episode.
Riverdale is a power pack of feelings and emotions with lots of love and pain. Currently, five seasons of Riverdale are available to stream on Netflix, and six are about to come soon. Is Riverdale worth watching? Yes, it is, and you won't regret watching it.
Inventing Anna
Inventing Anna is definitely a cherry on the top. Shondaland is back with its fantastic production around a real-life story of a reel German Heiress named Anna Delvey. Anna Delvey was a con lady who pretended to be someone she wasn't. The girl took the con to another level as she successfully conned her friends and even enemies.
She came to America and conned some of America's biggest banks and luxury hotels. But why did Anna do that? What is the truth behind becoming a fake heiress? How does Sorokin turn into Delvey? Want to find out what you are waiting for? Grab your snack and watch how Anna Delvey fooled New York City.