13 Top NFT Marketplaces to buy and sell Non-Fungible Token
What Is An Nft Marketplace?
The role of NFT marketplaces (platforms) in bridging the gap between buyers and sellers is critical. In some cases, NFT marketplaces may also provide additional tools for quickly creating NFTs. The NFT marketplace is your entry point for purchasing and selling these digital assets — from art to music to entire virtual worlds. Artists could sell their NFT artworks through specialized marketplaces, and buyers could search the Marketplace for NFTs and then place a bid on the item they wanted. As a result, every NFT creator or fan should check out the NFT marketplace list to make sure they're getting excellent discounts on artwork, collectibles, and other digital goods.
Features of an NFT Marketplace
The platform's graphical user interface is extremely similar. To store the Token, the user must first register and install a digital wallet. Once these prerequisites are met, you can build your own assets, as well as buy and sell tokens. Sellers can choose between a fixed price bid and an auction on marketplaces. You might be able to set the commission size for subsequent token sales on the site.
When a digital asset is listed for sale, a transaction is created in the merchant's wallet to initiate a trading smart contract. If pre-moderation is enabled, tokens are made available to all visitors once the moderators have approved them.
List of Top NFT Marketplace
You can notice that NFT marketplaces are an integral part of the exciting new trend of NFTs. NFT marketplaces have ensured easier and flexible access to NFTs while also resolving conventional issues in revenue streams for creators. However, all the discussion around NFT marketplaces ultimately rounds up to one specific question. NFT creators and buyers would naturally seek answers to the question "what is the best NFT marketplace?" to maximize value.
Most importantly, the profound growth in many NFT marketplaces is also a notable topic of concern. Here is a list of the most well-known NFT Marketplaces that might be able to help you break new ground in the NFT landscape.
1. OpenSea – First and Largest Marketplace
In 2017, the decentralized OpenSea platform was launched. Paintings, music, domain names, virtual worlds, collectibles, and utilities are among the items on display. The site also serves as an aggregator, displaying digital items from other Ethereum-based markets such as Polygon and Klatyn.
The site has a blog, assistance, seller, and token ratings, among other features.
Ethereum (ETH) / WETH, USDC, and DAI are the cryptocurrencies accepted for payment.
MetaMask, Coinbase Wallet, TrustWallet, Portis, Arkane Network, Authereum, and 8 other wallets are supported.
Cost of service: 2.5 percent transaction commission from the seller, plus a gas commission when minting a token.
Royalties can range from 5% to 10%.
You can read our OpenSea Review
2. Rarible – A Community Owned Marketplace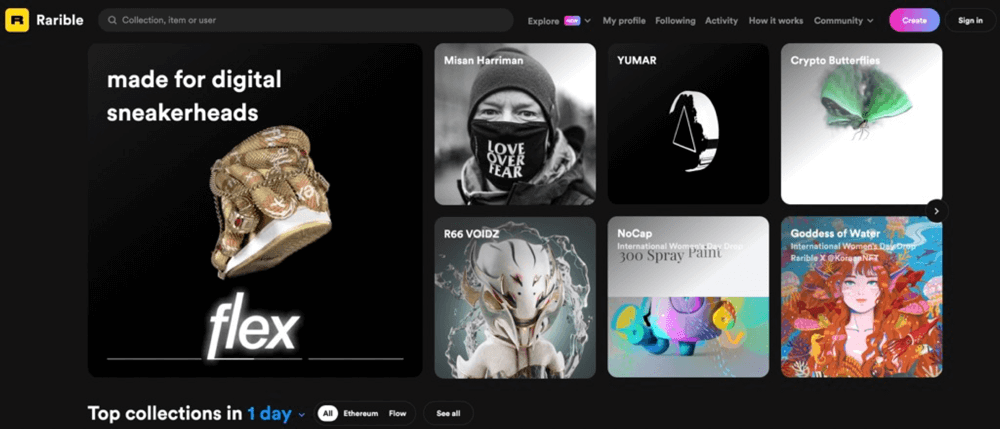 The Rarible Marketplace was founded in the first half of 2020 by Russian entrepreneurs and is based in Moscow. Collectibles are on display in the showcase. The platform will be transformed into a decentralized autonomous organization, according to the founders. As a result, platform users will be in charge and have the ability to make decisions. RARI, the first management token in the NFT ecosystem, was created for this purpose. Owners of RARI have a say in platform improvements, asset curation, and object author moderation.
The following cryptocurrencies are accepted for payment: ETH, DAI, ATRI, and RARI.
MetaMask, Gnosis Safe, Authereum, Trezor, Ledger, AlphaWallet, Argent, Rainbow, MyCrypto, Exodus, and other wallets are supported.
Service fees include a 2.5 percent transaction commission from both the seller and the buyer, as well as a gas commission when minting a token.
Royalty can range from 0% to 100%.
3. SuperRare – A Market for Unique Digital Art
Collectors are drawn to SuperRare digital art because it is one-of-a-kind and created in a single copy. Any user can register on the site, but you must first go through an interview with the site moderators before posting the asset.
A portion of the platform's management authority is delegated to community members. They can buy the $RARE token, which grants them curation and update voting privileges. For the seller, the market has a hefty commission rate.
ETH is a cryptocurrency that may be used to make payments.
Recommend MetaMask as a supported wallet.
Transaction fees of 3% from the buyer and 15% from the seller are charged as part of the service.
Royalty rate: 10%.
4. Nifty Gateway – A Platform with Support for Fiat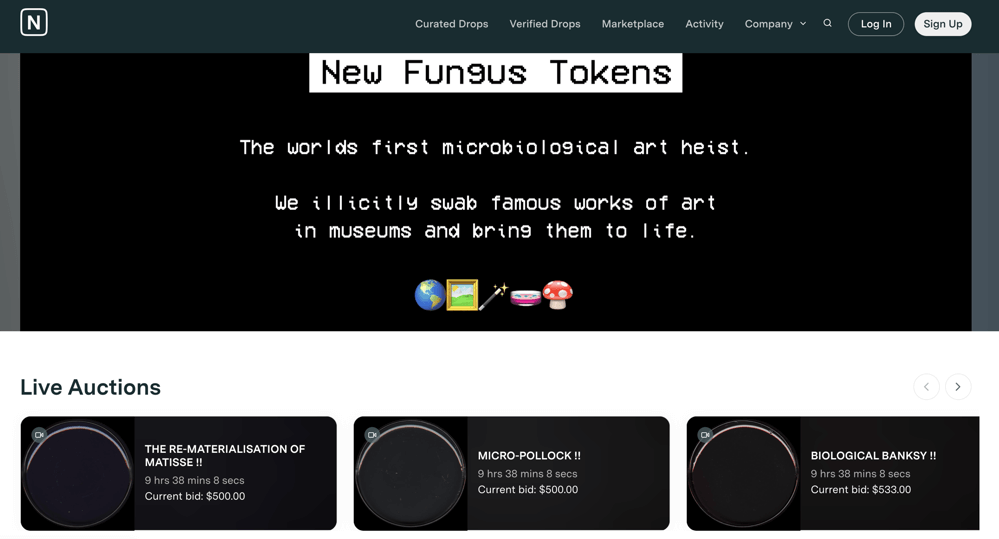 The Nifty Gateway marketplace is looking for top artists and companies to collaborate on Nifties, which are one-of-a-kind tokens available only on their platform. It is a centralized platform operated by Gemini, the largest cryptocurrency exchange in the world. Tokens can be purchased with fiat (ordinary) currency. Wallets and credit/debit cards are used to withdraw funds.
On the site, there are several NFT categories to choose from. Every three weeks or so, a new collection of assets is released for a brief time on the market.
ETH is a cryptocurrency that may be used to make payments.
The cost of the service is 5% of the transaction and 30 cents for each secondary sale. Royalty ranges from 5% to 50%.
5. Mintable – A Platform that Allows you to Mint without Gas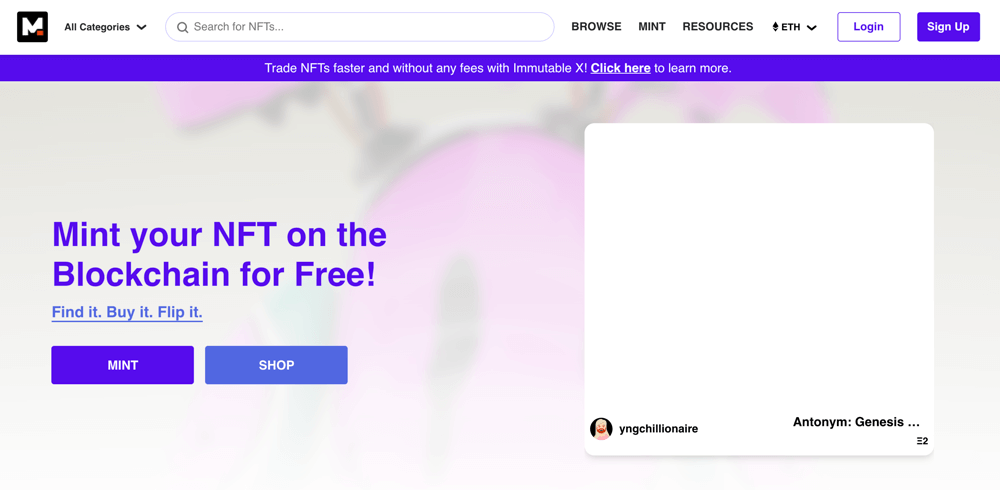 On the Ethereum network, gas is a unit of computational work that is utilized to carry out transactions or smart contracts. Authors of digital assets can establish up their own shops to sell their tokens. Paintings, memorabilia, DVDs, sports equipment, bats, and domain names are all on show here.
Cryptocurrencies for payment: ЕТН
MetaMask, Trust Wallet, and Rainbow are among the wallets that are supported.
Transaction commission for conventional items is 2.5 percent, and for gas – free – it is 5%. Royalties can range from 5% to 10%.
6. Enjin – Green Marketplace
Gaming tokens are the focus of the Enjin platform. By 2030, it intends to switch to carbon-neutral NFTs. To issue coins and prove-of-work authentication, which requires miners to solve complicated computational tasks, the initial blockchain cryptocurrency initiatives required a lot of computing power. Enjin aspires to replace the "proof of stake" approach, in which the data on the Blockchain is confirmed by a smaller number of trustworthy computing partners. Much less energy is used in this instance. Using an internal EFI token, the site is administered decentralized. Its owners have the authority to offer suggestions and vote on modifications. All payments for transactions on the Efinity network are made with the Token.
7. Async Art – A Platform with Tools for Creating Arts
Market Async art was founded in February 2020 with the goal of selling artifacts and music from well-known artists. To become an author, fill out an application on the site and wait for the moderators' approval.
A built-in Async Canvas tool is available from the developers. It can be used to sell individual painting layers. The creator creates a set of functions for the layer that the collector can use to modify it. Regardless matter who owns the art, they will be exhibited automatically.
ETH is a cryptocurrency that may be used to make payments.
MetaMask, Fortmatic, and WalletConnect are among the wallets that are supported.
Cost of service: transaction commission of 20-30% from the seller; 10% from works made using Async Canvas and Royalty rate: 10%.
8. Maker's Place – Market with Comments
The Makers place Marketplace offers original Art, videos, and music collections. A user that receives an invite and members of the Discord community can become a digital asset creator. The opportunity to post comments to the NFT is a unique function. They are accessible to anybody who visits the site.
Cryptocurrencies for payment: ETH and card payment in dollars.
MetaMask and Coinbase are two wallets that are supported.
The seller will charge a 15% transaction fee; purchases made with a credit card will be charged an extra 2.9 percent.
Royalty rate: 10%.
9. Solanart – Market on Solana Blockchain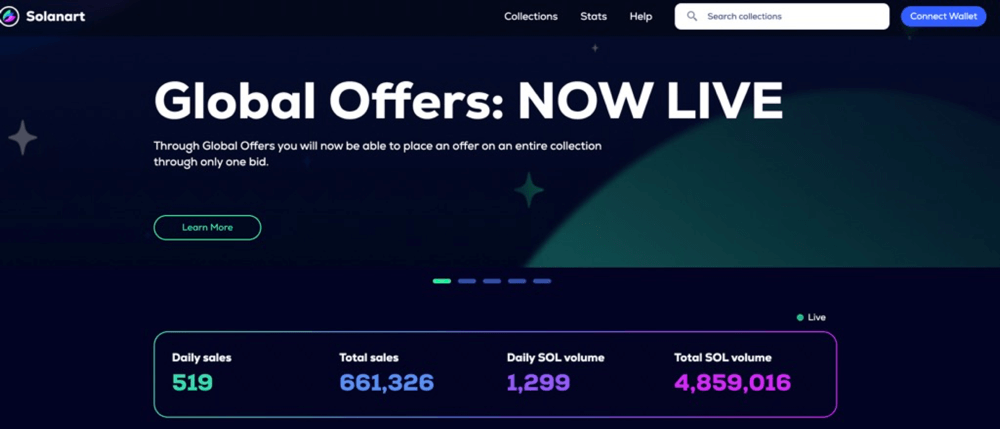 The Solanart Marketplace is powered by the Solana blockchain, which competes with Ethereum. Those wishing to create and sell tokens must submit an application by filling out a special form on the site or contact the site in the Discord community.
The market features original digital works such as SolPunks (a parody of Solana on Ethereum) and unique collectibles that are not available on other sites.
SOL is a cryptocurrency that may be used to make payments. Solana is one of the wallets that is supported. The seller charges a 3% transaction fee for the service.
10. Foundation Nft – Author access by Invitation Only
A new Foundation platform with special artwork has been launched. Token authors can only be invited users or members of the Discord community. Auctions are used to sell tokens, with the highest bidder receiving digital property. That is, the website caters to collectors.
ETH is a cryptocurrency that may be used to make payments.
MetaMask is one of the wallets that is supported.
Service fees include a 15% transaction commission from the seller as well as gas costs and Royalty rate is 10%.
11. Stack Art
Stacks Art is an NFT marketplace that uses the Stacks (STX) blockchain to secure NFTs on the Bitcoin (BTC) blockchain. Users can browse, buy, and sell digital artifacts from a range of creators on the platform. To connect to the market, they must utilize a Hiro wallet. A royalty can be made on each secondary sale by listing a collection on the platform. On each NFT secondary sale, Stacks Art will take a 2.5 percent commission.
12. Tofunft
TofuNFT is an NFT marketplace on Binance Smart Chain that allows for the purchase and trading of cryptographic art. SCV.Finance (SCV) built the technology, which can be used on other blockchains like Polygon (MATIC). When compared to the now-defunct SCV.Finance NFT market, the platform offers a better user experience.
TofuNFT is designed to meet the needs of NFT creators and provides creator teams with homepage highlights, an advanced filter and search engine, royalty sharing for teams with volumes over 50 BNB, and customer support.
13. Itam
ITAM is a Binance Smart Chain-backed NFT marketplace that allows users to trade NFTs and offers a multi-chain interoperability platform. Users may easily narrow down the things they want to buy using the marketplace's unique filtering feature. They can, for example, look for newly issued NFTs, recently sold NFTs, cheaper pricing, and so on.
Conclusion
The NFT marketplace is a cutting-edge platform for trading, selling, and purchasing digital works. With cryptocurrency's expanding popularity and value, it's safe to predict that NFT markets and the entire blockchain network will remain in demand in the long run, which is why it's so important now and in the future.