Pear Deck for Google Slides
Pear Deck for Google Slides allows teachers to create interactive lessons and presentations for their students. This tool is available in the Chrome Web Store, and provides a powerful way to add custom Interactive Slides and videos. This tool is ideal for teachers who want to keep their students engaged, while maintaining the privacy of their personal information. It also features a secure server that prevents any unwanted access to your presentation. With Peardeck for Gmail, you can set the password and login information of any student.
What is Pear Deck?
Pear Deck is an add-on to Google Slides (also available in PowerPoint). Pear Deck allows you to make your presentations engaging for students by adding interactivity. Add formative assessments and interactive questions to your presentations right from Google Slides. Pear Deck's functions can be added to a new or pre-existing presentation.
Pear Deck for Google Slides also lets you customize the layout of your presentations. The tool includes a library of professionally designed templates, with everything from opening and closing slides to social-emotional slides. It is organized by grade level and subject area, and teachers can add their own slides. Teachers can also suggest new slides and templates for future classes, and can share their creations with the community. For teachers who want to share their creations, Pear Deck has a forum where teachers can post comments and suggestions.
The interface of Pear Deck for Google Slides is similar to the one of the Google Slides application. When you click the green "Start Lesson" button, the slides will appear on the main projector screen. There is a second pop-up screen where the students can comment on their responses. This second screen is the Pear's dashboard. It is completely anonymous, so the students cannot view the responses.
Opening Pear Deck in Google Slides
● In a new or existing Google Slides Presentation select the from the right-panel toolbar -or select Add-ons and click Get Add-ons from the top toolbar.
● Choose Pear Deck for Google Slides from the Works with Slides options and Install.
● Select your email address and Allow Access for Pear Deck to access your Google Account.
● From the top toolbar select Add-ons, highlight Pear Deck for Google Slides Add-on, and choose
Open Pear Deck Add-on.
**Note: You may have to log out of your Gmail account and log back in for the option to appear.
Features ofPear Deck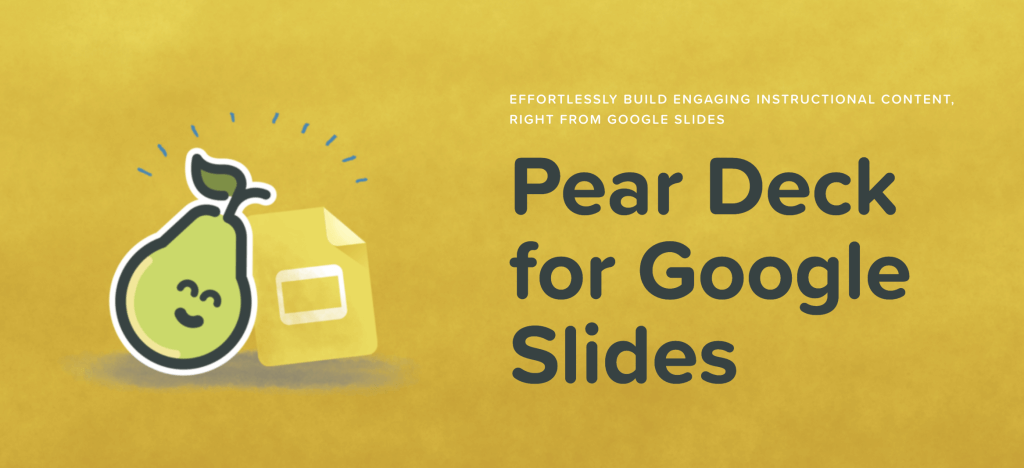 Another feature that makes it so powerful is its ability to integrate with Google Slides. Once you integrate it with your presentation, you'll be able to create dynamic presentations that engage your students and help them learn better. It's easy to create a professional-looking presentation with Pear Deck for your students and will help you engage them throughout your lesson. There are also additional features in the free version that you can use to share with your students.
Pear Deck for Google Slides allows teachers to add interactive questions to their presentations and quizzes. The tool's customizable layout lets you change the look of your slides with just a click. With Peardeck for your Google Slides, you can add interactive questions to your slides with ease. By creating a poll, you can collect data on which students' answers were correct and what they didn't. This is an excellent way to increase engagement and promote understanding among your audience.
Start a Lesson with Pear Deck
Once you have opened the Pear Deck Add-on it will appear on the right side of your Google
Slides Presentation
● In the "ASK STUDENTS A QUESTION" panel you can choose to have students answer Text,
Multiple-Choice, or Number questions. You may also add a Website for students to navigate to
in your slides.
● When finished with your presentation, tap to begin your lesson.
● You can choose from a Student-Paced Activity for students working asynchronously -or- an
Instructor-Paced Activity if you are connected with your students in real-time.
● While presenting, monitor students' progress by logging into the Teacher Dashboard from a
second device (*note: this is a premium subscription feature).
Connect Students to Your Lesson
After starting your lesson, you will be prompted with a code that students can use to enter your
lesson.
● Have students navigate to joinpd.com to enter the code to join the lesson.
● You can also select Give Students a Link to copy a direct link to your lesson and send via email.
● Click Open Teacher Dashboard to view slides and see answers to questions that students have
already finished.
Conclusion
Pear Deck is a free Google Slides add-on that allows you to create an interactive presentation for your class. You can create your presentation in a variety of ways, including using a variety of slide templates powerpoint templates as it suits whatever project you are working on. You can also add a drawing or a free response question. The interactive features of it make it a valuable tool for teachers. The best way to learn how to use it is to experiment.
Don't Miss : How to Print Notes in Google Slides