Project Next Review – Experience Thrive Edition
The number of thing that separates Winners for those who don't win is action, and success loves speed. Over the last few days hundreds of thousand of people have benefited from the knowledge of Tony Robin, Dean Graziosi and a host of super experience business owners.
The knowledge shared can't be priced but more importantly the community and atmosphere created is the stuff success is made of. So what's in for you? It's time for action, it's time to get started, it's time to create your dream business, make money, make a difference and be proud of yourself.
Are you ready to change your world? It's time to get started.
There's no doubt that these are challenging times, but like Dean said, challenging times brings opportunities and it's your time to thrive. It's time to start that dream business, build it, scale it and impact others with it.
Here is a secret, Project Next Experience has changed a lot of lives in a short time and there are countless testimonies to prove it. Here are a few.
Claire Sparrow says "I am still spinning & fired up after Dean Graziosi shared my course at the World Summit… Dean also reinforced an even deeper level to me of how important it is to share this topic, my own story & how I created a solution because there really are so many people out there needing the solution that I have and that you have!!" Bj Iwuoha says "I finished this amazing Course and I did it with pride! This has been so life-changing and the amazing information, love, and value that Tony Robbins and Dean Graziosi poured into this Course have been nothing short of incredible." Dr. Yani Feliciano says "I did it!!! I finished Project Next!!! Im so happy and excited to improve the lives of others and help successful women suffering from fatigue feel great and become super productive in everything they do! Woot Hoot!!! I thought this day would never come!!! Thank you so much Dean and Tony and the other contributors for the wonderful education and training! This is an amazing course!" Anastasia Batyr says "Thank you for an amazing Project Next Course. You gave me the courage to go the extra mile. Thanks to you I've not only created my first course; but I had the courage to start writing and illustrating children's books. This has been the most inspiring journey of my life." and Lusea Lu has this to say "I've been struggling for years to launch an online course. Mastermind made it possible for me in 60 days! I got 6 sales right off the bat. Because of Project Next, I started my online community. Tony and Dean have empowered all of us to dream big!"
These are real people with amazing results. Yours can be next if you take action right now and get started with your Project Next Experience.
What is Project Next Experience Thrive Edition?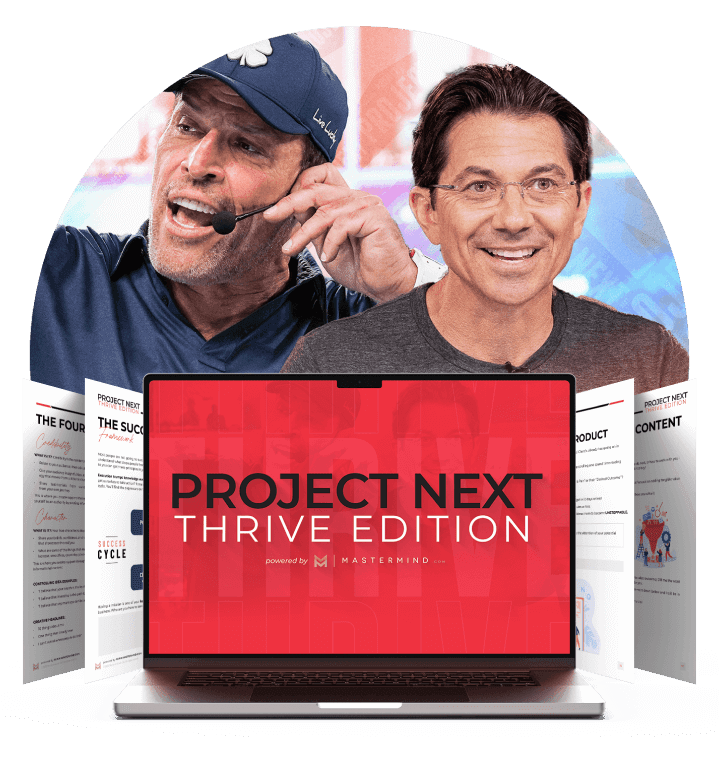 Project Next Experience is a course that gives you unfair advantage to confidently launch your first or next course, coaching program, workshop or mastermind. It's a bran new version of the legendary Project Next course that is specifically tailored for today's changing world and shows you 6 steps process to launch and scale your first or next product.
How would you like to put all you have learnt in the last few days into action? In fact would you like someone to guide you through the process of creating your own digital product, coaching program, workshop or mastermind? This is what you get with this course. All the resources and tools you need have been provided including live access to Dean where you can ask any question and get instant feedbacks. Sounds like something you're excited about? Get started today
What Does Project Next Experience Contain?
Project Next Experience is a bundled course and when you sign up right this moment you will have access to some of the best tools and training that will get you off the sideline and into the game for real. Here are what you will get when you sign up today.
IMMERSION: 2022 PROJECT NEXT THRIVE COURSE – This is the core of Project Next Experience. Here you will gain access to cutting edge tools and solutions that are tailored to put you ahead and help you launch and scale your knowledge product. You will learn mindsets and strategies that will help you confidently market your product and bring in sales
REPETITION: 6 WEEKS OF LIVE GROUP COACHING W/ DEAN – Nothing can set you up for success better than Dean personally coaching you each week until the World Summit to gain confidence, capabilities and the next best steps to get your first or next product launched and ready to sell to the world.
MASTERY: PREFERRED TICKET TO THE VIRTUAL 3 DAY LIVE INTERACTIVE & IMMERSIVE WORLD SUMMIT – Think of this as the holy grail of networking. You'll have 3 full and immersive days September 16-18 where you will get a a virtual front row seat in Tony's $20,000,000 virtual studio where Dean, Tony & the greatest speakers on the planet will deliver you the capabilities to master your next level of success in this industry.
IMPLEMENTATION: 3 MONTHS FREE TO THE BRAND NEW MASTERMIND PLATFORM – This gives you access to Mastermind.com where you will have implementation tools that allows you to launch a beautiful, professional looking course, workshop, coaching program or mastermind with 5 simple steps.
COMMUNITY: ACCESS TO THE GREATEST PRIVATE GROUP ON THE PLANET – Tap into your ultimate secret weapon and join your new family of action takers to receive regular confidence boosts, accountability, advice, weekly live from Dean and collaboration with people who are on the same page as you.
Should you get Project Next Experience?
I know you want to win otherwise you won't be reading this. I also know you want to impact others … else you won't have taken time to listen to Tony, Dean and the rest of the speakers. Now is the time for action, now is the time to allow your WHY push you to get started. If it's going to be, it's up to YOU! Get started now