Reading Eggs Learning to Read for Kids Review
What is Reading Eggs?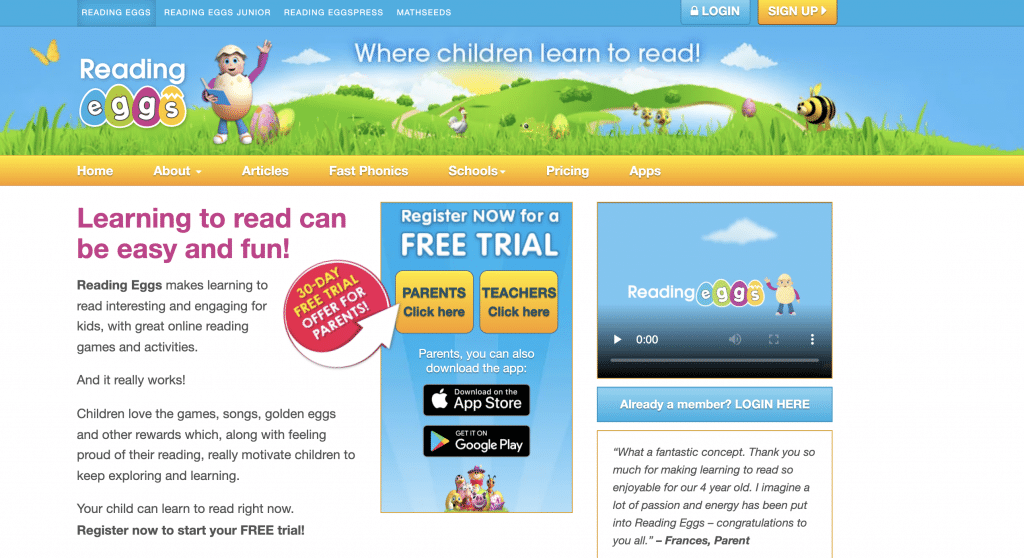 For parents, Reading Eggs is a perfect way to support their child's reading progress. It offers a free trial and charges US$9.99/month thereafter. It is a research-based program that offers a variety of online reading materials that make learning to read fun and easy. With this program, children can start reading within weeks, and 91% of parents reported that their child had made progress using the program. It was developed by experienced educators with over 30 years of experience, and each student receives a detailed assessment report.
The reading program has 120 lessons and 170 activities. All of these activities are disguised games, and the children can start at any level. Before beginning, they can choose an avatar, and take a placement test to begin at the right level. Afterwards, they can adjust the level if they need to. This allows the child to work through the lessons at his or her own pace, and can even go back and revisit lessons.
Reading Eggs has a wide range of features. One of the most helpful is its printable activity sheets. You can find these under the Bonus Material tab on the parent dashboard. Each sheet contains an instructional page for parents, and five worksheets that reinforce the phonics lesson. The slant-print manuscript is another feature that makes this a great choice for students with learning disabilities. These activities are fun and engaging for struggling readers, so they will want to keep coming back for more.
A child can earn golden eggs as they progress through the program. These eggs can be used to purchase items for their avatar, or to purchase fun reward games. Upon completion of a map, a child will earn a certificate that can be printed out. Using Reading Eggs, children can repeat the lessons as many times as they like. This is a great way to reinforce learning concepts and reinforce the important concepts. With the help of Reading egg, a child can begin reading in a matter of weeks.
Parents will love the rewards system in Reading Eggs. The program offers a number of incentives for students to complete their lessons and earn golden eggs. These eggs can then be spent on virtual store merchandise. As children progress through the program, they can earn golden and blue eggs. This will reward them with virtual gifts. Eventually, they can reach level 20 in the program. With this, they can improve their skills and become fluent readers. There are no limits to how much you can achieve with this program!
Besides the free trial, Reading Eggs also offers a variety of other features. The most important and useful of these is the printable activity sheets. The activity sheets are found under the "Bonus Material" tab in the parent dashboard. Each worksheet contains an instruction page for parents. The printable sheets reinforce phonics instruction and teach handwriting using a slant-print manuscript. These two things are not only essential, but they can be helpful.