Showmax free trial 14 day for new Subscribers – Dstv Showmax Review
What is Showmax?
Showmax is an online video entertainment service that offers unlimited services such as kids' entertainment, movies, documentaries, sport, and so much more. It can be watched online at https://www.showmax.com or by downloading the Showmax app on your gaming consoles, tablets, smart TVs, phones, or media players. Subscribe and connect your device to the internet to enjoy Showmax. Be assured that there are no ads, no interruptions, and no limits.
The DSTV Showmax Plans
DSTV Showmax comes in four plans: Showmax Standard, Showmax Mobile, Showmax Pro, and Showmax Pro Mobile.
Subscribers with at least two devices use the Showmax Standard and Showmax Pro. The devices include laptops, computers, or smart TV. These two plans are ideal for families that want to stream two shows concurrently. The devices should be of High Definition (HD) for good video quality. They also get to enjoy these plans on their gaming consoles, tablets, media players, smartphones, computers, and TVs. Up to five devices can be registered, with only two able to stream simultaneously. There is an added advantage of a casting feature.
The Showmax Mobile and Showmax Pro Mobile will run effectively on smartphones and tablets with Standard Definition (SD) for good video quality. Showmax Mobile plans are limited to one registered device and one stream, and subscribers have full access to everything on Showmax Standard or Showmax Pro. However, subscribers miss out on the casting feature.
Showmax should have an HD quality option on their app for their subscribers to choose from and enjoy watching better quality videos.
Showmax for DSTV Premium Subscribers
DStv Premium customers get Showmax at no extra cost, and subscribers on other packages receive a 50% discount.
If you are a DStv Premium customer, you can add Showmax standard* to your DStv bill at no extra cost. So you can binge on even more incredible movies, local and international series and kids shows, whenever and wherever you want.
If you are are DStv Compact Plus, Compact, Family or Access customer, you'll get 50% off your Showmax standard subscription if you add it to your DStv bill.
Which shows can you watch on Showmax Standard and Showmax Pro?
There are thousands of series and movies to watch on the Showmax Standard plan. If you want to step up your experience, subscribe to the Showmax Pro, which comes with everything on the Showmax Standard plan in addition to live sport from SuperSport, live news, and live music channels.
If you're searching for the best streaming services for sports, I recommend taking a closer look at Showmax. Showmax will air live sports such as NBA, Diamond League, Premier League, and many others.
Showmax brings families together and has the members be entertained on the world's development as they learn a thing or two. Nature documentaries such as the BBC's Earth from Space and Planet Earth are educative shows. There is a collection of kids' content from the best children's networks, such as Boomerang and Cartoon Network.
Therefore, the Showmax plans are for all people, from the very young to the old, and I would recommend people to subscribe to this streaming service.
Does Showmax have a free trial?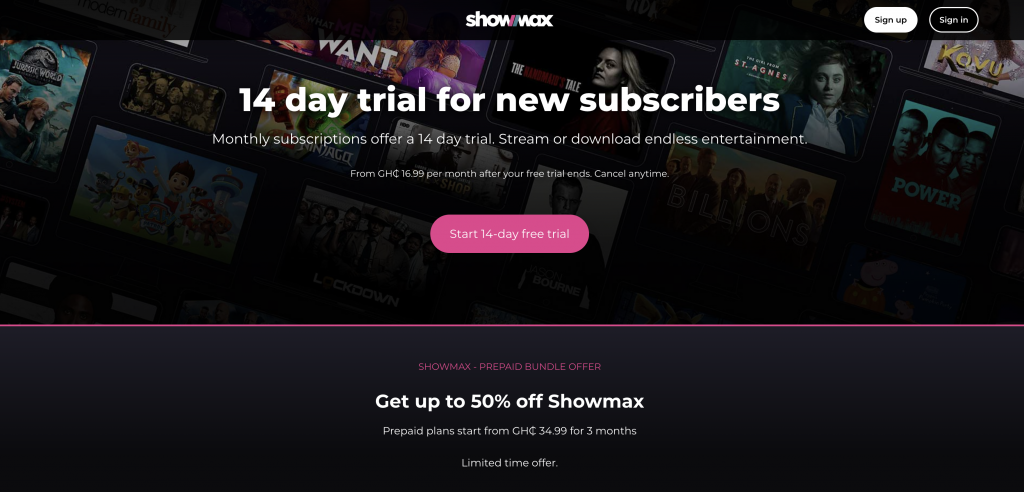 Yes, there is a 14- day free trial. All you have to do is sign up to Showmax with your credit or debit card, and you have your 14-days of a free watch. The process of signing up is easy. All you have to do is:
Go to https://www.showmax.com/
Choose your payment method. Canceling within the 14-day free trial attracts no charges. So do not worry because nothing gets deducted from your card.
Enjoy watching your favorite series and movies for free for 14 days.
After 14 days are over, charges on your card will be applied to keep Showmax entertaining you. Subscribers get billed once a month.
Since no contract is involved, feel free to cancel any time.
Please note:
Unfortunately, the Showmax Pro plan does not have a 14-day free trial because of the live sport.
How much does Showmax cost?
The following are the current Showmax prices for different plans in Africa.
| | | | | |
| --- | --- | --- | --- | --- |
| Country | Showmax | Showmax Mobile | Showmax Pro | Showmax Pro Mobile |
| Botswana | BWP 96 | BWP 36 | BWP 216 | BWP 108 |
| Ghana | GHC 45.99 | GHC 16.99 | GHC 119.99 | GHC 59.99 |
| Kenya | KSH 760 | KSH 300 | KSH 2,100 | KSH 1,050 |
| Namibia | N$ 99 | N$ 39 | N$ 295 | N$ 149 |
| Nigeria | NGN 2,900 | NGN 1,200 | NGN 6,300 | NGN 3,200 |
| Mauritius | USD 7.99 | USD 2.99 | USD 26.99 | USD 13.99 |
| South Africa | ZAR 99 | ZAR 39 | ZAR 449 | ZAR 225 |
| Tanzania | TSH20,000 | TSH 7,800 | TSH 46,000 | TSH 23,000 |
| Uganda | UGX 30,300 | UGX 11,499 | UGX 67,200 | UGX 33,600 |
| Zambia | ZMW 192 | ZMW 72 | ZMW 432 | ZMW 216 |
| **Rest of Africa | USD 7.99 | USD 2.99 | USD 17.99 | USD 8.99 |
| Diaspora | USD 8.99 | USD 4.99 | Not available | Not Available |
Where is Showmax Pro available?
Showmax Pro is available in Benin, Botswana, Burkina Faso, Burundi, Cameroon, Cape Verde, Central African Republic, Chad, Comores, Republic of Congo, Cote D'Ivoire, DRC, Djibouti, Equatorial Guinea, Eritrea, Eswatini, Ethiopia, Gabon, Gambia, Guinea, Guinea-Bissau, Liberia, Madagascar, Malawi, Mali, Mauritius, Mozambique, Namibia, Niger, Réunion, Rwanda, São Tomé and Príncipe, Senegal, Seychelles, Saint Helena, Ascension and Tristan da Cunha, Tanzania, Togo, Uganda, Zambia, and Zimbabwe.
How does Showmax compare to other streaming services?
From the list of countries shown above, it is clear that Showmax is enjoyed in Africa and by Africans. The plans present a lot of content for little money, something that not all streaming services offer. Subscribers get entertained from all the corners and islands in Africa, unlike some streaming services such as Peacock, Hayu, Paramount Plus, and others. Showmax has a lot of good local content. Artists get discovered and their skills promoted and appreciated by people from all over the continent. This is one of the reasons that I would strongly urge my people to subscribe to the Showmax streaming service.
How is Showmax customer service?
The average rating of Showmax from reviews researched online is 85%. This high score reflects on their fast response to their customers. A look at their Showmax app reviews shows that they try to respond to each customer that leaves a review, whether the comment is positive or negative. Most of the reviews on their app are of praise.
Own verdict
I would recommend the Showmax streaming service to all persons interested in satisfying video content. This model readily presents you with a lot of content for little money and comes in more than 30 international languages.
Showmax Frequently Asked Questions
Does Showmax have a free trial?
Yes Showmax has a 14 days free trial. Showmax Free lets you stream selected shows, with ads and has limited functionality. The Showmax 14-day free trial gives you a chance to enjoy the full Showmax experience. This trial requires setting up a Showmax account, and choosing a plan and payment method.
How do I activate Showmax for free?
Login to your account. Locate the Showmax banner on your account dashboard. Click 'Activate'. You'll be prompted to create a Showmax account – click Create Account.