Solvably, a digital learning platform, combines design thinking, collaboration and real-world problem solving. It is easy to create and engage digital learning experiences. It offers a platform and a collaborative environment to solve problems. This helps learners develop core competencies in communication, collaboration and creativity. It allows instructors to create relevant, real-world problems that are motivating learners and help them develop the skills they need to succeed in the future. The Solvably learning experience is different from traditional educational technology. It embraces constructivist learning and teaching principles.
– Learning centers around solving a real problem or challenge
– Learners can take control of their learning by discovering and following their own path
– Learning should be supported, not directed. As a facilitator and guide, the instructor is crucial to the learning process.
– Learning is collaborative. Learning is socially negotiated, as learners compare their ideas with other views and contexts.
– The support provided to learners for reflection on the learning process and the content they have learned.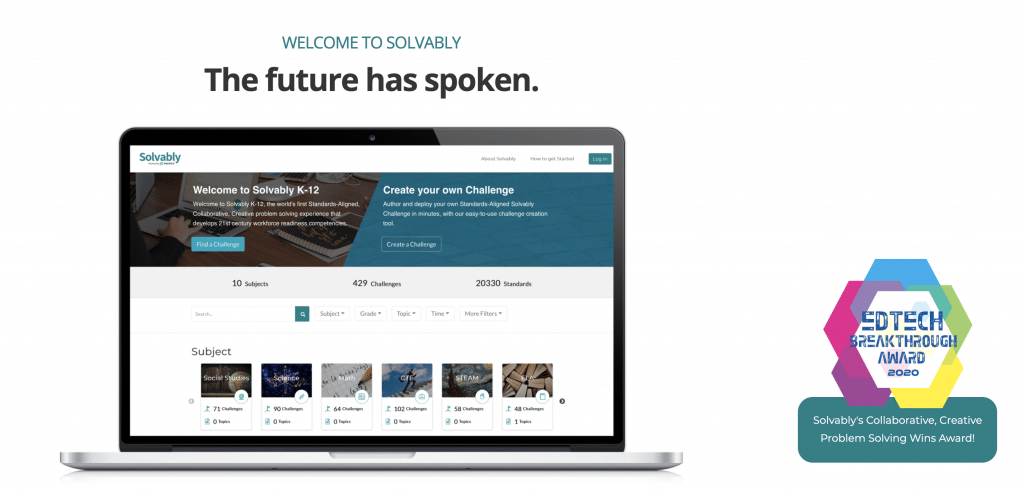 A typical course on Solvably includes 400+ standards-aligned challenges across various subjects and levels. Students can create challenges of their own or use pre-built ones. Instructors will provide formative feedback and assessment through embedded evaluations and rubrics. The software also gives students the option to privately message instructors and get their feedback. In addition to that, Solvably provides a learning community that allows users to interact with one another.
The software has five phases that guide learners through the learning process. The first phase of the learning process involves engaging with authentic challenges. The second phase involves creating and presenting solutions. The final phase requires students to apply their newly acquired skills. The last phase consists of a peer review. Once a student has completed a challenge, they can share their solution with other Solvably users. These challenges will be saved to the library of the program.
Several years ago, MassiveU, a digital education technology company, launched the Solvably digital learning platform. The new platform blends design thinking and collaborative problem solving to develop 21st century skills. The company's product, Solvably, comes at a time when the global workforce development crisis is estimated to reach $8.5 trillion. The platform aims to meet the needs of both individuals and organizations. So, if you're looking to enhance your learning experience with an online course, it might be the right solution for you.
Despite the name, Solvably is a synonym for "solvable." This word is used to describe a solution to a problem. It's a synonym of the word solver. A solvable system will make learning a much easier process. This approach is also beneficial for people with disabilities. It allows them to learn and develop skills that are relevant for their current needs. Currently, more than half of the world's workforce is unable to complete educational programs.
The solution is a team-based platform that enables teams of employees to work in a collaborative environment to solve real-world business challenges. The platform is ideal for facilitating teamwork and learning. The software also aims to improve employee retention and productivity. It is not just about achieving the highest level of performance. It is also useful for retaining and promoting valuable employees. The software supports continuous performance improvement in your organization. The Solvably TALENT learning and development platform helps you manage your workforce effectively.