SplashLearn – Math Fun Games
SplashLearn, a game-based PreK-5 mathematics program, is trusted by more than 77,000 schools in the US and used by more than 40 million children worldwide. SplashLearn is the preferred program for personalized learning in the classroom due to its extensive student data dashboards. The interactive interface is loved by educators because it features age-relevant themes and animated characters as well as positive reinforcements at every step.
What is SplashLearn?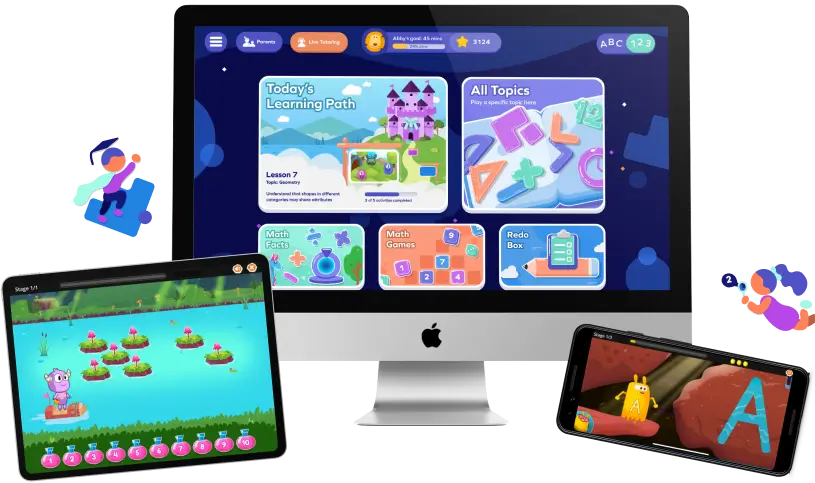 SplashLearn's games-based platform targets Common Core mathematics content from kindergarten to fifth grade. Teachers can create an account and assign concepts to students or the entire class. Students' progress can then be tracked using a detailed reporting system. Teachers can also allow students to practice at home, and parents can view their progress. SplashLearn can be used as both an app and as individual apps for each grade level.
Questions can be asked in games and activities. Points are earned through the game. These points can be used to redeem virtual rewards at the SplashLearn shop. Only a certain number of questions can be correctly answered on the first attempt to master a skill. Although students can attempt multiple times before they get the right answer, they do not earn points or coins.
Who can Play SplashLearn?
SplashLearn, a Game-Based Learning Program for Elementary Grades, is available. The program covers foundational skills for reading (Pre-Kindergarten through Grade 2) and mathematics (Pre-kindergarten through Grade 5). The curriculum aligned activities are more than 6500 for children to enjoy. They learn step-by-step through personalized learning paths.
SplashLearn is a learning platform that encourages children to love learning through playful and intuitive learning experiences. Gamified learning systems often include game-based features such as leaderboards and rewards. Learning is a key component. Although such systems may motivate children to spend more time with the product, they don't change how children learn.
SplashLearns Game-Based Learning approach, on the other hand uses games to transform children's learning. It is not intended to increase the entertainment value of games, but rather to improve pedagogy through games and make learning more intuitive and effective. SplashLearn games are specifically designed to help learners achieve specific learning goals. They provide rich contexts, embedded instructions in the games, meaningful interactions and innovative in-game manipulatives that make learning truly immersive.
SplashLearn offers a variety of math games for grades 1, 2, 3, 4, and 5. Gamified learning systems often include game-based features such as leaderboards and rewards. Learning is a key component. Although such systems may motivate children to spend more time with the product, they don't change the way children learn.
Is SplashLearn Good for Learning?
SplashLearn has interactive, colorful games that will engage young students. The lessons and games can be used at all grade levels to help children master math skills. Because of the repetitive nature of the questions, younger students will find it more attractive than older ones.
The exercises do include a range of questions that aim to cover the Common Core standards. Teachers can access detailed information about Common Core mapping through the teacher dashboard. A flashcard-style section of math facts is also available that can be used to build operations skills.
Students have the option to open questions for further exploration, or they can be assigned by their teacher. Some questions have audio support, while others are text-based. Students receive instant feedback when answering questions. However, if the student fails to answer a question, only correct answers are displayed along with a brief explanation.
How SplashLearn Works
SplashLearn is a learning platform that children can use to explore a vast world called Splashverse. The kids can explore exotic locales, meet many characters, and help them on their adventures. They also get to reach their daily learning goals.
SplashLearn currently has two main worlds, the Math World or the Reading World. Each world has many mini-worlds that are based on the subjects the children choose to study. Each mini-world reinforces the basic concepts of the topic. The characters are designed to provide a conceptual context for the stories and allow for conflict, which leads to puzzles and play.
One example is the Oolzoo which holds numbers on its chest. Multiple Oolzoos are able to be combined or broken down to create larger or smaller Oolzoos, thereby reproducing addition and subtraction scenarios. The Oolzoos were for Math, but the Buc-Bucs for Reading are like the Oolzoos for Math. The Buc-Bucs, curious creatures that constantly search for letters and sounds around them, are capable of making the sounds from the letters they find.
SplashLearn is passionate about learning new topics and imagining ways to translate academic concepts into games with characters and locations that better explain the concepts. Splashverse is constantly evolving, so learning at SplashLearn can be described as an endless adventure.
Putting SplashLearn to Work in Class
SplashLearn is a great way to review concepts you have already learned in class. This game-based system can be a motivator for students. Students can quickly spot mistakes by using the instant feedback feature of the program. It's possible to track homework using the website version.
Students can be easily viewed and tracked. SplashLearn is not a standalone tool and can be used to provide formative assessment information that teachers can use to keep track of students' progress.
It can be difficult to switch between the student and parent dashboards, since each one can be accessed from another. Students can navigate to the paid subscription page directly from their account. This could prove dangerous if credit card information is auto-filled on the computer. This may not be an issue when you use the apps.
Features of SplashLearn
PreK through grade 5 can learn math, and PreK through grade 2 can learn reading.
Aligned to Common Core. The curriculum is aligned with Common Core. It also has a modular design that allows it to be easily integrated to other state-specific standards to improve student scores.
It includes 6,500+ Maths, Reading and Fun Games and Worksheets.
SplashLearn's adaptive algorithm creates an individual learning path that is appropriate for each child based on their grade and skills.
SplashLearn can be used by teachers and schools for free. Teachers can log in to create an account and sign up for their class. Teachers have full access to all SplashLearn content.
Teachers can track the progress of each student and identify learning gaps with the help of a teacher dashboard.
Teacher Dashboard
Assignments: Teachers can assign practice content to individual students or to an entire class, and can monitor assignments' completion. The teachers can also assign work that the students can access at home.
Assessments: Diagnostic and Progress Monitoring assessments that analyze proficiency and help the teacher to identify students requiring extra help
Parent Dashboard: Parents receive instant notifications on progress improvement and skill completions through the Parent dashboard, which also provides real-time updates allowing parents to keep track of their child's learning path and recommend topics to complete.
Parent Dashboard
Cross platform functionality: The product is available across all digital platforms (iOS, Android and Web) with multi-device sync that enables children to use SplashLearn on any device.
Offline Access: SplashLearn's unique offline sync functionality allows the program to work seamlessly without the need for internet, and syncs with the servers when connection is re-established, enabling cross-platform usage. This ensures children can learn anywhere, anytime.
SplashLearn offers an ad-free, child-safe environment.
SplashLearn Alternatives
SplashLearn, a fantastic resource, provides games that help children overcome their fear of math and make it fun. It's suitable for PreK-5, covers Math and ELA and can be accessed via Android, iOS, or Web. It's loved by over 40 million kids. The program combines learning with games to ensure that all children can enjoy and learn math and reading.
SplashLearn has thousands of math and reading games, books, as well as educational activities. You can get daily personalized growth plans to help you learn new concepts faster. By rewarding children with frequent rewards, it adds fun to learning and motivates them. SplashLearn makes learning fun and safe for children. It also adds new stories, educational activities and books to its ever-growing library. Each grade has its own curriculum and goals.
Kindergarten and Preschool allow students to recognize patterns and shapes, and count numbers. First-grade children learn how to add, subtract, flip coins, place value, as well as other skills that will help them in their advanced learning. The 2nd graders learn more about addition, counting in groups, and place value. In 3rd and fourth grade, advanced concepts such as multiplication, division, and fractions are taught. Students in 5th grade learn more about word problems, multiplication and division, fractions, geometry, and algebra.
Here are some of SplashLearn Alternatives you can use if you are looking for one.
1. Code Galaxy
Code Galaxy is a platform that allows students to create a portfolio of code projects and then show it off to their friends and parents to impress them. It's a great companion for students at all grade levels and age groups. Fun coding assignments can be taken on by elementary school students to help them develop real-world skills that will benefit them in the long term. Middle school students can create real apps and games that they can share with their friends and colleagues.
High School is designed for students interested in engineering careers. It allows them to build a portfolio that will be useful for college and beyond. Code Galaxy offers many programs including online classes, summer Coding Boot Camp, and private tutoring. Everyone can choose the one that suits their needs. Under the guidance of tutors, the Private Tutoring Program is designed to assist students around the world in achieving top grades and getting admission to world-class universities.
2. CodeSpark Academy
codeSpark Academy is an award winning code program for children aged 5-9. The program teaches coding to everyone through a variety of learning activities, including puzzles, games, printables, and creative projects. This allows kids to quickly develop their coding skills. This book teaches core programming concepts and logical problem solving, which is very useful for children who want to become a programmer/software engineer or any other challenging job.
CodeSpark Academy lets your child create their own coding game using tools that correspond to their age. Based on their level, children are offered daily challenges and rewards. The curriculum has been developed in collaboration with top colleges in the US such as Princeton, MIT and Tufts Harvey Mudd College.
The best thing about codeSpark Academy is that your child's data is secure and not collected or used by codeSpark. Because there are no ads, each child can create three profiles and focus solely on coding. You can cancel your subscription at any moment.
3. Homeschool Panda
Homeschool Panda is an app and social networking platform that helps homeschoolers plan their year and connect with other homeschoolers in a secure and safe way. It is compatible with both Android and iOS phones and allows everyone to stay connected with their community and take actions while on the move. Panda Messenger allows you to search for people in your local area and connect with them. You can share your homeschooling journey with others in the community, follow like-minded individuals, create groups for public/private use and invite others to join.
The HSP community allows you to ask questions and receive advice, tips and other ideas. You can schedule trips one week ahead of time and forward invitations to other people to take part in them. Logging in through the student portal allows your children to check any pending assignments and tasks. They can also securely input their progress and have conversations with parents and siblings.
This flexible lesson plan can be used with any curriculum and all teaching styles. Take photos of student activities and assignments and scan them to create portfolios. Homeschool Panda offers many tools, including a task list and budget, daily agenda, as well as other useful tools to aid in homeschooling. Panda Messenger is included in the app. It allows you to communicate with others, search for nearby people, create lessons plans, take photos of special moments, homeschooling tasks, and assign assignments.
4. Bridgeway Academy
Bridgeway Academy offers Accredited Home School Programs and Online Home Education Programs. They also offer homeschooling curriculum that will help parents teach important skills to their children. There are educational materials for PreK-K through High School. Bridgeway Academy has a dedicated support staff that listens to parents' concerns and resolves them as quickly as possible. You have complete freedom to set your own schedule and learn at your own pace.
You can personalize the curriculum to meet the needs of your students, so you can have stress-free online learning. Bridgeway Academy provides a high-quality Homeschool Curriculum and instructor guides to help parents make their job easier. The support team can help you upgrade your plans at any time. Bridgeway Academy offers award-winning Curriculum and Programs for all types of homeschoolers. This includes students with learning disabilities, missionary families, Christian Home School, International Homeschool and many more.
5. Homeschool Manager
Homeschool Manager allows parents to manage their homeschooling curriculum, track their progress, record attendance and schedule lessons from their tablets, laptops and desktops. Modules include Weekly Schedule and Grade Tracking, Volunteer hours, Book Lists and Dashboard. Transcripts and Report Cards are also available. Time and attendance can be tracked. You can drag-and-drop the Weekly Schedule module to copy and move tasks from the student's schedule. This saves you a lot of time.
You can view the entire week 360° and add, rearrange or subtract tasks and subjects instantly. The print option allows you to create a printed copy of your schedule that can be kept close at hand. You can use the built-in calculator or manually input your student's grades in the Grade Tracking Module. You can select from a variety of pre-defined tasks, such as Graded or Non-graded Tasks, and then set them with one click.
Homeschool Manager offers a dashboard that allows you to easily add students to a new school year and assign them assignments. You can view all pending assignments on the Dashboard by scrolling down or individually checking each student's individual entries.
Conlcusion
SplashLearn has been used in more than 150 countries, and has benefited over 40 million children worldwide. SplashLearn can be used on all digital platforms ( iOS Android, and Web). You can use the program even without an internet connection. The learning never stops! For more information, please visit splashlearn.com
Don't Miss: Kahoot it – What is Kahoot?