Website security has become an integral point of discussion in this day and age. If you own a website, you need to make sure that you secure it properly, otherwise you are running the risk of your website getting hacked. This could lead to a slew of problems, such as data theft, and could affect your business considerably.
Thankfully, there are quite a website security solutions out there nowadays, and you don't need to be a tech-whiz to know how to use or implement them. Millions of websites across the internet are powered by WordPress. It is hands-down one of the best content management systems out there, and is the ideal choice for people who are looking to host a website and manage it without having any technical knowledge.
A common misconception that many people have in their minds is that only websites that attract large amounts of traffic are targeted. Simply put, that's just not true at all. In fact, the chances are considerably higher that if your website doesn't have a team of experts monitoring its security, it's probably going to get hacked.
You need to keep in mind that hackers don't need a reason to get into your website. Many websites do so because they can, and many others just do it because it's there. In fact, there's growing proof that hackers look for websites that do not have adequate security protocols in place.
It's just less effort. With close to 70 million websites running WordPress, how many do you think have taken additional steps to secure their back-end? The answer: not that many. In fact, many people don't even bother changing their default username, which is "admin."
Now, the question is, can you harden your WordPress site by yourself? Well, there are a number of factors that come into play. It primarily depends on your technical prowess. To begin with, you can definitely take steps to improve the security of your website. However, while a small number of steps can be taken by people with little to no technical expertise, securing your core files is a bit more complicated.
Thankfully though, content management systems such as WordPress have a bunch of plugins that can greatly improve the security of your website. But, finding a suitable one can be difficult. You need to carry out thorough research on your part and test them carefully before you decide to install one on your website.
Once you install any security plugin, you need to closely monitor it as well. You will also have to keep one eye on the news about that plugin, so that you know that they are doing a good job of protecting your website. What you don't need is a security plugin that contradicts itself: it should lock you out of the site, or prevent genuine users, or crawlers from search engines, from accessing your site.
In many situations, if you are using free WordPress security plugins, you will find that you would have to download multiple plugins to cover up all security vulnerabilities. Needless to say, this increases the chances of your website slowing down considerably.
Enter Sucuri
By now, you understand that WordPress security is not as simple as it looks. It requires a considerable amount of effort on your part. But, there are a few plugins which are a cut above the rest. Sucuri is definitely one of the. For those who don't know, Sucuri is a WordPress security plugin that is designed to considerably harden your website, protect its core files, and keep it secure from hackers.
Sucuri was founded by Daniel B. Cid in 2010. "Sucuri" means "anaconda" in Brazilian Portuguese. It was also the name given to a Brazilian tank destroyer back in the '80s. The founder, Daniel, comes from a long line of military personnel, and that's where he took the inspiration from for the name. In his own words, the name is simply a tribute to the superiority of the tank and how it helped the Brazilian Army.
The company was taken over by GoDaddy in 2017, and since its inception in 2010, it has grown by leaps and bounds to become one of the top security companies in the industry. Sucuri gives you a full suite of services, which include website monitoring, direct removal of malware, as well as a host of website security services.
To put it simply, it's an all-in-one package. But, why should you choose Sucuri for your website? Well, for starters, Sucuri is a globally-recognized company. These guys are the best at what they do, and they offer their services to businesses of all sizes, all over the world.
Their software plugin comes with an antivirus as well as a firewall. On top of that, the company will also help you with a number of other problems, such as:
Removing malware from a hacked website
Helping you get access back to a hacked website that has locked you out
Stop any kind of DDoS attacks on your website
Remove you from any blacklists
I have used quite a few WordPress security solutions, and Sucuri is definitely one of the best. There are quite a few reasons for this, so I'd like to elaborate on them one by one. Here are the top features that I would like to highlight about Sucuri, and why this is such a fantastic product to use.
Security Monitoring
One of the best things about Sucuri is their sitecheck scanner. Not only does the scanner run automatic scans on your website and ensure that it's clean of all malware, but it also checks for any link injections or suspicious redirects. You can choose the frequency with which the scanner runs on your site and check it for blacklisting or malware. It will also look for any changes in the content of your core files.
The monitor will also look for any WHOIS or DNS changes. The security monitor will also check your website against blacklists produced by Norton, PhishTank, Google, Yandex, SiteAdvisor, Opera, as well as their own blacklist.
It is one of the most comprehensive security tools out there, and you'd be hard-pressed to find another that is as vigilant as this one.
Support
Another reason why I really like Sucuri is because their security solutions are not just for WordPress. If you have any other content management system, such as Drupal or Joomla, it's going to work efficiently with those as well. Not only that, but if your website is based on PHP or .NET, you can also deploy Sucuri on your site. In fact, Sucuri also supports HTML websites.
I mean, you can't ask for anything more. These guys have gone above and beyond to ensure that there excellent security solution is available to all kinds of websites.
The Security Plugin
But, let's talk about their WordPress security plugin. The Sucuri plugin is free to use, and you can use it on your website just as you would any other WordPress plugin. The plugin will run thorough checks on all of your websites and more importantly, it will ensure that all of your core WordPress files remain intact.
Most people really don't understand just how important this is. Many hackers like to hide malware in files that look absolutely legit at first glance, and they are only getting better at this. To top this off, the plugin also has a one-click hardening feature that will allow you to secure your WordPress installation with a single click.
The Sucuri homepage.
Scanning Your Servers
Server-side scanning is an essential feature that you should look for when selecting any WordPress security solution. Sucuri has one of the best built-in. The dashboard (we'll get to this) allows you to monitor any and all activity on your web server with a very efficient layout.
The system is able to scan your web server and will look for any suspicious files or any suspicious activity. On top of that, it will also show you any file changes that have been made, so you will be fully in the know about what's going on at the back-end.
Malware Cleanup
This is the last feature that I'd like to talk about. The Sucuri team is going to remove any kind of malware that your website might have been infected with. The malware cleanup service that they offer isn't just restricted to the number of pages on your website, or the frequency.
If your website has been hacked and you approach them for the first time, they are going to get rid of the malware for you if you buy one of their subscription plans. In fact, these guys will go an extra mile for you: they will also ensure that your website is removed from Google's blacklist.
The Sucuri Dashboard
This review wouldn't be complete if I didn't talk about the excellent dashboard. In 2017, Sucuri unveiled its all-new dashboard. If you log in to your Sucuri account, you are probably going to see the following sight:
The new dashboard has been integrated with a bunch of new features, and it is also cleaner, with a more intuitive look. You will be able to see all of the essential reports and features, such as security configuration options, excellent alerts, as well as comprehensive audit trails.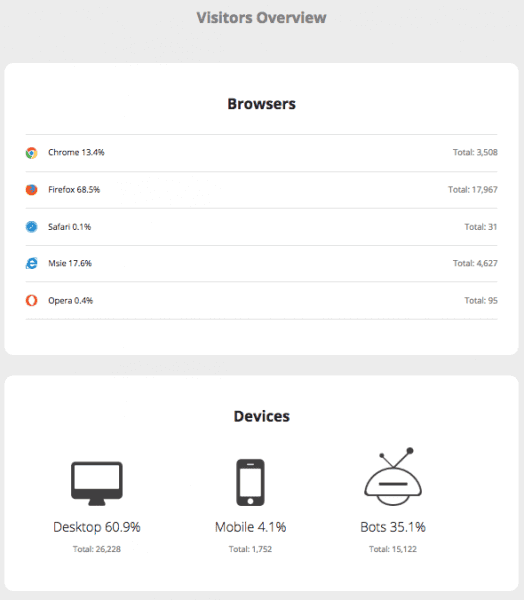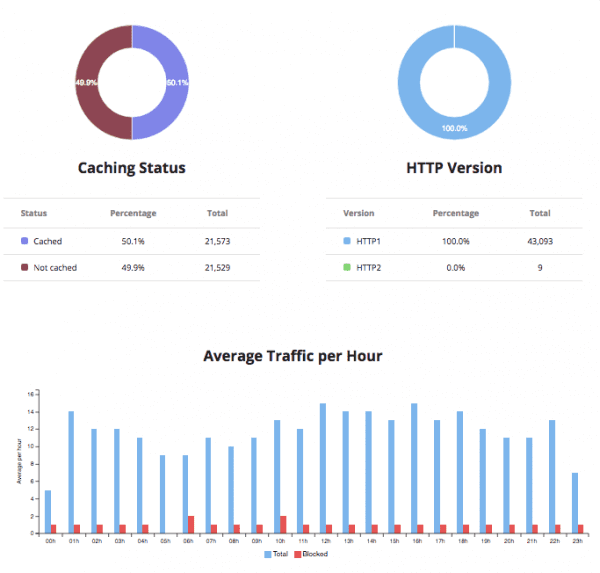 There are also excellent visual reporting options available now, included for both the Monitoring and the Firewall dashboards. This is one of the slickest security dashboards I have seen, and it really puts all of the information that you might need at your fingertips. When it comes to website security, no threat is too small, and by giving you a bird's eye view of everything that's going on your website, you will be able to ensure that your website remains safe and sound.
Support
When it comes to selecting a website security solution, support needs to be your top priority. There are going to be times where you are going to need to get in touch with support, and it's important that you get through quickly. Sucuri makes a tall claim of being actually available 24/7.
They also say that all support tickets are addressed in under 4 hours. I tried this, and I have to say that these guys take security quite seriously. I have received responses from them in under an hour as well! They are available between 8 am and 8 pm Eastern time, from Monday to Friday for direct support.
Even if you message them outside of these hours, you will be able to get through to them. You can use the ticketing system, available through their website, to get in touch. It also allows you to check the status of all requests you have made.
Pricing
And finally, we have the pricing. Sucuri offers you three packages that you can choose from: Basic, Pro, and the Business. The Basic package subscription costs $199.99 per year. The Pro package costs $299.99 per year, and the Business will set you back for $499.99 per year.
The company also offers custom enterprise solutions, so if you have multiple sites and need enterprise solutions, this is the best option available to you. The Basic package does not include the Malware Removal SLA or provide support SSL certificates. The Pro package doesn't include the SLA, but does support SSL Certificates.
The scan frequency is also different for each: the Basic package scans your website after 12 hours and the Pro scans after every 6 hours. But, the reason why you pay a premium for the Business is because it scans your website after every 30 minutes, and that's something. Here's a screengrab from their official website regarding the pricing.
Sucuri Pricing.
Sucuri is definitely one of the best tools out there, and works like a charm. If you are looking to boost your website security, you should definitely consider going for this. At $16.67 per month for the Basic package, it's a no-brainer. It has everything that you could ask for!