YouGlish – What is YouGlish?
YouGlish is a very easy way to learn the correct pronunciation of words by hearing them spoken on YouTube videos. That YouGlish name makes more sense now, right?
This tool uses YouTube to provide the accepted pronunciation of words in various languages by employing native speakers. It's super simple to use and, thanks to it being YouTube-based, YouGlish is accessible from any device that has a web browser.
This isn't just spoken by people from the local country though. You can also get pronunciations from different places around the world. It does this by allowing you to pick the area you want from three options, or all three if that's what you select. It even works for sign language.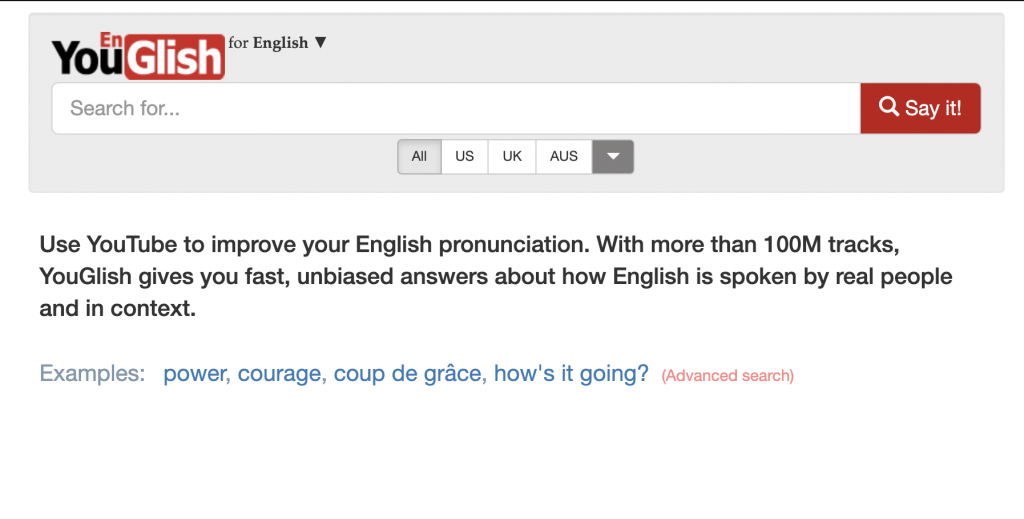 What is YouGlish?
YouGlish is an online app that provides real-time captions of videos shared on YouTube. Each video's caption is composed of meaning-focused samples of the language being spoken. You can refine your search by accent to find more relevant videos. The app also offers a dictionary with definitions and usage examples. You can also view recommended videos on YouTube or choose from a large selection of subtitles. In addition, YouGlish offers the ability to personalize your searches.
YouGlish has several pronunciation types, including Scottish English, British English, American English, and Australian English. It has a Restricted Mode that lets educators check clips before sharing them with students. Furthermore, it offers a huge variety of audio content in various languages, so you can learn new language accents while teaching your students. Despite its ease of use, YouGlish does require a little bit of preparation.
YouGlish also supports a variety of languages, including French, Spanish, Portuguese, English, and Italian. It even has an API for easy integration. It has more than 8500 pronunciation examples for various languages. The app is free to use and covers the K-12 curriculum. You can download the app for free here. YouGlish helps you learn a new language with its customizable guidance. It allows you to extract the part of the movie you want by using YouGlish.
YouGlish has a last query option, which helps you go back to the last search you made. It also has keyboard shortcuts for submitting new topics. If you're a teacher, you can submit your own topics for YouGlish. For more advanced learners, you can use the Daily Lessons feature, which sends out short videos in your inbox every day. If you're a student, the Daily Lessons feature is a great way to practice.
Benefits ofYouGlish
YouGlish has several benefits. For starters, it is free. It helps you learn a new language by letting you use the real-life pronunciation of a certain word. Besides learning how to say a word in English, you can also learn how to read the language in context. It's not only useful for learners, but it can also be helpful for those who are looking for job interviews or just need to improve their speaking skills.
One of the best features of YouGlish is its real-time captions of shared videos. If you're an ESL student, it is useful to improve your pronunciation through the tips provided by the app. You can also record yourself using the app, and download the recorded audio or video. You can then listen to it at a later date to improve your accent. You can then practice with the app in context, and try to master the language as soon as possible.
Aside from being useful for speaking a foreign language, YouGlish also helps learners improve their pronunciation. A video with the same word spoken in English will help you learn how to pronounce it. You can select between Australian, British, and other accents. YouGlish can also be helpful in interviews, assessing the confidence of speakers, and in-depth analysis of a language. You can use this tool to improve your listening skills.
Features ofYouGlish
YouGlish offers a wealth of authentic speech samples. It is an excellent tool for English as a Foreign Language (EFL) classrooms. It allows students to listen to native speakers and improve their pronunciation through targeted lessons. Its advanced search options also help students find a specific word or phrase. You can narrow down your search by topic, word class, and hashtag. Once you've narrowed down your search, YouGlish offers a lot of opportunities.
If you'd like to learn the language of a foreign language, YouGlish is a great choice. It allows you to listen to a variety of songs and record yourself in different accents and dialects. You can compare your recordings to learn more about a particular language. YouGlish's advanced search features can also help you narrow down your search to specific words or phrases. You can also combine multiple word classes to find more.
YouGlish's video content is of high production quality. The videos come from professional sources. Moreover, students can learn how to pronounce the words through YouGlish with confidence. Unlike other apps, YouGlish is a great tool for people who are learning a second language. You can practice your skills by comparing yourself to native speakers. You can also practice by listening to audio recordings on YouTube. You can even record your voice and compare it to the speaker's.