YouTube TV Free Trial | Get 30 days for Free
Remember those old days when you had to buy a cable subscription? The cable subscriptions were not worth our money because they didn't have enough options for subscribers. Modern-day technology has completely changed our lifestyle, and now entertainment has many other mediums. One of the most famous and well-known of them is YouTube TV. YouTube TV is the one solution to all your streaming problems.
It doesn't matter about the kind of stuff you want to watch; tune in to YouTube TV, and you can get everything from sports and news to the most exciting movies. Now, you might be thinking about what exactly YouTube TV is? What can you get on it? How to get yourself a subscription to YouTube TV, and is there a free trial available? Don't worry because we have explained all your questions and their easy solutions here.
What is YouTube TV?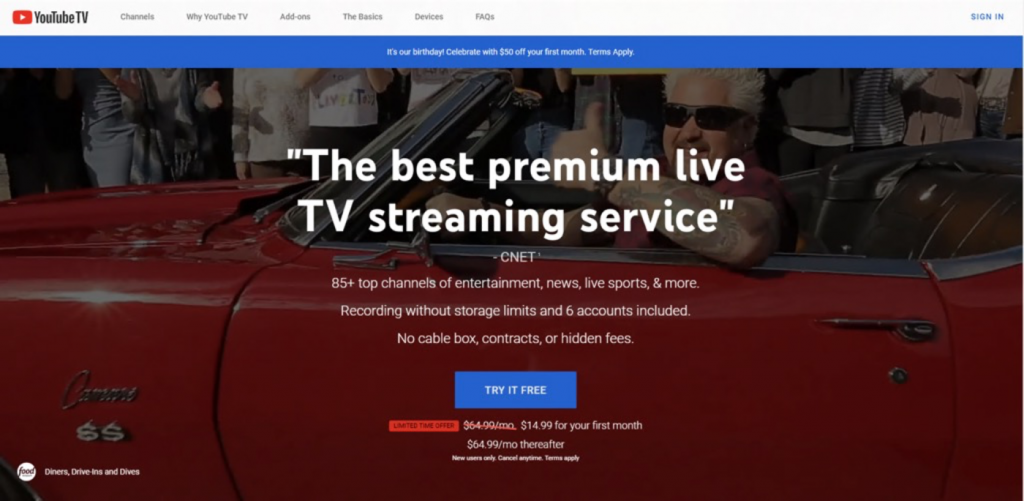 YouTube TV is an online internet service that gives people the powerpack of entertainment. You can access 85 channels such as ABC, FOX, NBC, CBS, Disney Channel, Food Network, HGTV, MSNBC, PBS, TNT, and STARZ on YouTube TV. Whether you wish to watch a cricket match or like to get updated on world news, YouTube TV can provide you with every information you want.
You can also buy premium add-ons on extra charges, such as STARZ, AMC Premiere, Curiosity Stream, EPIX, Showtime, and Shudder. Premium add-ons give you access to all-time favorite shows like Doctor Who, Creepshow, Outlander, Pennyworth, and The Walking Dead. Name your favorite show, and YouTube TV will bring it on for you to binge and enjoy your holidays.
Moreover, you can get the following services from YouTube TV:
6 Accounts Per Household
3 Simultaneous Streams
Unlimited Cloud DVR Storage for Upto 9 Months
How Much Do I Have to Pay for YouTube TV Subscription?
If you have decided to buy YouTube TV Subscription, then you can buy it by logging into their website. It will cost you $64.99 per month. Besides, YouTube TV doesn't provide any annual subscription plan or installation process for clients. Subscribers can quickly pay every month's fee by their account. Moreover, you can get many other subscriptions with your YouTube TV premium, such as HBO, Cinemax, Shudder, Sundance, etc., to enjoy different original series.
You can access this starting from $5 to $40 per month. If you are a sports lover, then the sports add-on of YouTube TV Premium is a must-have for you. You can get that for only $10 per month for FOX Sports, FOX Soccer Plus, NFL RedZone, TVG, etc. Isn't it amazing?
Quality matters a lot, and you will agree that watching your favorite show in 4K is much fun. YouTube TV 4K subscription gives you playback with the unlimited concurrent stream at home and offline DVR view on mobile. To buy a 4K subscription for YouTube TV, you have only to pay $19.99 per month.
How can I Get a Free YouTube TV Trial?
Before buying a subscription, YouTube TV fully allows its subscribers to get a little check on what kind of content they will get on their platform. For this purpose, like many other streaming platforms, YouTube TV also provides a free trial. The YouTube TV Trial usually lasts for seven days. But, sometimes, the online platform offers a 14 to a 30-day free trial for a few networks on YouTube TV.
One thing that you should know is that YouTube has ceased to support registration on iOS devices. But once you subscribe or register for a YouTube TV subscription, you can log in and watch content on iOS devices. Now, you might be thinking about how to get a YouTube TV free trial? You can enjoy a free trial by following these simple steps.
To register yourself, you have to visit the YouTube TV website.
Tap on the Free Trial Button.
Login to your Google Account.
Confirm your Home Location.
Review all networks that are covered by your membership plan.
Once you agree with the terms, tap next.
Tick for any extra add-on or premium subscription you want to access in the membership.
Add your accurate and valid credit card details.
Tap on buy, and your membership will be finalized.
YouTube TV doesn't charge anything for the services of premium add-ons during the free trial. So you can use as many premium add-ons as you want during your free trial. Verizon can be helpful with a free trial for YouTube TV. If you sign up for YouTube TV through them, you will get an entire month's free trial instead of the 14-day trial.
Can I Cancel Out YouTube TV Free Trial?
You can always cancel your YouTube TV subscription. If, after using it for days, you feel like the content on YouTube TV is not suitable for you or according to your taste, then don't worry! There is a cancellation option available for you. You can cancel your free trial anytime, and you won't be charged anything for your subscription.
But make sure that you cancel it before the free trial ends. Otherwise, YouTube will automatically charge you for your billing details. If you have trouble canceling your YouTube TV subscription, follow these easy steps.
Visit the official YouTube TV website.
Login to your YouTube TV account
Go to Settings
Click on Cancel my YouTube TV subscription
Add a valid reason
Agree to terms and conditions of YouTube TV
Click on cancellation, and you are done
Another way out is that you can pause your YouTube TV subscription instead of canceling it. You can quickly go to settings and pause your YouTube TV subscription. It will be helpful in many cases. You can pause your services for up to six months, and YouTube will not charge you a single penny. Still, you can reassess the benefits of YouTube TV anytime you want.
What to Do if my YouTube TV Subscription Expires?
If you love the content on YouTube TV, you can continue watching your favorites for a money fee of $49.99 to $64.99 per month. You can also stream on the same membership account on three different devices. Not only that, you can make six accounts for YouTube TV to unlimited stream content and share it with your family and friends.
You can stream 70 live channels on YouTube TV. If your YouTube TV subscription is expired, you can renew it at any time. Or YouTube can automatically renew your subscription every month and automatically charge your credit card every month. You can enjoy unlimited content in 4K on your TV and android Devices.
What Devices are Supported by YouTube TV?
During registration of YouTube TV, if you are using an iOS device to do so, you might have to face a little problem. You can't register on an iOS device for YouTube TV, but once you set up your YouTube TV account, you can stream it on iOS devices. Here is a list of all devices supported by YouTube TV for streaming.
Google Chromecast
Smart TV
Fire TV
Samsung TV
LG TV
Android Cell Phones
Tablets
ROKU Player
What if I see any Unfamiliar Charges on my account?
Suppose you are having any trouble with your YouTube TV account or are being charged extra for any add-on that is not included in your membership terms. In that case, you can get help from YouTube's customer help service. You have to report any unauthorized charges within 120 days of your subscription.
If you see a subscription in your statement Google*YouTube TV, you are being charged for your monthly subscription; any extra charges will be mentioned in your bank statement from the company. If you see any unformat payments on your membership, you must check on other devices connected to your account used by any other member of your household.
This may be due to the use of any add-on or service that doesn't involve your membership plan, and YouTube might charge a bit extra for those services. Yet, if charges and services are unauthorized, you can get help by complaining to the service center, and the team will resolve your issue. YouTube will do a thorough check-in of your account, and in case of any technical problem, you will be given a refund by the company.
What is YouTube TV DVR Service?
One of the most prominent and best features of a YouTube TV subscription is DVR services that allow you to record your favorite shows live.
Press the "+" button, and YouTube TV will record it.
If you have set a play on the recording mode, YouTube TV will record it whenever it streams on the platform.
It will also notify you before the coming time of the show so that you don't miss your favorite show.
Moreover, there is no storage cap on the file saving. You can save as much as you want.
FAQ'S
Is YouTube TV available worldwide?
Unfortunately, no. YouTube TV isn't available worldwide. It is only available in the US. If you live in the US, you can enjoy the premium service of YouTube TV.
Can I use YouTube TV on iOS devices?
You can watch anything you want on iOS devices with complete ease. But, sadly, you can't register for YouTube TV on an iOS device.
Does YouTube TV have a yearly subscription?
No, YouTube TV doesn't provide any yearly subscription yet. You can get a monthly subscription to YouTube TV, though.
Conclusion
YouTube TV can entertain you day and night. You can watch unlimited premium content on YouTube TV without any hustle. Unfortunately, YouTube TV isn't available worldwide, but it will be available to everyone for streaming in the future. But if you are traveling to the US, you know where to get all the stuff to keep yourself updated!